First edition of 2014 The Creek will be available September 1
Tinhorn Creek Vineyards is proud to announce the release of The Creek, its highly anticipated flagship wine. A toast to 23 years of experience in farming and winemaking in the southern Okanagan Valley, The Creek is an elegant, luscious and modern wine that reflects both place and time.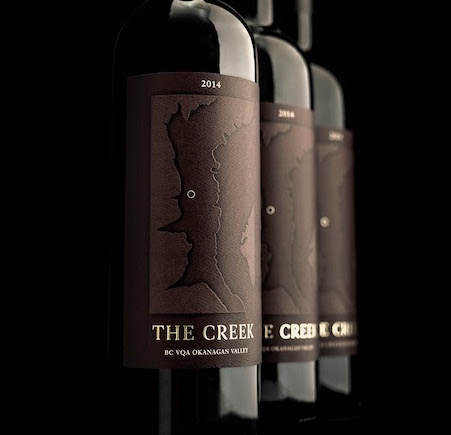 The 2014 The Creek is a unique blend of 53% Cabernet Sauvignon, 19% Merlot, 17% Cabernet Franc, 9% Malbec and 2% Petit Verdot. Aptly named after the iconic waterway that has shaped the surrounding landscape, the new flagship wine is a celebration of Tinhorn Creek Vineyards' longstanding pursuit of both excellence and innovation in winemaking.
"We have been working toward this wine since my husband Kenn and I first landed in Oliver in 1994," says Sandra Oldfield, Founder and CEO of Tinhorn Creek Vineyards. "Inspired by our desire to honour the region where the grapes come from, and to create the best possible wine in our cellar, The Creek reflects a spirit of innovation both in how we farm our land and how we treat our wines. We will continue to push forward and evolve with creativity and dedication because that is what our customers have come to expect from us."
Fermented using wild and selected yeasts, the wine is aged for 24 months in 40% French new and Hungarian oak barrels. Boasting opulent flavours of blueberry, cassis and black cherry, with a warm toasted spice finish – the flagship wine's rich undertones and full-bodied palate make it a perfect pairing for richer dishes.
"The planning for this release really began in 2014, spearheaded by our winemaker Andrew Windsor and viticulturist, Andrew Moon", says Oldfield. "This flagship wine is the result of a focused and passionate collaboration, made possible by our people, land and grapes here at Tinhorn Creek".
Each estate grown, handcrafted vintage will bring forth a structured, intense and powerful blend, reflective of Tinhorn Creek's ongoing commitment to its stunning terroir and quality vineyard practices.
2014 The Creek wine retails for $55 for 750ml and $120 for magnum bottles, both of which are available in limited quantities from Tinhorn Creek's tasting room, wine club, online store, as well as their onsite restaurant, Miradoro. The Creek will be released to the public in September 2017, and will be available from liquor stores and in select restaurants in BC and Alberta.
For more information about Tinhorn Creek Vineyards visit http://www.tinhorn.com.
About Tinhorn Creek Vineyards
Established in 1993, Tinhorn Creek Vineyards is located just south of Oliver B.C. in the famed Golden Mile Bench sub-appellation. As a leading winery destination evoking classic southern Okanagan terroir, Tinhorn Creek proudly offers a selection of estate grown wines. The first winery in Canada to support carbon neutral measures, Tinhorn Creek continues their commitment to land stewardship, conservation and environmentally sustainable practices. Family owned and operated, Tinhorn Creek offers an unrivalled visitor experience, wines that rank among the best in the world, and the award-winning Miradoro Restaurant.
For more information about Tinhorn Creek Vineyards, call 1.888.484.6467 or visit their website at www.tinhorn.com.