With just weeks to go, this is the perfect time to remind everyone how good BC Pinot Noir is and of the upcoming event which showcases these wines.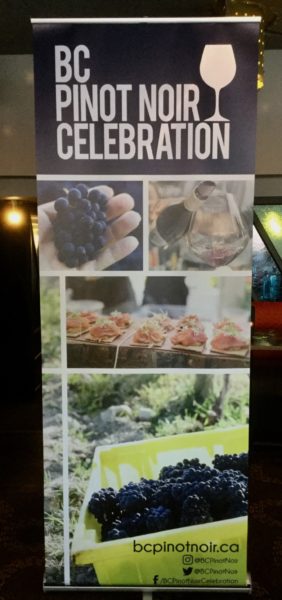 2016 was a sad year for Pinot lovers as there was no BC Pinot Noir Celebration. The previous venue had already been booked and no other suitable location could be found.
At the 2015 event, Decanter magazine's Steven Spurrier was the keynote speaker and he mentioned to the crowd that this event was one of the best he had ever attended. Steven was of the opinion that the land was well suited to Chardonnay and Pinot Noir in particular, comparing the region to Burgundy.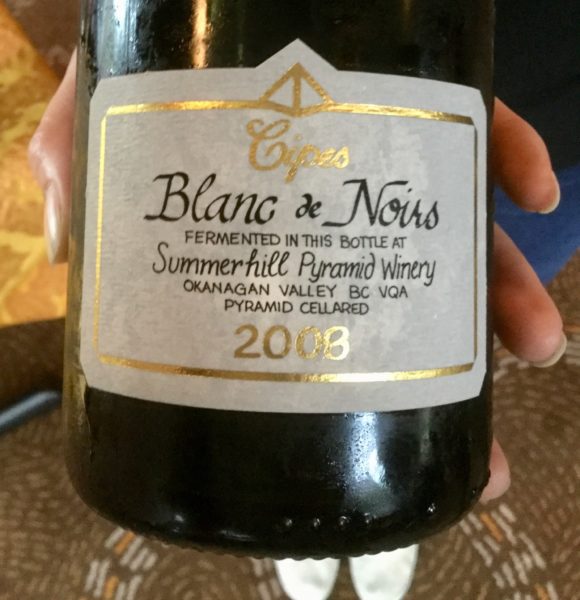 In May, I attended the BC Pinot Noir Celebration Preview at Vij's restaurant on Cambie. There, I chatted with two of my favourite people, JAK Meyer of Meyer Family Vineyards and noted BC wine writer John Schreiner while enjoying a delicious glass of Summerhill Blanc de Noirs bubble. I also had the opportunity to talk to Mike Bernardo, the new chef at Vij's.
Presently, restaurant owner Vikram Vij welcomed everyone and mentioned how his views had changed with respect to pairing Indian foods with BC wines. Vancouver, he said, has become a food destination and is known for seafood and a wide range of cuisines. BC Pinot Noir, in particular, is a very versatile and food friendly. With the wide range of wines that BC produces, we have wines to compliment any type of dish, including Indian foods. Vikram expressed how he is very impressed with the quality of BC Pinot. "With the amount of spices in Indian foods, there are no perfect matches, but take a bite of food and enjoy, take a sip of wine and enjoy what it has to offer."
Vikram then turned it over to David Paterson from Tantalus who spoke briefly about the event's history, which was conceived by JAK Meyer and Howling Bluff owner, Luke Smith. The first celebration was held at Meyer Family Vineyards in 2013. The next year it was held at Tantalus. They then realized that no one winery could properly host it, and so began to look for other venues and found the wonderful, paradise of Linden Gardens in Kaleden. That was the site of the 2015 celebration.
The wineries that participate in the event, hold a deep passion for the grape and see it as the number one red grape in the Okanagan. Jeff mentioned that Pinot just keeps getting better and better and most of the best sites have grapes that are only 8 to 10 years old, so he believes they are only going to keep improving. We have so many pockets of different terroir that the grape will express itself differently even when planted just a short distance apart. He emphasized that while they may express themselves differently, the wines are all well made.
JAK then continued, saying, "This is an important time in BC, where Pinot Noir is starting to emerge as a signature grape with lots of different expressions. More wineries are coming on board as they find that their land is well suited to the grape. The BC Pinot Noir Celebration is not a competition, but rather a way to showcase what BC can do."
The best Pinot sites are only about 7 to 10 years old. There is a lot of variety in sites with different microclimates and BC can produce many different styles of Pinot Noir, certainly something to please everyone. BC has become known for setting the bar high for quality. The good news is that more Pinot Noir is becoming available as planting increase as well as the number of wineries making it.
This year's keynote will be Richard Hemming, a Master of Wine and a writer for Jancis Robinson. Instead of hosting a sit-down dinner as they did in 2015, this year will feature a collection of great chef's, spread out through the venue, all offering tasty bites designed to compliment Pinot Noir. Thirty-two wineries will be in attendance, all pouring their great wines.
At this special preview event, we were treated to a small sampling of the wines that show the range of the wines grown in different regions. These will all be poured on August 19th in Kaleden. On hand were:
Unsworth – from Duncan on Vancouver Island
Privato – the fourth and latest winery in Kamloops
Baillie Grohman – one of two wineries based in Creston
Tantalus – east Kelowna, gets the afternoon sun
Howling Bluff – From the Naramata Bench, afternoon sun
Quails' Gate – morning sun, West Kelowna
50th Parallel – Lake Country, the soils here result in lifted and light floral style wines
Meyer Family Vineyards – Okanagan Falls, site for Pinot
Maverick – Oliver on the west side of the valley, with morning sun, picks early to ensure good acidity, thus not as extracted as might be expected
JAK and David went on to talk about the recent vintages and the characteristics of each.
2012 – warmer than 2010 and 2011, though fairly average, balanced wines
2013 – warmer year than average with a rainy September, ripe flavours
2014 – classic vintage, great conditions, hard not to make a good pinot
2015 – a great year for most reds, but a little too hot for Pinot Noir, good growers knew how to compensate with picking times and canopy management.
2016 – a great year for Pinot Noir
Then it was time to head to the tables and sample some wine. Here are my very brief notes on what I tasted: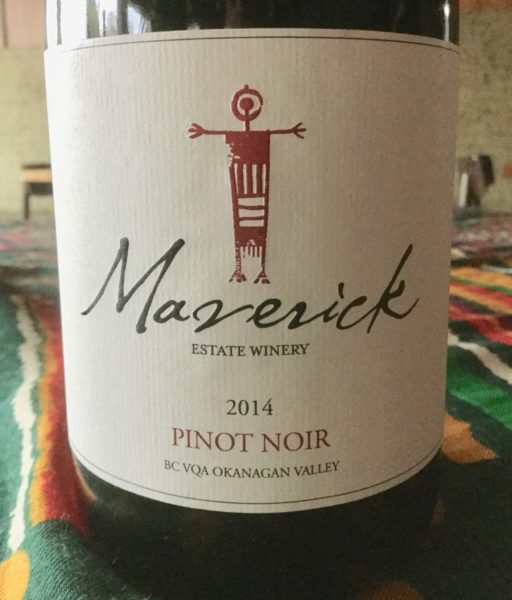 Maverick 2014
Earth, juicy berries, medium body, slightly grippy tannins, good structure, medium plus finish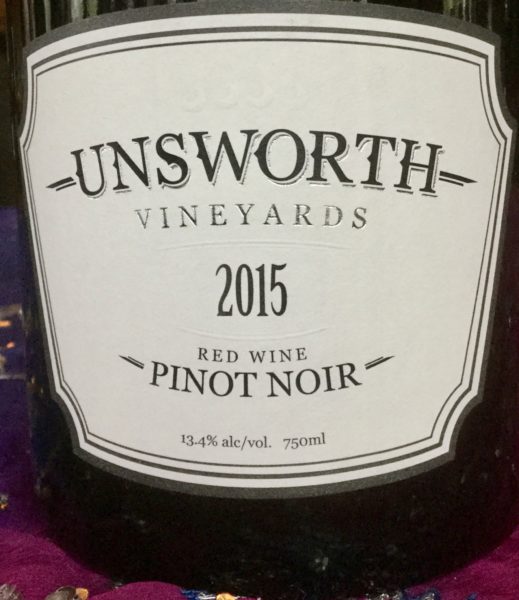 Unsworth 2015
Ripe juicy fruit, velvety tannins, medium-long finish, smooth tannins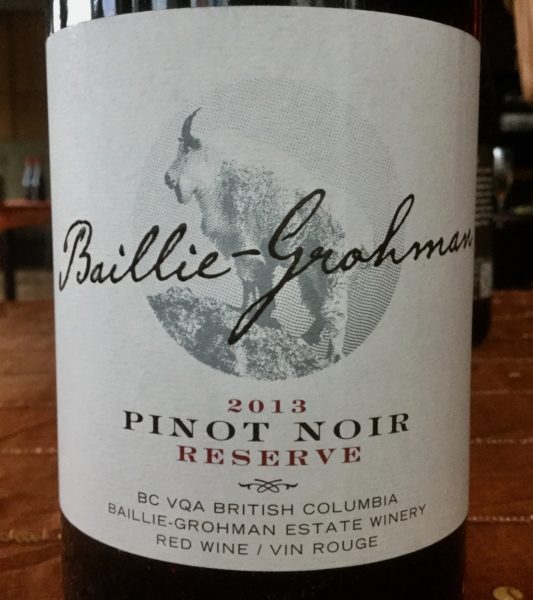 Baillie Grohman 2013
Medium bodied, ripe fruit, slightly warm finish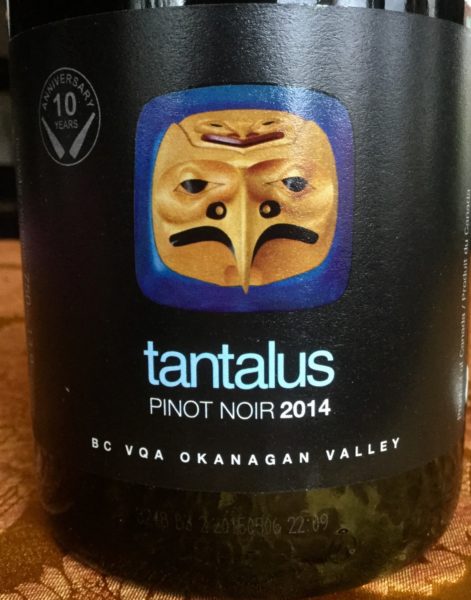 Tantalus 2014
Medium bodied, smooth silky texture, still a little grippy tannins. Let this one rest for a couple of years to show its best.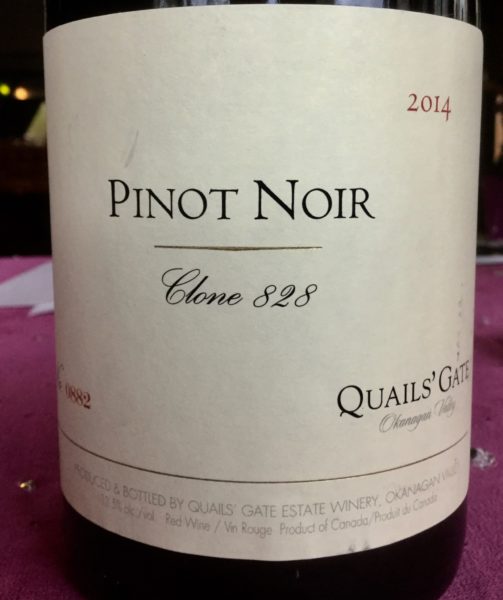 Quails' Gate 2014
Clone 828. Medium bodied, well integrated, layered flavours, medium-long finish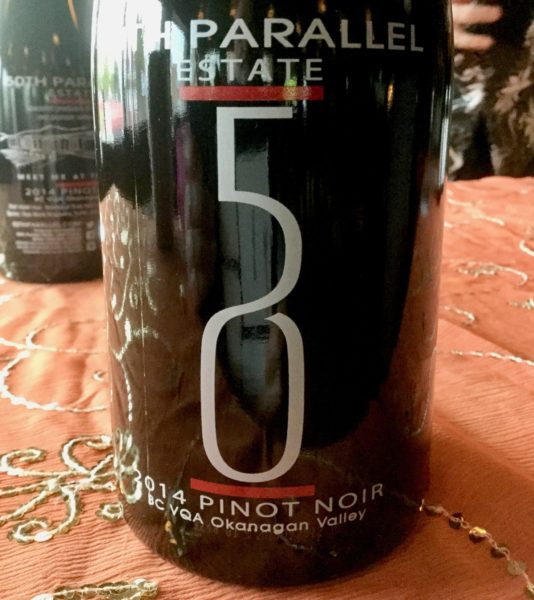 50th Parallel 2014
Strawberry notes on the palate, ripe and smooth with lots of bright fruit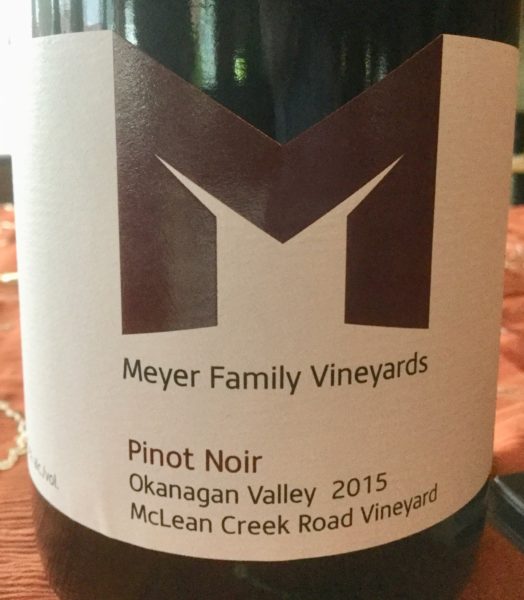 Meyer Family Vineyards McLean Creek 2015
Ripe fruit with depth, concentrated
Howling Bluff Century Block 2013
Burgundy like, depth of flavour, layered on the palate, medium-long finish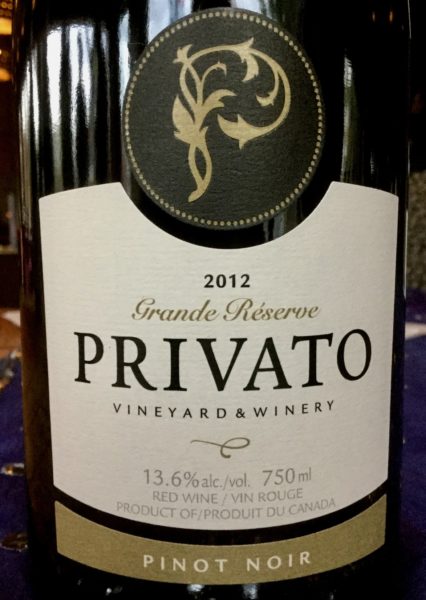 Privato 2012
Medium-plus body, pleasing fruit on the nose and palate, velvety texture, medium-long finish
All these wines were very enjoyable.
This tasting served as a good warm up for the many wonderful wines that will be poured at the BC Pinot Noir Celebration at Linden Gardens in Kaleden (south of Penticton, on the western shore of Skaha Lake) on August 19th.   If you love Pinot as much as I do, you do not want to miss this amazing event. Seven hours to sample nothing but Pinot in a gorgeous garden setting! For further details go to: www.bcpinotnoir.ca.
See you there!
[wdi_feed id="2″]