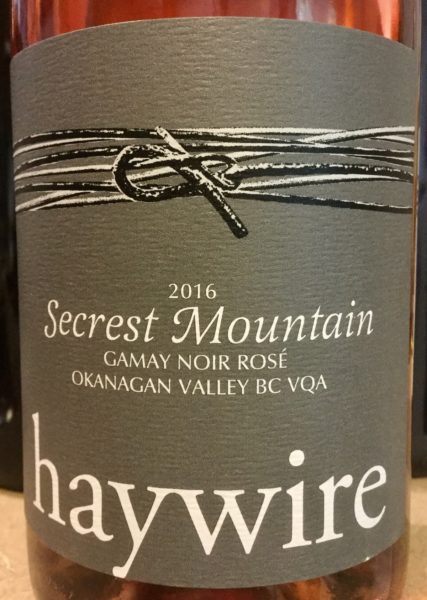 2016 Gamay Noir Rosé (Secrest Mountain)
Haywire
Summerland, BC
$22.90
Structured like a top quality Provencal Rosé with more pronounced aromas and flavours. Organically grown Gamay from the Secrest Vineyard in Oliver and fermented with native yeasts, this wine is cherry red with medium-intensity. The nose is bold with aromas of cherry, strawberry herbs and minerality.   Well balanced and dry with a creamy mouthfeel. The flavours mirror the nose followed by a medium-long finish. Serve this with a picnic lunch of charcuterie, bread and cheese or grilled chicken.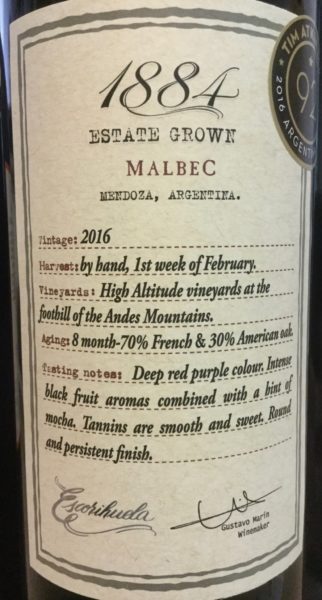 2016 Malbec
1884 Estate Grown
Mendoza, Argentina
$20.69
High altitude vineyards are the key to finding high quality well balanced Argentinian wines. This Malbec has been aged for 8 months in 70% French and 30% American oak.   Garnet red with medium-deep intensity. The nose is layered with aromas of rich ripe red and black fruit, plum, leather, vanilla, dried fruit and pencil shavings. Good balance. The flavours follow the nose. Mocha lingers on the medium-plus finish. Serve this with an assortment of grilled meats – Argentinian 'asado' style.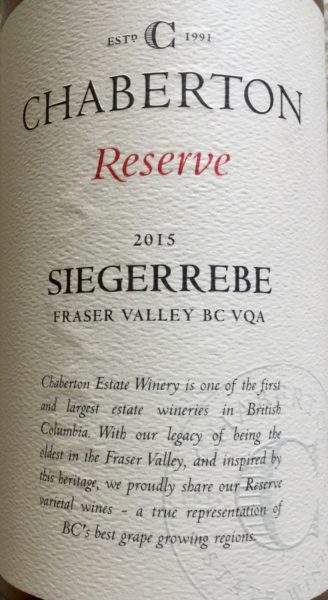 2015 Siegerrebe
Chaberton
Langley, BC
$16.75
What a bargain this wine is. Unfortunately, a lot of people have never tasted this variety, largely due to its weird, unfamiliar and hard to pronounce name (see-geh-RAY-buh). Chaberton makes this in a slightly off dry style. Pale straw in colour with medium-light intensity. The nose is like a bowl of juicy fruit – lime, tropical fruit, melon and lemon drops. Well balanced with enough acid to keep it from being cloying. The flavours echo the nose and are followed by a medium-plus finish. This would be delightful served with prawns, scallops, fresh fish or chicken. I enjoyed it with pork tenderloin.
2016 Rosé
Singletree
Abbotsford, BC
$17.30
This rosé has captured a lot of attention for this Abbotsford winery. It captures your attention as soon as it is poured into the glass. It is cherry red with medium intensity. Aromas of cherries, strawberries and white flowers greet the nose. Good balance and mouthfeel. The flavours follow the nose. A medium-plus finish carries the fruit flavours right to the end. This is a perfect summer sipper. (Although I'd enjoy a glass of this anytime of the year.)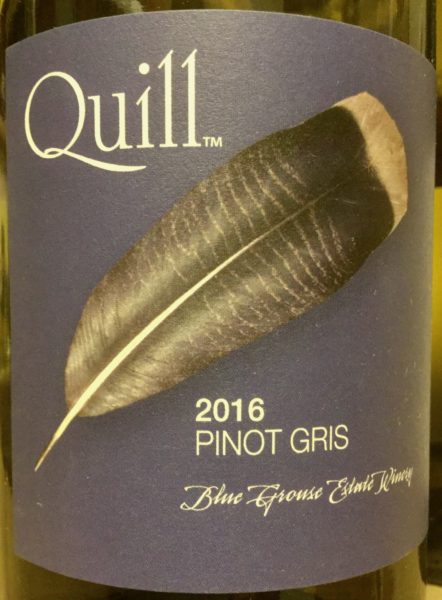 2016 Blue Grouse Quill Pinot Gris
Duncan, BC
$20
Made from 100% Cowichan Valley grapes and fermented in stainless steel. Lemon yellow in colour with medium-minus intensity. Almost riesling-like in its crisp refreshing-ness. Stone fruit, honey and lime on the nose with some floral notes appearing after opening up. Clean and crisp with good balance. This wine scrubs the palate with a hint of salinity. And excellent food wine, bring on the fresh oysters! Only 230 cases were made so grab it when you see it.