"It feels so strange, that almost overnight, you don't have the same beliefs as me."
Sept 15 – Oct 7, 2017
Pacific Theatre begins its 2017-2018 season with Lucas Hnath's immersive, complex exploration of a crisis of faith, The Christians. Playing Sept 15-Oct 7 8pm Wednesdays-Saturdays with 2pm matinees all Saturdays at Pacific Theatre, 1440 W 12th Ave. Pay-what-you-can preview Sept 14 at 8pm. For tickets ($20-36.50, HST not incl.) call 604.731.5518 or visit pacifictheatre.org.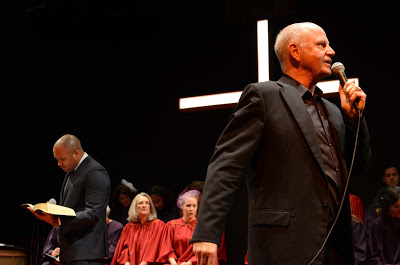 How do we maintain dialogue when we stand on opposite sides of a controversial void? What happens when a pastor gets up in front of his church and announces a drastic change in doctrine? This is the central question of the first play in Pacific Theatre's 2017-2018 season, The Christians by Lucas Hnath. After taking his church from a meager storefront gleaming megachurch, Pastor Paul overturns one of the most sacred tenents of his congregation's beliefs, sending them reeling towards schism. As they grapple with the mysteries of faith, certainty, and what happens after we die, they must also face the reality of loving those whose beliefs have made them into sudden strangers.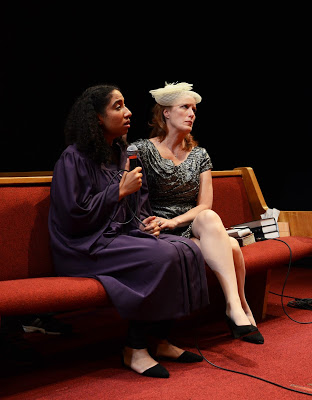 Planting the audience right in the middle of a church service where a bomb is dropped, the staging is not only unique for modern theatre, but pushes the boundaries of Pacific Theatre's intimate space. Like at any large church, there is a choir on stage the entire performance and the actors all speak into live mics. "This play is edgy and modern and pushes boundaries. I love that the author has incorporated live mics into the show. I find it fascinating and thrilling and curious and I cannot wait to play with this element," says director Sarah Rodgers.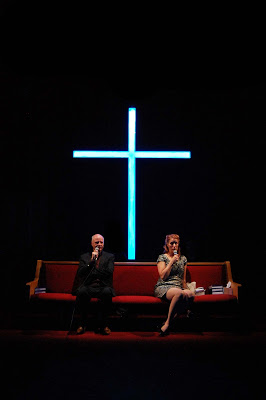 While the play is about a crisis of faith, the heart of the story couldn't be more topical in today's era of polarized politics. How do you talk to someone whose fundamental beliefs are completely different than your own? In The Christians, we see a group, once united, suddenly divided in two. Yet, they manage to voice their questions, concerns, and disagreement with love and respect, even if that means parting ways. Imagine if dialogue happened that way in the world.
"Ever since I heard about this play, I have wanted it for Pacific Theatre," says Artistic Director Ron Reed. "We immediately requested the rights, and kept requesting them until we got approved. It's breathtaking, dramatic, affecting. Whatever you go into the theatre thinking… you'll think again."
The play has special significance for newcomer and season apprentice Mariam Barry, "I see so many echoes of myself in [my character]," she says, "she is a young woman, like me, who is finding her voice… bravely questioning the voice of male authority from a position of concern and unwavering conviction to her faith."
RAVE REVIEWS
"Sincere, complex, nuanced… exploration of crisis of leadership, and thus of faith. One of the most interesting, focused, counterintuitive, and intellectually compelling playwrights of our moment." –Chicage Tribune
"Immersive, timeless, though-provoking work of drama." –Northwest Herald
"Unlike any play I've ever seen about religion… all sides of the issue are expressed intelligently and honestly." –Chicago Reader
ARTISTIC TEAM
Directed by Sarah Rodgers. Featuring Allan Morgan, Ron Reed, Tré Cotten, Erin Ormond, and Mariam Barry. Set Design by Stancil Campbell. Costume Design by Sydney Cavanagh. Sound Design by Rick Colhoun. Lighting Design by Itai Erdal. Stage Management by Lois Dawson.
Details:
THE CHRISTIANS by Lucas Hnath
When:
Sept 15-Oct 7, Wed-Sat at 8pm with 2pm matinees Sat. Pay-what-you-can preview Sept 14.
Where:
Pacific Theatre, 1440 W 12th Ave (at Hemlock), Vancouver, BC
Tickets:
$20-36.50 (not incl. HST), to book visit pacifictheatre.org or call 604.731.5518