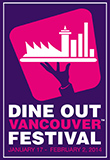 The six top reasons to make Dine Out Vancouver your "go to" event of 2014
More than 260 participating restaurants.
The Chef Soup Experiment a new event featuring 50 of Vancouver's top chefs 
Six Course Discourse, The Snowshoe Fondue, Film Feast: Jiro Dreams of Sushi and more. 
Street Food City III
Plated & Paired at the Public Market
Dine Out Vancouver Festival hotel stays starting at $78 per night.
Reservations open on Monday, January 6, 2014
Dine Out Vancouver runs from January 17 to February 2, 2014
Photo courtesy of Tourism Vancouver