Every wine savvy drinker knows that the wines from Chile can offer some of the best budget friendly, everyday wines on the market. For well over a decade these wines have provided a welcome alternative to the sometimes confusing and often expensive world of European wines. But did you know that without Chilean vines many of the most famous wines and from the some of the greatest regions in Europe might not even exist today?
True story..
During the late 1800's while Phylloxera was ravaging the vineyards of Europe, some of her most cherished varieties were growing safely in Chile, having been transported there by European settlers. The little root-eating pest (Phylloxera) was unable to survive in the majority of soils in Chile, making grafting onto American rootstock (the solution in Europe) largely unnecessary. Many of the European varieties like Chardonnay, Sauvignon Blanc, Merlot, Cabernet Sauvignon, Pinot Noir and Syrah that we are so familiar with today were nearly wiped out during this devastating period in Old World wine history. The cuttings sourced from Chile and other new-world locations were re-introduced into European vineyards, and were largely the saviors of much of the industry. There is even the story of the Bordeaux grape Carmenere, which was largely thought to have been eradicated only to be found growing happily in Chile (1994) mistaken as a clone of Merlot. It has since as you likely know, become a signature red grape variety for Chilean wine.
Chile itself has proven an extremely capable, if not ideal home for quality wine production. Upgrades in vineyard management and winery technology have only sped up the evolution and quality of some of the world's most competitively priced wines. And because of a more than 30-degree stretch in latitude, Chile can offer a vast array of climates to suit almost any grape or style of wine, including some of the most highly sought after premium Cuvee's on the planet. You may be familiar with the 2004 Berlin Tasting, where a number of Chile's most outstanding wines competed in a blind tasting against some of the most famous and historically sought after wines on the planet. For the record the Chilean wines placed 1st, 2nd, 4th, 6th and 9th in the top ten against the likes of Chateau Lafite, Margaux, Latour and a range of Super Tuscans. This tasting has been ongoing, conducted most years since 2004 with similar results for the wines from Chile.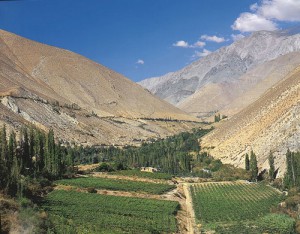 The three wines featured in this article are sourced from one of Chile's up and coming regions, the Elqui Valley (see photo above). Situated just south of the Atacama Desert the Elqui Valley is Chile's most northerly region and its unique climate features have allowed the pioneering winemakers to create some excellent wines. Extra dry vintage conditions, (minimal rain and disease) altitude to combat heat and create large diurnal temperature variation, (aids ripening and acidity) and ample water supply from the Andes Mountains provide the perfect terrior for a wide range of wines, in this case the Syrah, Carmenere and Blend. The feature winery, Vina Falernia provides an excellent example of the diversity in vineyard sites available for Chilean wines.  A number of specific growing sites allow them to produce high quality wines of many styles.  Altitudes can vary from 350-2000 meters depending on distances from the ocean, providing specialized micro-climates in which specific varieties can thrive. Vina Falernia produces a range of well-crafted red and white wines which are available here in Vancouver.
Vina Falernia Carmenere / Syrah 2011 – $19 –  BC Liquor Stores
Robust and refined with plenty of blackberry and spice. The Carmenere character is front and centre here, providing intense dark chocolate, cherry and coffee on the palate with a dense and perfumed nose. This wine opened up considerably in the first 15-20 minutes so decant if possible. 60/40 blend. Paired this one with stuffed leg of lamb.
Vina Falernia Syrah 2010 – $19 – BC Liquor Stores
This peppery, and rich Syrah has nice combination of ripe black fruits, savory herbal character and a touch of peppery spice. Good concentration and value at this price point.  Pair with braised meat dishes.
Vina Falernia Carmenere 2011 – $19 – BC Liquor Stores
One of Chile's most celebrated grapes shines here.  Aromas or brambly black fruits, espresso and spice followed by rich core of dark chocolate and vanilla with fine grained tannins. Excellent example of pure Carmenere. For something different try Duck Ratatouille or Cassoulet with this one.