Gotta love it, I didn't even know there was such a thing as a culinarian but I guess if you are one you know what it is. Nevertheless for you wine trade individuals, culinarians, and inner wine geeks what are you waiting for? This is the primo wine event of the Vancouver International Wine Festival and it is sooo affordable at only $30. True enough it is not for everyone you do need to know your wines but what a great opportunity to challenge your wine knowledge and your palate.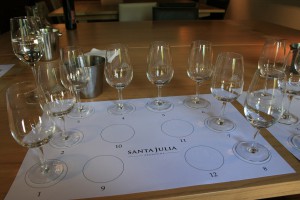 BLIND TASTING CHALLENGE
Wednesday, February 26
Pacific Institute of Culinary Arts
1505 West 2nd Avenue
10 a.m.-12:30 p.m.
$30
Buy tickets 604-873-3311
Buy Tickets
Got a great palate? Prove it! Blind taste seven wines and identify them using the Wine & Spirit Education Trust's Systematic Approach to Tasting. A celebratory reception follows the grand reveal of the wines. Winners will be acknowledged at Celebrating Excellence: The 11th Annual Awards Lunch. Challenge is open to wine trade, culinarians, and anyone seeking to nurture their inner wine geek.