Vancouver's trio of Parisian boulangerie pâtisseries catering to sophisticated gourmands, and amateur epicures alike, have some suggestions just in time for Mother's Day.  With Mom's big day fast approaching, it's time for devoted descendants to make plans to pamper their beloved matriarch.
Heavenly High Tea 
Faubourg Paris sets itself apart from cookie-cutter contemporaries with handcrafted, authentic Parisian delicacies created using artisanal techniques passed down through generations of expert pâtissiers. Faubourg's decadent High Tea is a culinary adventure fit for the most deserving of mothers, filled with gourmet treats such as delectable macarons, delicate fruit soufflés and savoury canapés.
Day-long Delights
Intrepid caretakers from sun-up to sundown, moms know breakfast is the secret to a successful day. Start Mother's Day off right by treating Mom to an authentic Parisian breakfast-in-bed, complete with artisanal 
viennoiserie
and an uplifting 
café au lait. 
At sunset, conclude Mom's special day with a decadent 
French cake
 fit for a queen.
Paint the Town Parisian
Sometimes all Mom wants for Mother's Day is to be treated to an afternoon on the town, taking in the sights, storefronts and glorious spring blossoms. Transport Mom to Paris (while warding off shopping-induced hunger pangs) with a sampling ofFaubourg's finest 
French pastries
 in a chic, luxurious setting to rival the City of Love's most famous
boulangerie pâtisseries.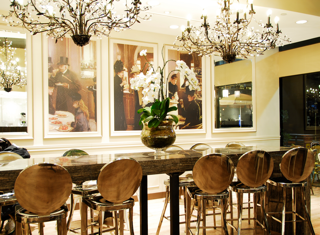 *Prices vary between locations