Mother's Day is on May 10th! For this occasion, we are delighted to be offering a special treat – "A Day in Paris – Mother's Day Afternoon Tea" composed of a reusable Eiffel Tower stand filled with delicacies & pastries!
Mother's Day Special – limited edition
"A Day in Paris – Mother's Day Afternoon Tea" will be available in both locations on Friday (May 8) and Kerrisdale on Saturday and Sunday (May 9 & 10) for $60 each.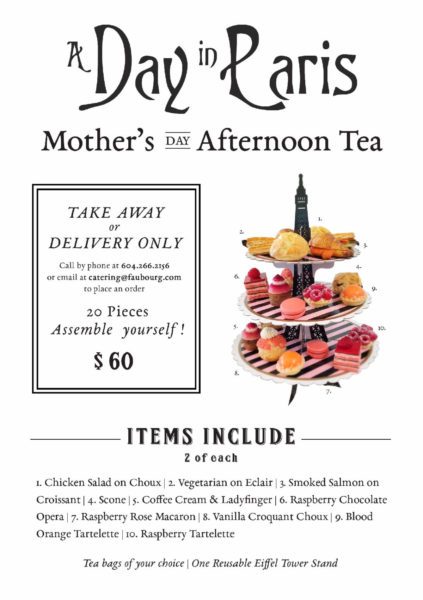 Note from Faubourg Founder and Owner
Dear customers,
I hope you are all staying safe during this uncertain time. Our team at Faubourg is working hard to keep offering delicious treats.
The health and safety of our employees and customers are our primary concern. There are a number of measures we are taking to ensure we manage to safely get through this uncertain situation while continuing to serve our customers effectively.
Both our locations are open for take out, the hours are updated everyday on our website –
www.faubourg.com
Faubourg team is wishing you a lovely month of May and happy Mother's Day!

Information and images courtesy of Faubourg.