Regarded as one of the four legendary beauties in Chinese history, Xi Shi was so stunningly beautiful it was said that when she washed her silks by the river, the fish saw her charming reflection would forget how to swim and sink to the bottom.  True to its namesake, the Xi Shi Lounge at the Shangri-la Hotel is elegant and refined – the perfect setting to enjoy a luxurious Afternoon Tea.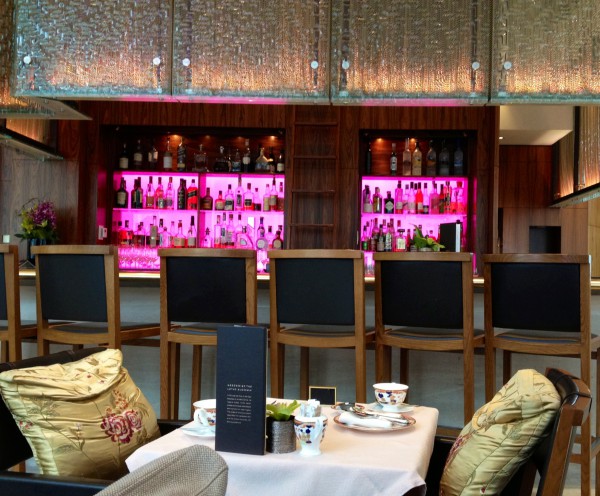 Recently, I was invited to experience Afternoon Tea in the Xi Shi Lounge and I was most impressed.  I remember when the hotel first opened, Mr. Stephen Darling, the General Manager at the time, mentioned in a TV interview that the famous Blue Willow design on the tea sets was an antique pattern that had not been produced for a hundred years and was replicated expressly for the hotel by its china manufacturer in Japan.  So part of my excitement was to be able to sip tea from this exquisitely patterned chinaware.
The tea selection was so extensive that it took some time for me to decide.  After debating between an aromatic fruity tea and a more traditional blend, I decided on a pot of the single estate Darjeeling, the "Champagne" of teas.  As the loose tea leaves steeped, they opened up with a rich fragrance of the forest, meadow flowers and a sweet hint of honey.
The delicious offerings of the Afternoon Tea service came in a three tiered tower of Canadiana delights.  The first tier had a selection of sandwiches: Nova Scotia Lobster Salad in a Brioche Bun, Canadian Grilled Cheese on Sourdough, Montreal Smoked Meat on Rye and West Coast Smoked Salmon on Bagel with herb cream cheese.  The second tier had two kinds of scones (regular and orange zest) served with marmalade, clotted cream and housemade raspberry preserve.  At the top were the sweets: Glazed Pecan Butter Tarts, Wild Blueberry Yogurt, Nanaimo Bars and Maple dusted Donuts.  The special care taken in the presentation, the selection of ingredients and the combination of flavours was evident.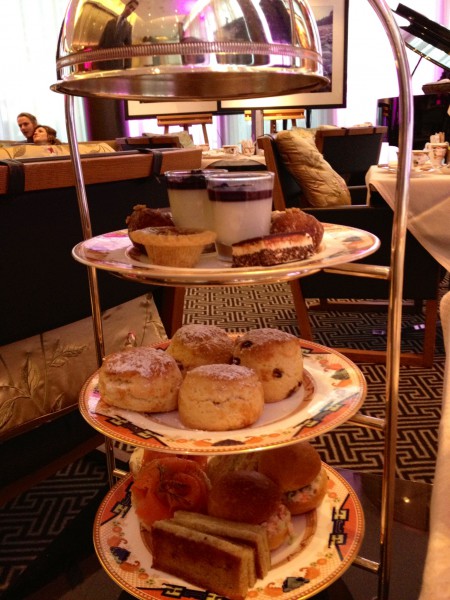 Our enjoyment of the Afternoon Tea was further enhanced by the enchanting live piano music.  Every Friday, Saturday and Sunday afternoon, pianist, Perry Dickison, performs popular and classical melodies on the Fazioli piano in the Lounge.
The Afternoon Tea is available year round and the menu items change with the seasons and holiday themes.  Whether it is for a bridal shower, birthday celebration or simply taking a shopping break, treat yourself to a delightful Afternoon Tea service in the beautiful Xi Shi Lounge at the Shangri-la Hotel.
Shangri-la Hotel | Xi Shi Lounge – 1128 West Georgia Street, Vancouver, BC
Afternoon Tea – Daily from 11:30am to 5:00 pm – $38.00 per person
Piano Music – Friday, Saturday and Sunday 1:30 to 4:30pm.