Bel Café offers Easter classics and new macaron flavour just in time for Easter.
Hop over to David Hawksworth's 
BelCafé
 and indulge in Easter treats and new spring sweets, including the Apple Pie macaron, lime and coconut cake, dark chocolate caramelized hazelnuts and milk chocolate-covered almonds. Get them before they're gone, a seasonal treat that won't be around for long!
I did exactly that yesterday, except maybe the hopping part. I did hop up onto a stool and seated myself right in the middle of the bustling cafe. I sampled almost every wonderful Easter treat at Bel Cafe, actually I sampled some more than once because they were so tasty. Everything was absolutely delicious. Nothing like a hot cross bun and a cup of herbal tea or an espresso to go with it. The sun was shining and there was a constant stream of happy customers.
Bel's famous hot cross buns ($2.80) to take home to share with loved ones. These traditional treats are a must-have for the holiday. To avoid disappointment, pre-order at 
BelCafe.com
 as they sell like hot cakes – or buns – on Easter weekend. Adorable solid chocolate rabbits ($12.80) are available to take home as well – unless you finish it en route! And the pastel-coloured Easter themed marshmallows ($6) make a soft, bouncy treat for children and adults.
Voted by Bel Café fans, the newest macaron flavour to adorn our shelves is Apple Pie ($2 each, $16 for eight). Made for sharing, get on someone's good side with the lime and coconut cake ($12.50), which is reminiscent of tropical flavours and perfect for springing our taste buds back to life. For smaller bites, try Bel's delightfully packaged chocolate-covered confections that make the perfect on-the-go snacks: dark chocolate caramelized hazelnuts ($10.50) and milk chocolate almonds ($9.50). Bel Café's new spring items will be available from April 14th.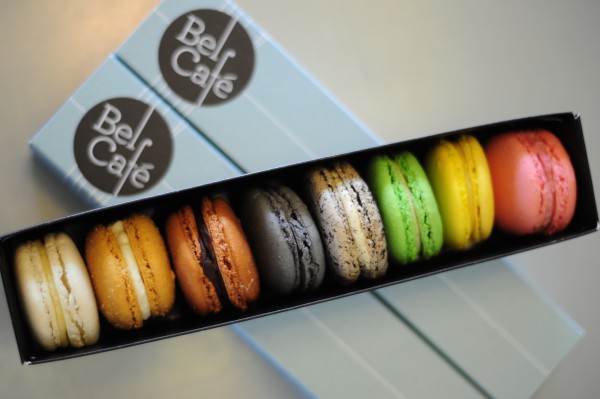 The hot cross buns, marshmallows and chocolate rabbits are available for pre-order starting from March 31st at 
www.BelCafe.com
 and in-stores starting from April 7th. Prices include tax.
About Bel Café 
Situated in the hub of Vancouver's business and shopping district, David Hawksworth's BelCafé combines expertly prepared food and beverages with intelligent and friendly service in an inviting, elegant and chic setting. Full table service is provided alongside a selection of 'ready to go' items featuring fresh baked pastries, gourmet sandwiches, nourishing soups, delicate tarts and exquisite jewel-toned macarons. Specialty coffees are custom roasted locally and served by a team of highly trained baristas. Artisan teas, fresh juices and select wines are also featured. Open daily from M-F 6:30am-5.30pm and from 7am-5.30pm on weekends, Bel Café is located at 801 West Georgia Street @ Howe. For more information visit: 
www.belcafe.com