From the glossy cover of a shopping bag, a sexy 'lip-licking' lady and her glass of white wine was looking at me. Ah – our German friends in the wine industry have decided to flip a new page, fashionably!
I picked up this beautiful bag at a "Generation Riesling" German Riesling tasting lunch featuring wines made by passionate and young wine-makers. According to the material handed to us, this new generation of young and innovation winemakers are transforming the wine industry of Germany. The young and pretty presenter of the event Nadine Poss happens to be the reigning German Wine Queen of 2013-2014! Being a beginner in the German wine world, I don't know if this 'pageant' has been around for ages or this is a brand new tool in promoting the new "Generation", either way, Nadine's wine knowledge is as impressive as her charm.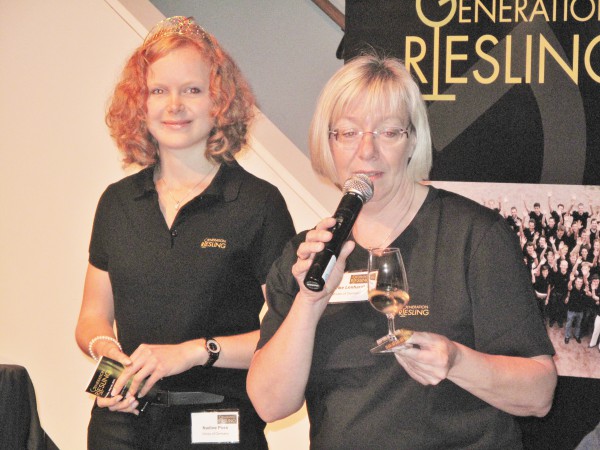 Lunch is served outside and inside.  Outside are two Food Trucks – Roaming Dragon and Vij's Railway Express. They are turning out snacks to go with the wine and the wait staff is walking the extra steps and bring them inside. The theme? You guessed it – "Asian". I do admit Riesling pairs amorously with Asian cuisine, especially spicy fare; however, due to the complexity of the flavour profiles, not every German wine works, especially the reds.
We had a total of 10 wines including 2 Pinot Noir. Bear with my honesty here; these 2 reds are totally hidden behind the curry "breaded chicken breast" (sorry, may work better if not breaded and deep-fried!) and the Lucknow lamb kebabs which is a bit too rough for my liking, but the whites are singing my tune. I am not going to list them all out here but only those I absolutely adored.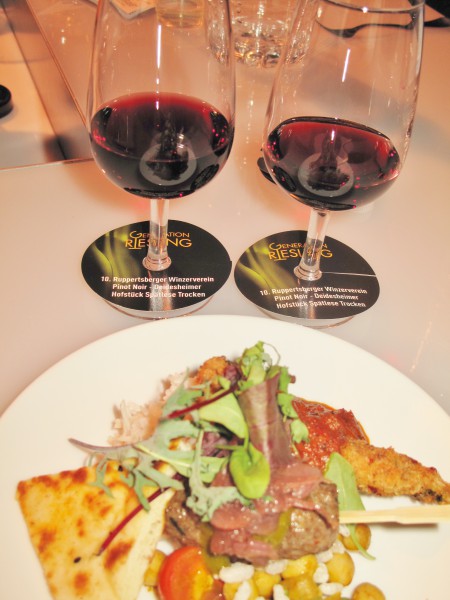 Weingut Heitlinger 2008 (Blanc de Noir Sparkling) – Quite possibly, my love of bubbles overrides everything again and shines upon the first sip of this Black de Noir sparkles. This creamy, dry and elegant Sparking is sensually delicious – a wine to be sipped day and night!
Willems Hofmann 2013 Silvaner – Tropical, juicy off dry showcases one of the most-planted German white grapes beautifully. Its sweet tone did the Oyster Mushroom Pakoras great honour as well. This often underrated grape has been doing better and achieving the attention it deserves.
Moselland 2013 Riesling Mosellschild Feinherb  – Love the apple aroma that attacks my nose than my palate lusciously. Feinherb is perhaps the new word for s "halbtrocken" which refers to off dry or half-dry. Some so-called wine experts or master wine-writers may not approve off dry German wine, but the pleasure I have when sipping this wine is telling me otherwise.
At the trade tasting after lunch, I am attracted by a line-up of 4 cute looking bottles with fantastic wine label designs at the Bollig-Lehnert station. The next thing I know, I am drinking yet another two Rieslings: The Flagfish Riesling and the Fire Dragon Riesling of classic characteriestics but crafted with Bollig uniqueness. While the Flagfish is seductively juicy and hints of honey-dew and pear, the Fire Dragon is crisp and refreshing. The bad news is; their wines are available out east only; the good news is – they're seeking a wine agent in BC. I've told owner Jill Bollig who is tending the station to send me an email once she secures the agency, 'cause I am going to grab a few bottles of those Flagfish and Fire Dragons!
Generation Riesling
Words & Pix: Stephanie Yuen