Young chefs from across Canada to compete in Freybe Black Box finals in Vancouver this autumn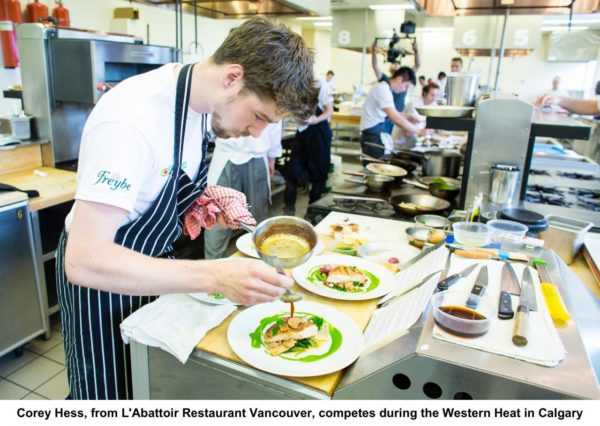 A panel of Canada's renowned chefs have spoken and a number of talented culinary finalists will now head to Vancouver as part of the Hawksworth Young Chef Scholarship. The competition was extremely fierce in both the Western and Eastern heats this past week, with four young chefs from each region making it through to the final round taking place on September 28.
Each competitor was given identical ingredients, provided by Gordon Food Service (GFS),and had two hours in the kitchen to wow the tastebuds of the judges. Those who came out on top were a diverse group of talented young chefs from a number of our nation's top kitchens. Western heat finalists are: Stephen Baidacoff (Get Cooking, Edmonton), Alexander Fraser (Model Milk, Calgary), Michael Christiansen (The Pear Tree Restaurant, Vancouver) and Corey Hess (L'Abattoir, Vancouver). From the Eastern heat: Michael Dolente (Shangri-La, Toronto) Alex Nacinovich (Canoe, Toronto), Nehemiah Lim (Jump, Toronto) and Solomon Chau (Stock, Toronto) all stood out ahead of the competition to win over the judges.
"As we expanded the competition into more cities across Canada this year the talent pool has become increasingly more impressive," says Chef David Hawksworth, the founder of the Hawksworth Young Chef Scholarship. "There was a wide range of techniques used in the preparation of the dishes but the judges found there to be a certain elevated level of refinement for those who progressed to the finals."
Michael Christiansen & Michael Dolente both placed first in their respective heats with Christiansen impressing the Western judging panel of chefs that included: Connie De Sousa, Justin Leboe, Michael Noble, Michael Allemeier, Kristian Eligh & David Hawksworth. He showed impressive composure, organization, and technical abilities, which translated into an impressive first place showing. As a reward for their hard work in the kitchen, Le Creuset provided both of them Stainless Steel Chefs' Pans, as well as round-trip airfare to Vancouver.
Taking place at the Pacific Institute of Culinary Arts on September 28, the final round of competition will see the finalists use mystery ingredients from the Freybe Black Box, which will be revealed only moments before the competition clock begins. The winner, chosen by a renowned panel of experts from the Canadian food industry, will be awarded a $10,000 scholarship, presented by the Chefs' Table Society of BC, along with an international stage.
Website: hawksworthscholarship.com
Facebook: /HawkScholarship
Twitter: @HawkScholarship
About Hawksworth Young Chef Scholarship:
A Canadian non-profit culinary foundation, the Hawksworth Young Chef Scholarship, was created to recognize and inspire young Canadian chefs, whilst promoting professionalism and culinary excellence within the hospitality industry. Through its national annual competition, the scholarship program provides a platform for talented young chefs to get a head start through recognition, mentorship and an unparalleled opportunity to work in the country's leading restaurants.
Feature photo by Jessica Haydahl Photography