"OYSTER BOB" SKINNER JOINS ALL-STAR TEAM AT BOULEVARD KITCHEN & OYSTER BAR, OPENING SOON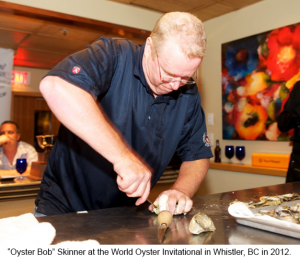 Famed international shucker "Oyster Bob" Skinner is the latest industry veteran to bolster the ranks of an already talented roster assembled at Boulevard Kitchen & Oyster Bar, which is set to open at the iconic Sutton Place Hotel Vancouver in mid-July.
"Oyster Bob", who reigned supreme as the best shucker at the 2012 Bearfoot Bistro World Oyster Invitational in Whistler, BC and the 2008 International Shellfish Festival in Charlottetown, PEI, was previously a fixture at Vancouver's Joe Fortes Seafood and Chop House for 28 years.
As the new resident Oyster Specialist at Boulevard, Skinner will oversee the expansive Oyster Bar, which boasts a dozen seats, an imported Italian Calcutta marble top and a large selection of fresh-daily shucked oysters.
"I'm very excited to be joining the team at Boulevard and I'm determined to make our beautiful new oyster bar one of Vancouver's top destinations for oyster aficiandos," said Skinner, who estimates he has shucked more than six million oysters in his long and storied shellfish career.
Skinner joins an all-star staff at Boulevard that includes Executive Chef Alex Chen, Chef de Cuisine Roger Ma and Pastry Chef Jason Pitschke in the kitchen as well as Director of Operations Steve Edwards, Maître d' Brian Hopkins, Wine Director Lisa Haley and Bar Manager Justin Taylor in the front-of-house crew.
This Saturday, Skinner will once again compete at the Bearfoot Bistro World Oyster Invitational in Whistler, where he'll be proudly representing his new post at Boulevard.
Those interested in keeping up-to-date with the latest news about the opening are invited to register for Boulevard's e-newsletter at boulevardvancouver.com, become a fan of/blvdyvr on Facebook or follow @blvdyvr on Twitter.
---
About Boulevard Kitchen & Oyster Bar
Opening mid-July 2014 at the iconic Sutton Place Hotel in the heart of downtown Vancouver, Boulevard Kitchen & Oyster Bar will provide a unique showcase for the culinary vision of Executive Chef Alex Chen. With an innovative approach that blends a respect for the past with a celebration of the present, Chen's seafood-focused menu is grounded in classical technique and training, while artfully infusing casual West Coast flair and creative hints of his international influences. Paired with exceptional service, a wide-ranging selection of wine and cocktails and true European ambiance in a traditional-yet-modern setting, Boulevard will offer breakfast, lunch, dinner and late-night service seven days per week, as well as weekend brunch. 845 Burrard Street, Vancouver, B.C. V6Z 2K6 | boulevardvancouver.com | @blvdyvr