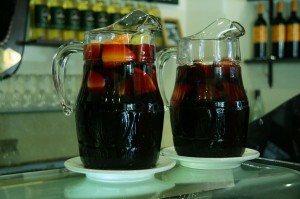 It's summer time, hot, and hard to be productive.  Don't you agree?  Sipping a nice refreshing Sangria on your patio would be a great way to spend the afternoon.  I recently went to Spain and enjoyed some Sangria at a restaurant there.  Back in Vancouver, the pitcher can be filled with slices of oranges, lemons, and limes, as well as chunks of apples. But, in Spain, the pitcher was fruit free.  I thought that was very odd, but tried the Sangria, and it did have the fruitiness to it.  I also noticed that you can buy bottled Sangria where fruit juice and wine are already mixed together for you.  So I decided to try making Sangria sans fruit slices, and it worked.
My Quick Sangria Recipe
1 bottle red wine
1 container fruit juice
1 bottle tonic water (optional)
To make the sangria, put all these ingredients in the fridge to get them nice and cold.  For the red wine, I would choose a low-tannin fruity red wine for this.  I would not recommend a Cabernet Sauvignon, which usually has a fair amount of tannins.  A Merlot, Gamay, Tempranillo, or some red blends would probably work well.  Warmer climates can produce riper grapes with softer tannins and fuller fruit flavours.  I would recommend buying an inexpensive red/blend from Chile, Spain, Australia, or California.
For the juice, use what you like, or experiment.  This can be fun as you can make 1 glass of sangria at a time.  In Spain I found pure apricot juice that worked well with a bottle of Tempranillo I purchased.  Back in Canada, I used a juice blend of oranges, apples, and peaches.  Pick the fruits you like.
For my glass of sangria, I fill the glass about 40% with fruit juice and 60% red wine, then enjoy.  You may want to change the percentages a bit.  Maybe try 50/50 if you want a little less alcohol.  You can also add in tonic water to lighten up your sangria.  Leave about a quarter of the glass for tonic water, then add your custom wine to fruit juice ratio.  Have fun with this.  Add a slice of fruit to the slide of the glass to make it look like you spent hours making the sangria, and enjoy this over the summer.  Cheers!