August South Africa Feature at BC Liquor Stores Includes Free Wine Tastings
During the month of August, the consistent quality and amazing value of wines from South Africa will be highlighted at 60 select BC Liquor Stores throughout the province.
One of the highlights of the month will be a FREE consumer tasting at the 39th & Cambie Signature Store on Friday, August 8 2014. The wines will be complemented by tasty bites of traditional South African fare, prepared by the Bon Vivant Group. Wine lovers will also have an opportunity to explore the diversity of South African wines at free tastings offered at other participating BC Liquor Stores throughout the month of August.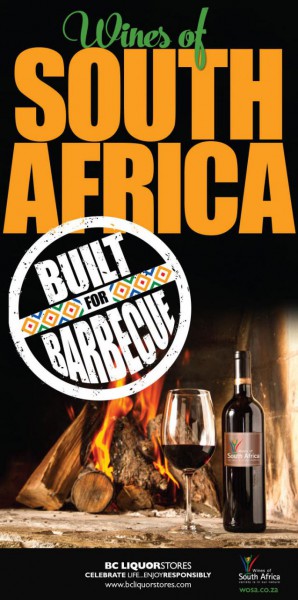 Wines of South Africa Consumer Tasting
Friday, August 8 2014
2:30 – 6:30 pm
BCLDB 39th & Cambie Signature Liquor Store
5555 Cambie Street, Vancouver
Plus free tastings throughout August at participating BCLDB Stores
South Africa wines available:
Citrusdal Six Hats Fairtrade Shiraz

20255
$ 13.99
DGB Beach House Red
123737
 $ 12.99
Flagstone Longitude – Shiraz Cabernet Sauvignon Malbec
789081
 $ 13.99
Flat Roof Manor Malbec
216234
 $ 12.99
Glen Carlou Grand Classique
153882
 $ 21.99
 Graham Beck The Game Reserve Cabernet Sauvignon
40428
 $ 19.99
KWV Roodeberg
7187
 $ 13.99
Moreson Miss Molly Hoity Toity
505578
 $ 14.99
Nederburg Winemaster's Reserve Cabernet Sauvignon
111526
 $ 12.99
Painted Wolf Cabernet Sauvignon
768317
 $ 14.99
Porcupine Ridge Sauvignon Blanc
592881
 $ 14.99
Spier Signature Chenin Blanc
659037
 $ 13.90
The Grape Grinder The Grinder Pinotage
883991
 $ 14.99
The Jam Jar Sweet Shiraz
392845
 $ 14.99
About Wines of South Africa: Wines of South Africa (WOSA) is a fully inclusive body, representing all South African producers of wine who export their products. WOSA, which was established in its current form in 1999, has over 500 exporters on its database, comprising all the major South African wine exporters. South Africa's winemaking history stretches back to the 1600s. In recent years, however, the country has combined longstanding traditions with cutting-edge technology and a commitment to environmental stewardship.

About Bon Vivant Group: Partners in life and business, Chef Dino and Nessa focus on marrying the joy of food and wine, with the art of providing top-notch hospitality. They are full-service catering and event specialists whose years of experience have seen them produce corporate and special occasion dinners, weddings, cocktail parties, wine tastings, and unique events for a diverse selection of clients in the Lower Mainland, Gulf Islands, Whistler, Okanagan Valley and California.
Facebook: https://www.facebook.com/WOSACanada … featuring BBQ recipes and wine pairings each Saturday all summer long!
Twitter: @WOSACanada
http://www.wosa.co.za/                                   www.bonvivantgroup.ca