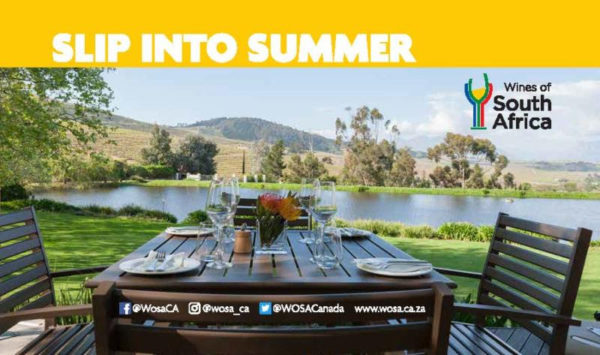 This summer is the perfect time to discover the great value of wines from South Africa. Throughout June, the BCLDB will focus on the country with in-store tastings and displays, as well as a
FREE consumer tasting
. The tasting will take place
Friday, June 8th 2018 
at the Park Royal BCLDB Signature Liquor Store, and will pair South African wine samples with cheese and charcuterie from Granville Island's Oyama Sausage Co.
South African wines are particularly well suited to the summer activity circuit of barbecues, ball games, and weekends at the cottage. The BCLDB will highlight some great options with displays in 60 locations and free in-store tastings. On
June 8th
, consumers will also be treated to South African wine samples and tasty bites from Oyama in the fresh new Park Royal store. Wines will include:
*             Anthonij Rupert Protea Chenin Blanc
*             Bellingham Bernard Series Old Vine Chenin Blanc
*             Big Bill Cabernet Sauvignon
*             Boschendal Estate Winery 1685 Chardonnay
*             Fairview Cellars Goats do Roam Red
*             Grape Grinder Blue Moose Cabernet Sauvignon Shiraz
*             KWV Walker Bay Sauvignon Blanc
*             Mulderbosch Cabernet Sauvignon Rosé
*             Riebeek Cellars Shiraz
*             Spier Signature Chenin Blanc
*             The Vinecrafter Chardonnay
*             Two Oceans Sauvignon Blanc
*             Wolftrap Red
Wines of South Africa Consumer Tasting
Friday, June 8 2018
3:00 – 7:00pm
BCLDB Park Royal Signature Liquor Store
Park Royal North, West Vancouver
About Wines of South Africa: Wines of South Africa (WOSA) is a fully inclusive body, representing all South African producers of wine who export their products. WOSA, which was established in its current form in 1999, has over 500 exporters on its database, comprising all the major South African wine exporters. South Africa's winemaking history stretches back to the 1600s.  In recent years, however, the country has combined longstanding traditions with cutting-edge technology and a commitment to environmental stewardship.
About Oyama Sausage Co.: John and Christine Van Der Lieck opened Oyama Sausage Co. in 2001. Located in Granville Island's Public Market, the shop carries a wide selection of fresh sausages and handmade pâtés, as well as cured salamis and hams. John, whose ancestry includes five generations of Dutch and German charcuterie makers, has cultivated partnerships with local farmers and suppliers to ensure he works with only the best ingredients. He experiments with fusions between traditional charcuterie (including recipes that have been in his family for generations) and international cuisine, drawing from the rich diversity of food cultures in Vancouver to create modern and exciting flavour combinations that reflect the multicultural mosaic of the city.