This made for sharing and pairing duo is none other than Quails' Gate 2016 Stewart Family Chardonnay. A Decanter GOLD award winner paired with a bowl of Truffle Popcorn. Sinfully delicious.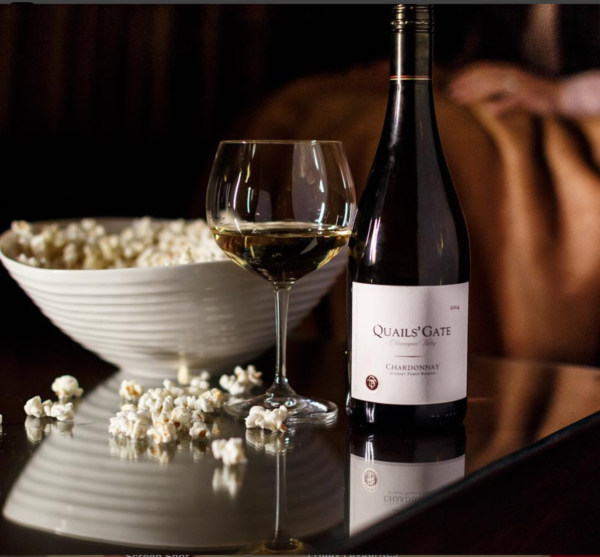 What could be better than an award winning Quails' Gate wine paired with a crunchy snack? Can we say decadent? We love it!
QUAILS' GATE
2016 STEWART FAMILY RESERVE CHARDONNAY
WINE STYLE
The flagship white wine at Quails' Gate, the Stewart Family Reserve Chardonnay has a reputation for its quality and consistency, and the 2016 is no exception. It is rich with a palate bursting with vibrant orchard fruit and an elegant buttery charm.
TASTING & PAIRING
On the nose, notes of tangerine zest, orange blossom, dried sage and buttery shortbread. It is very well balanced with alluring fruit aromas, a refreshing acidity and lingering stony minerality. We suggest serving slightly chilled (10 to 12° C), slightly warmer than most white wines to fully enjoy its elegance. Pair alongside rich seafood dishes, such as lobster with butter or shellfish bisque. It would also be lovely with a finely minced beef tartare with parmesan and truffle or baked ham studded with cloves.
WINEMAKING
The fruit is sourced from our premium Chardonnay blocks on the volcanic slopes of Boucherie Mountain just above the winery. The Stewart Family Reserve Chardonnay is 100% barrel fermented in quality French oak, both new and old. Battonage and full malolactic fermentation were carried out to enhance the mid palate and give the wine its rich, creamy character.
These exceptional Chardonnay's (both the 2015 and 2016 vintages) are available from the Quails' Gate Stewart Family Library of Reserve wines and can be purchased online or at the winery.
When visiting the Okanagan, before you go: Do your homework and a bit of research about the wineries you wish to visit. Check the winery website to find out their months, days and hours that their Tasting Room is open. Know if you need to book your tasting in advance of your visit. Many wineries are now so busy there may be times that they are unable to accommodate you. It will be a much better visit if you have a confirmed appointment. Be on time. Expect to pay for your tasting, some, but not all wineries refund all or a portion of the fee if you purchase wine. Plan ahead for a designated driver or use the services of a wine tour company. Limit the number of wineries you visit in a day. A more leisurely timeline will increase your enjoyment. For the best overall experience, I like to limit my daily visits to no more than three, maximum and if a winery lunch is on the agenda no more than two winery tastings.
Tasting notes courtesy of Quails' Gate.