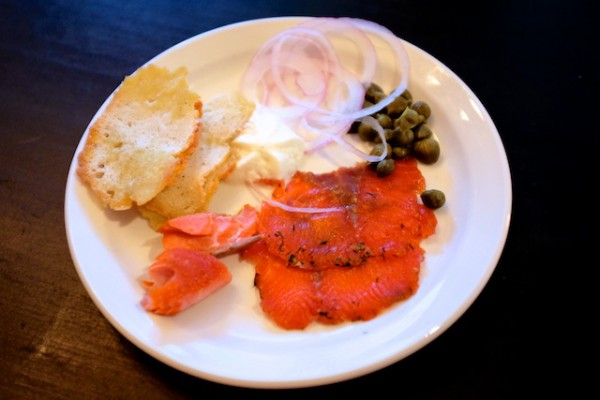 West 4th Avenue, a street full of fantastically unique eateries and shops. As autumn rolls in and the sun sets earlier than we're accustomed to, our W.4th Tasting Plates mini adventure begins at the August Jack. Presented with a house smoked and cured salmon duo, it was a great start to our evening. Their candied salmon wasn't too sweet and still had the salmon sweetness to it, which worked well with the goat cheese foam. Their grapefruit and dill smoked salmon was nice but didn't have the citrus-y flavour I was expecting. Coincidentally, Tuesday nights are their live music nights where they were offering Tasting Plates participants a beer flight tasting during the music.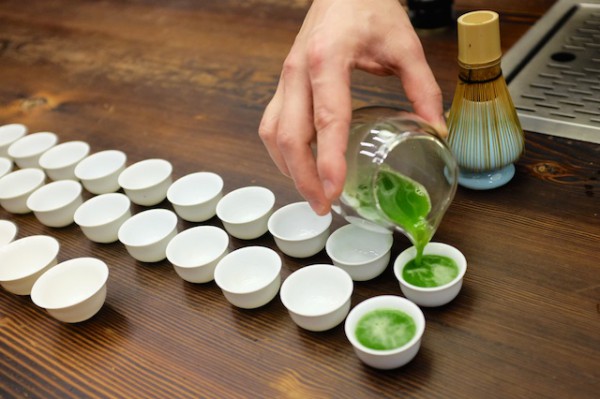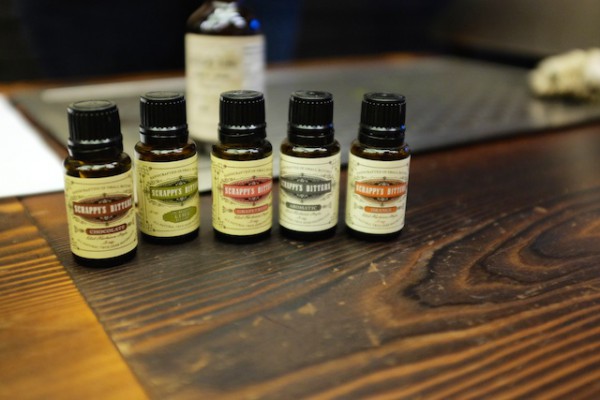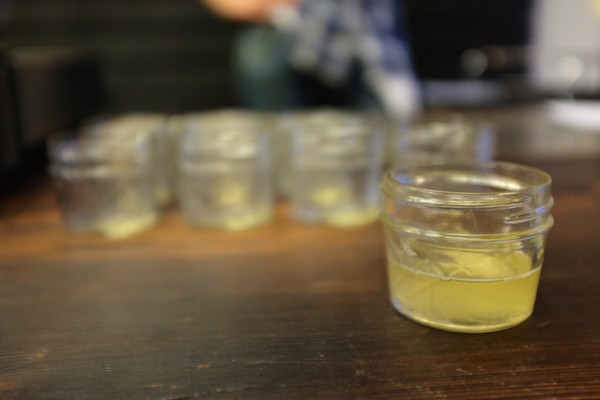 Moving onto the next location before we lost more sunlight, we headed to O5 tea bar. Luckily enough, they were offering delicious samples of matcha, grapefruit bitters, and housemade kombucha. Their interior is fantastic and the staff is knowledgable. I personally love my matcha bitter and they had a most watered down version but their housemade kombucha was delicious. They brew it in-house, have it on tap, and teach people how  to make it as well! All of their teas come from suppliers that they have met personally, which is neat. Around the store, they have photos and stories of the tea farmers.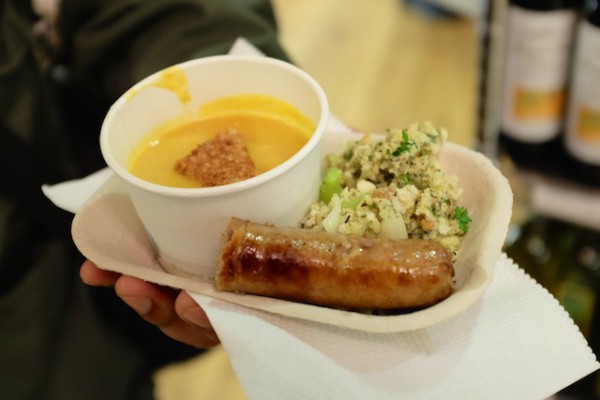 A few doors down, Jackson's Meats and Deli was on the list. A few weeks prior, I wandered in there to see their selection and I was already impressed. What they offered during the tasting plates was nothing but phenomenal. Given it is October and Thanksgiving is a week away, they were offering a fabulous pumpkin carrot soup with a cinnamon crouton, housemade turkey sausage, and stuffing with turkey stock and veggies. It was like a mini Thanksgiving meal. The soup was smooth, the sausage had the perfect amount of seasoning and the stuffing was herbed to perfection. They serve soups and sandwiches daily and carry a wall full of prepared frozen meat pies as well.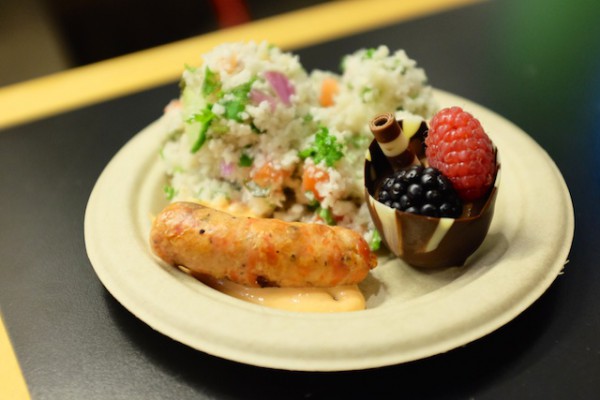 Across the street was our next location. Whole Foods was bustling with evening shoppers but we headed to the prepped food section and was served a healthy portion of cauliflower tabouleh, salmon sausage, and a mini classic dessert. Their cauliflower tabouleh had ample amounts of cilantro and had a nice citrus finish. As my new favourite vegetable, cauliflower is versatile and nutritious. The salmon sausage was my favourite of all the things I had that evening. It had a nice balance of flavour and the asiago brought the salmon taste. For dessert, I'm sure you've their mini cakes before. It's one of the most tempting things when I walk into Whole Foods. I went with the chocolate mousse in the chocolate cup. Nothing can beat a classic one bite dessert.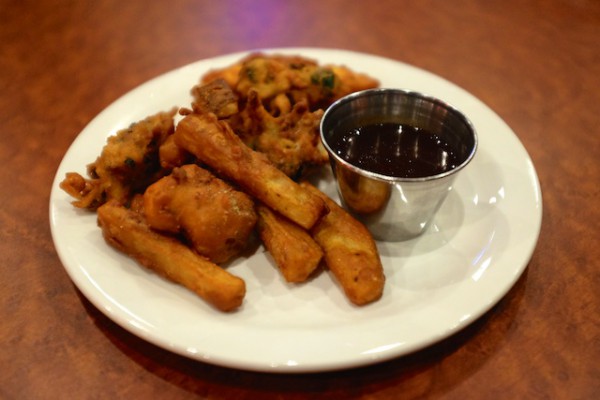 Next up was Indian Oven, as place up steep stairs that I heard so much about. Welcomed with a hot plate of fresh vegetable pakoras, fries and deep fried paneer, I only wanted more. Their tangy tamarind sauce was fantastic and serving us pakoras was a great introduction to what their restaurant was capable of.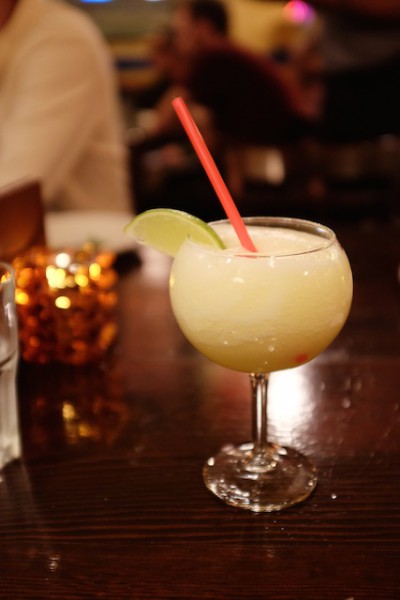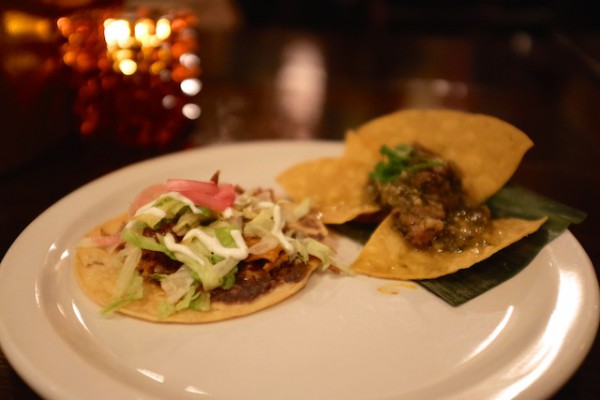 Across the street was Las Margaritas, which according to many of my co-workers is one of the best restaurants on W.4th. With a good helping of chips and salsa, we were served Chile Verde and Cochinita Tostada. With a slight kick for each taco, it was honestly my first time eating a crunchy taco! As a treat, we ordered a pineapple margarita, and boy was it delicious! I think I'll definitely be coming back for more.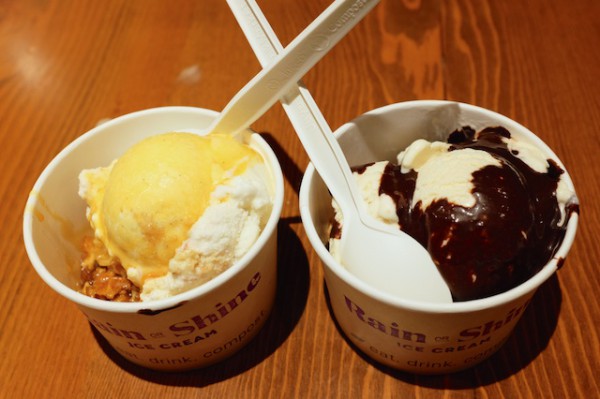 Our last stop was dessert at Rain or Shine. A few weeks earlier I had tried these two flavours already but they're just as fantastic the second time around. We had a choice between Brown Butter Snickerdoodle ice cream with warm vanilla caramel sauce and waffle cone pieces, the Peanut Butter ice cream with hot fudge sauce and waffle cone pieces or the vegan Chocolate Coconut ice cream. I went ahead and took the peanut butter that satisfied my tastebuds. The rich ice cream was smooth and had a fantastic crunch from their housemade waffle cone bits and contrasted well with their fudge sauce.
Every Tasting Plates I attend is always a surprise. You're introduced to new placed and fall in love with old locations as well. It's a fantastic way for people to leave the house and experiment new flavours and neighbourhoods. If you've never been to a Tasting Plate, I'd highly recommend it.