Have you ever attended a Tasting Plates event by Vancouver Foodster?  If not, it is a great way to try small samples of food from different restaurants.  This past week Vancouver Foodster, chose the region of "Downtown South" to show off their cuisine.  I was looking forward to this event as the list of restaurants looked very interesting, as well as their menus.  Below are the restaurants, menus, my pictures and comments.  If something I show piques your interest, go and try it!
The Restaurants and Their Menus
Prime Modern Italian Steak House
Our Tasting Plate:
CAB striploin fiorentina
Mini twice baked potato
Parmesan shavings
This was my first stop and the striploin was done medium.  The meat was tender and very flavourful.  I enjoyed it alot, but you need to check with your other dinner guests if they like medium beef.  The mini twice baked potato provided a bit of creaminess and texture to the striploin.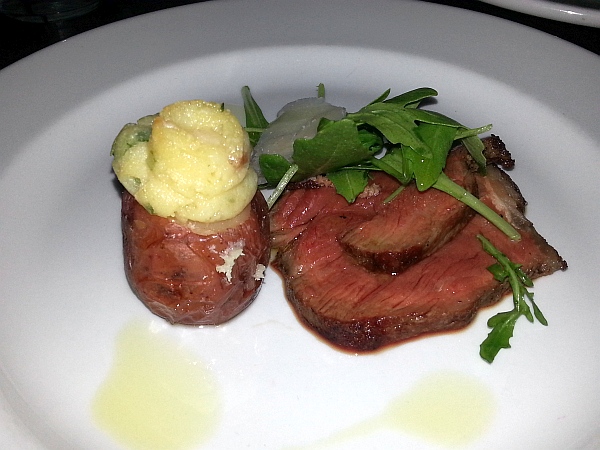 Beyond Coffee
Our Tasting Cup:
Affogato with Illy espresso, vanilla gelato
Excellent vanilla gelato that has Illy espresso coffee poured over it.  Hot and cold, sweet and bitter.  I should try this at home.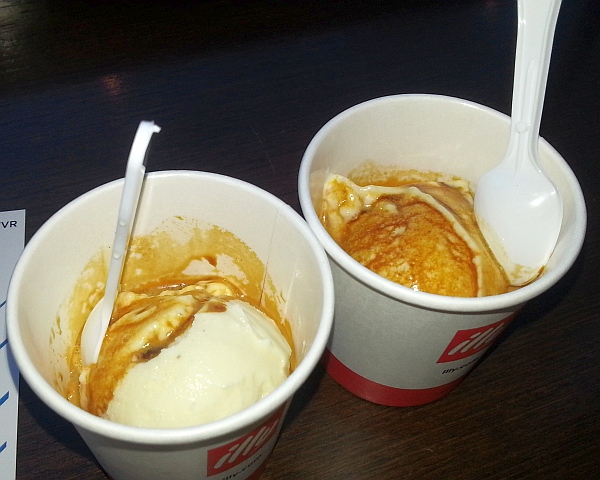 Saj & Co
Our Tasting Plate:
Tabboule
Hummus
Kale mottabal
Anton the great
The green Balila
This was a real ethnic experience, with authentic Lebanese food, great music, chatty chefs, and general chaos.  The food was served in 2 courses.  First was the tabboule, (a salad made from couscous, parsley, tomatoes and more ingreds), hummus (chickpea puree with garlic) and kale mottabal, which I was told was hummus with ground kale.  All had nice bright flavours.  Healthy food.  The second course, which took a while to get was Anton the great and the green Balila.  One a chickpea dish with parsley and tahini, and the other a type of vegetarian Lebanese flatbread sandwich.  A very ambitous effort from the restaurant, but this extra was not needed.  I did like the chickpea dish, but the flatbread needed a bit more sauce in it for me.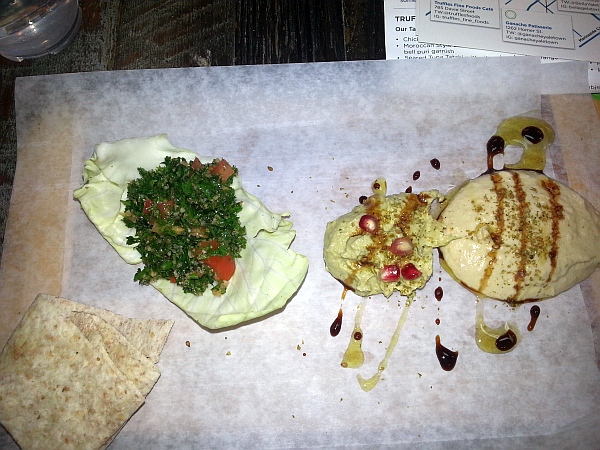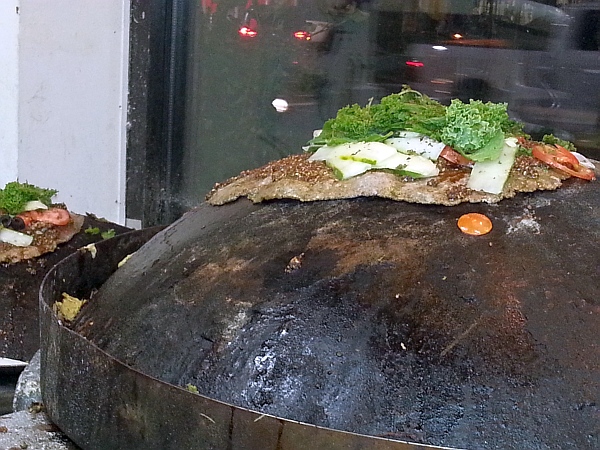 Truffles Fine Foods Cafe
Our Tasting Plate:
Chicken Rillette with plum brulee and nutmeg foam
Moroccan Style Lamb Pop with mint cucumber raita bell puri garnish
Seared Tuna Tataki with citrus kombucha, orange segment and taro root crumb
The food from Truffles took a bit of time to reach our table, but it was presently nicely once it had arrived.  I do like Moroccan spices and was hoping for a nice flavourful crust on the lamb pop, but it was quite mild.  I think adding more spices would make this dish even better.  The lamb was very soft, and I would have loved to have a glass of Gamay of Pinot Noir to drink with it.  I also am a sushi fan and enjoyed to Seared Tuna Tataki.  Again nice mixture of texture and citrus.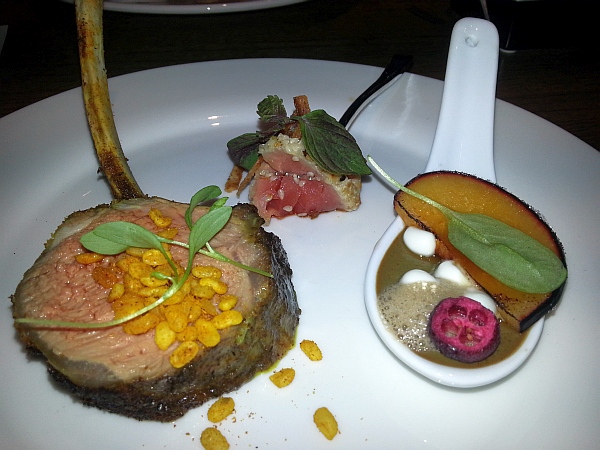 Bella Gelateria Yaletown
Our Tasting Plate:
Genoa pizza – Pesto base, Onion, Prosciutto Crudo, Cherry tomatoes, Fior Di Latte
Beet Risotto – Arborio rice, beet juice, butter, vegetable stock, garnished with roasted beets
Caprese – Vine-ripened tomatoes, fior di latte, balsamic reduction, basil, pine nuts
"G" Sundae – Whiskey fudge, strawberry pocheé, fior di latte
When you hear "Gelateria" you probably think of gelato only, but Bella Gelateria serves Italian dishes as well as their gelato.  The Tasting Plate was served quickly and the presentation was quite nice.  My favourite item was the Genoa pizza.  I really liked the salt and crunch of the prosciutto on this pizza.  The Beet Risotto had a nice earthy flavour from the beets, but was a little too al dente for me.  The G Sundae was also quite nice.  Strawberry, vanilla and whiskey fudge together are a nice way to end a meal.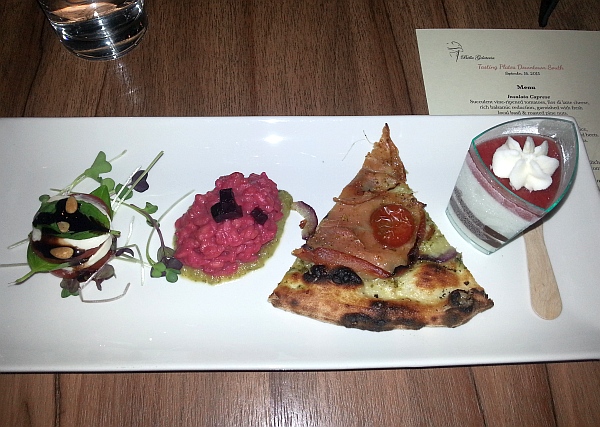 Ganache Patisserie
Our Tasting Plate:
the Cacao et Earl Grey – cocoa nib butter cake, earl grey ganache, earl grey mousseline, sour cherries and earl grey buttercream
Cassis et Matcha – cassis mascarpone cream, cassis gelee, milk chocolate mousse, blackberries, matcha sponge
Raspberry Chocolate Canalle
Chocolate Cookies
Everything on this plate was delicious, particularly the 2 slices of cake.  Just go there and buy!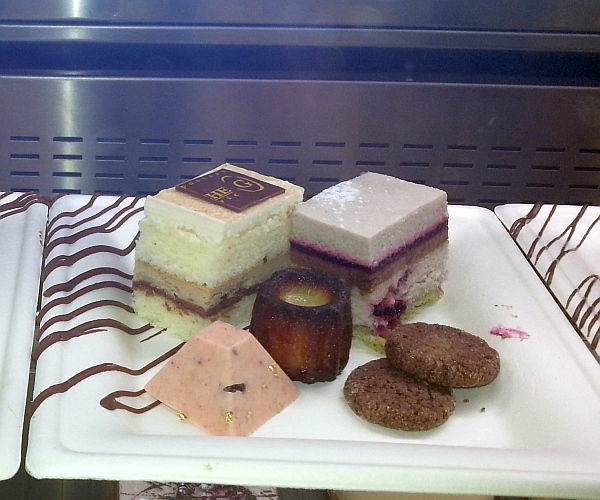 Los Amigos Taqueria
Our Tasting Plate:
Churros – Filled with Nutella and Dulce de Leche, and topped with chocolate ganache.
Our Tasting Cup:
Hot Drink Atole, beverage thickened with masa and flavoured with cinnamon.
Lining up to this tiny restaurant, we were treated to a Mexican sweet treat, Churros, along with a corn-based sweet beverage.  I did like the churros as a snack, but I think the restaurant could have offered their open faced tacos which made everyone in the lineup drool over.