Sesame Balls (Jian Dui)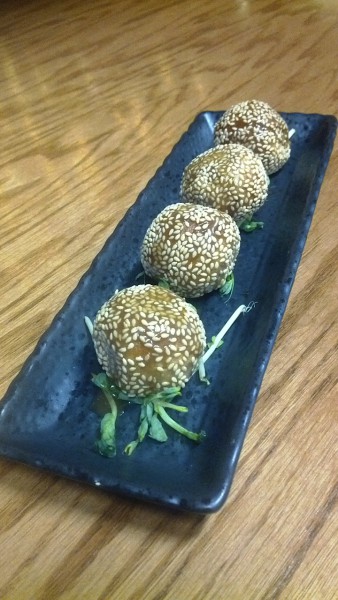 Chef Todd Bright
ingredients:
1/2 cup white sesame seeds, or as needed
Small bowl of water (about ½ cup) at room temperature
1 – 1 1/3 cups boiling water
3 cups (about 400 grams) glutinous rice flour
1 cup (about 200 grams) red bean paste (may not all be used)
6 cups oil for deep-frying, or as needed
equipment:
Deep pot or wok
Slotted spoon or fryer scoop
Paper towels
method:
Spread the sesame seeds over a piece of wax or parchment paper. Place a small bowl of water beside the sesame seeds.
Dissolve the brown sugar in 1 cup of the boiling water.
Place the rice flour in a large bowl. Make a 'well' in the middle of the bowl and add the dissolved sugar and water mixture. Stir until you have a sticky, caramel-colored dough, adding as much of remaining 1/3 cup of boiling water as needed (don't add the water if not needed).
Pinch off a piece of dough roughly the size of a golf ball. Use your thumb to make a deep indentation in the dough and then the thumb and index fingers of both hands to form the dough into a cup.
Roll 1 level teaspoon of sweet red bean paste into a ball.
Place the red bean paste in the hole, and shape the dough over the top to seal. It is important to make sure the red bean paste is completely covered. Continue with the remainder of the dough.
Dip each ball into the small bowl of water (this will help the sesame seeds stick to the ball). Roll the ball over the sesame seeds. Set coated ball aside and repeat the process with the remainder of the balls.
In a wok or deep-sided, heavy saucepan, pre-heat the oil for deep-frying to 350°F. Make sure that there is at least 3 inches of oil in the wok.
Deep-fry the sesame seed balls, a few at a time, in the hot oil.
Fry until sesame seeds have turned golden brown.
Remove deep-fried balls with a slotted spoon and drain on paper towels.
Serve warm.
If preparing ahead, refrigerate and then re-heat the balls until they puff up again.
wild rice market bistro
122-810 Quayside Drive, The River Market, New Westminster, BC
778-397- 0028  /  www.wildricebc.ca
Executive Chef Todd Bright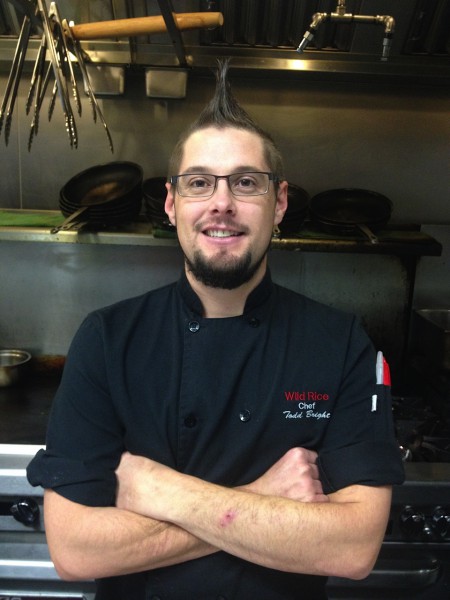 Todd Bright began his career at age 17 in Australia as an apprentice at Ming Jade Restaurant under Cantonese Chef Kevin Lowe. At the age of 22, he travelled widely through Europe, completing stages with many renowned restaurants and finally settling down as Sous Chef at a high-end gastro-pub in Oxford, England. Upon returning to Australia his valuable experience overseas led to a position at Vino's, the largest, and multi-award winning, fine-dining restaurant in Queensland, Australia. After seeing Europe, Todd was bit by the travel bug again and in the winter of 2007 ventured to Vancouver, Canada. His talents were immediately discovered by Wild Rice where, after one year, he rose to the position of Restaurant Chef. Chef Bright's menus reflect his passionate commitment to creating local and sustainable dishes while never compromising on flavor or creativity.
In April of 2009, Todd took a hiatus to learn about wine and winemaking in the Okanagan. While there he completed his intermediate certificate with WSET and worked with Cellar Art Wines where he assisted with wine-making as well as creating the food and wine pairings for the winery's tasting room.
Todd returned to Wild Rice as Executive Chef in January of 2010 where he immediately jumped into preparing special menus for Chinese New Year's and the Olympics.
John Henderson, restaurant critic for The Denver Post, wrote of Chef Bright's food in a February 2010 syndicated feature, "The menu is as visionary as the new China… I spent a month in China in 2008 and except for Peking duck in one Beijing dive, this seafood ravioli was the best Chinese dish I've ever had."
Also in 2010, Chef Bright became the first non-Asian finalist in the Chinese Restaurant Awards Chinese Restaurant Chef of the Year the competition. While he did not win or place, Chef Bright was honoured to included in this prestigious group of eight chefs and won many accolades from the older, traditional chefs for his dishes. "It was an amazing opportunity and I am so pleased to have been part of the competition. As a result, I now have a network of Chinese chef colleagues. "
In 2011, Chef Bright joined Wild Rice owner Andrew Wong as a business partner to open Wild Rice's second location in New Westminster's River Market. In 2014, Mr. Wong and Chef Todd closed their Vancouver location and to concentrate their efforts on the over-whelmingly successful New Westminster location. At the same time it was rebranded as Wild Rice Market Bistro.
Not bad for a gwei lo boy from Australia.
Wild Rice Market Bistro,  New Westminster:  122-810 Quay