PAN FRIED CHICKEN SERVED WITH FINGERLING POTATO SALAD & FRESH OKANAGAN PEACHES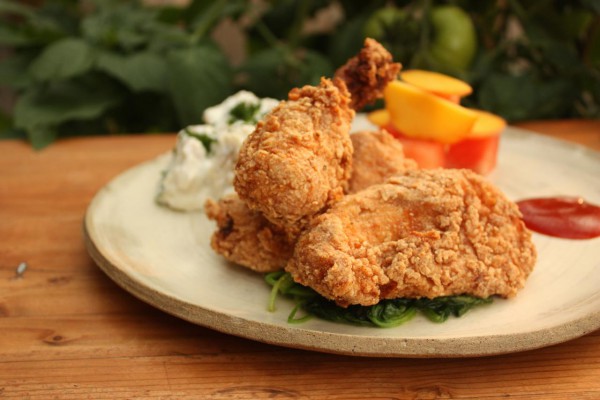 SERVES 4
CHICKEN & OVERNIGHT MARINADE:
8 PIECES BONE IN, SKIN ON CHICKEN, (THIGHS & DRUMSTICKS)
500 ML BUTTERMILK
T/T KOSHER SALT
T/T FRESHLY GROUND BLACK PEPPER
CHICKEN FRYING DREDGE (THOROUGHLY COMBINE TOGETHER ALL THE FOLLOWING INGREDIENTS) :
3 C RICE FLOUR
1 C CORNSTARCH
1 T PAPRIKA
½ T CAYENNE PEPPER
½ T GARLIC POWDER
½ T ONION POWDER
T/T KOSHER SALT
T/T FRESHLY GROUND BLACK PEPPER
POTATO SALAD:
2 LB FINGERLING OR NEW POTATO, (BOILED UNTIL FORK TENDER)
2 C MAYONAISSE
½ C SOUR CREAM OR CRÈME FRAICHE
¼ C RED ONION, SMALL DICE
¼ C GHERKINS OR DILL PICKLES, MINCED
2 T TARRAGON, FINELY CHOPPED
2 T FLAT LEAF ITALIAN PARSLEY, FINELY CHOPPED
1 T CHIVES, FINELY CHOPPED
50 ML PICKLE BRINE
T/T KOSHER SALT
T/T FRESHLY GROUND BLACK PEPPER
CANOLA OIL FOR FRYING
PROCEDURE:
CHICKEN:
IN A LARGE CONTAINER COMBINE CHICKEN, 250ML OF BUTTERMILK & SEASONINGS. COVER & REFRIGERATE OVERNIGHT.
POTATO SALAD:
1) BOIL THE POTATOES IN SALTED WATER UNTIL FORK TENDER.
2) THOROUGHLY DRAIN & ALLOW THE POTATOES TO COOL TO ROOM TEMPERATURE.
3) ONCE COOLED, CUT INTO QUARTERS OR BITE SIZE PIECES.
4) IN A BOWL LARGE ENOUGH, THOROUGHLY COMBINE ALL THE INGREDIENTS & SEASON TO TASTE.
5) REFRIDGERATE & COOL UNTIL READY TO USE.
PAN FRY CHICKEN:
1) DIP THE CHICKEN IN THE RESERVED BUTTERMILK AND LIGHLTLY COAT IN RICE FLOUR DREDGE, SHAKE OFF EXCESS & REPEAT TO FORM A EVEN CRUST ON THE CHICKEN. CRUST ALL THE CHICKEN AND SET ASIDE UNTIL READY TO FRY.
2) IN A HEAVY BOTTOMED SKILLET OR CAST IRON PAN, HEAT APPROXIMATELY A ½" DEPTH OF CANOLA OIL TO 300F.
3) CAREFULLY PLACE THE CHICKEN INTO THE HOT OIL AND PAN FRY FOR 8 – 12 MINUTES, UNTIL GOLDEN BROWN ON ALL SIDES & THE JUICES RUN CLEAR. AN INTERNAL TEMPERATURE OF 165 F SHOULD BE REACHED ON AN INSTANT READ THERMOMETER.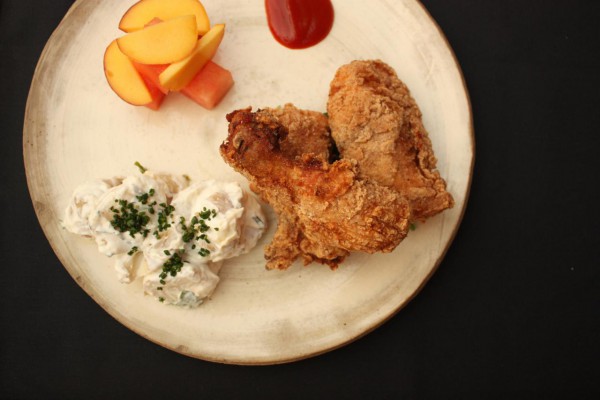 SERVE THE PAN FRIED CHICKEN WITH POTATO SALAD & FRESH OKANAGAN PEACHES.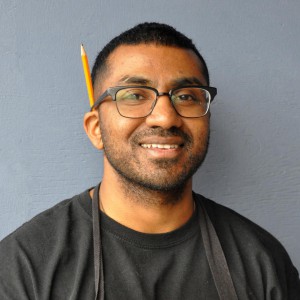 Kitchen life was imprinted on Alvin Pillay from an early age. His grandfather was a head chef, and family gatherings were centred around the cooking and sharing of meals. After kitchen work placements in high school, and an apprenticeship at Vancouver's Van Dusen Gardens, he left to further his training under some of the best chefs in Vancouver. At C restaurant he worked closely with chefs Robert Clark and Robert Belcham.
Continuing his education, Alvin travelled to Italy to immerse himself in traditional Piedmontese cooking at Castello Di Verduno. Alvin then dirtied his apron in a number of New York's most celebrated restaurants: Aquavit, Gordon Ramsay and Le Bernardin. Returning to Vancouver, he landed at Belcham's celebrated Fuel and Campagnolo restaurants. Together, Alvin and Robert Belcham built Campagnolo into a household name, making Conde Nast's list of 2009's Top 50 New Restaurants & winning Vancouver Magazine Best New Restaurant.
Alvin strives to develop relationships between his food, suppliers, cooks and customers. He meets with farmers & purveyors regularly to source local produce & interesting ingredients.