La Buca, Pied a Terre, Sardine Can, and The Abbey celebrate the harvest with seasonally foraged mushrooms and abundantly flavourful meats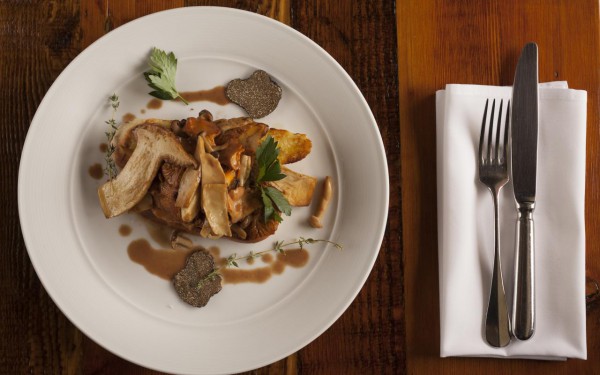 Now in its ninth year, the Game and Wild Mushroom Festival takes place October 16 to November 2 with three or four course prix fixe menus at La Buca and Pied a Terre, and daily chalkboard specials at Sardine Can and The Abbey.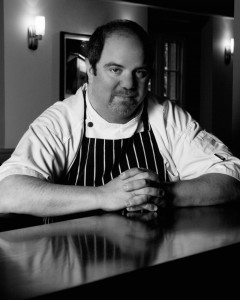 Chef Andrey Durbach celebrates fall with special menus at all four restaurants featuring wild, local mushrooms, deliciously rich game meats, and other speciality foods.
"This is my favourite season to cook," Durbach says. "It's the best time of the year for mushrooms and it's also traditionally hunting season. It's a time of year we turn our attention to foods that are deeply satisfying."
The fest is a chance to taste the rich, earthy flavours of freshly picked in-season mushrooms—including chanterelle, matsutake, porcini, and black trumpet—and rarely featured game such as red deer, wild boar, and elk.
For the first time, the newly opened The Abbey joins La Buca, Pied a Terre, and Sardine Can in the annual foragers' and food lovers' extravaganza, with each restaurant offering unique menu items and wines to accompany them.
La Buca will feature a delectable three and four-course menu for $52 and $60 respectively. Highlights include mustard and black pepper crusted carpaccio of elk; taglierini with butter, sage, truffle, and porcini secchi; grilled venison, soft gorgonzola polenta, quince preserves, and marsala wine; and osso buco with wild mushroom risotto.
Diners at Pied a Terre, which offers a three-course menu for $52, can look forward to an assiette of red deer three ways: roast loin, grilled sausage, and braised cheeks; roast quail stuffed with foie gras and brioche; wild mushroom bouillon with quenelles of pheasant and oloroso sherry; and a frisée au lardons with wild boar bacon, poached duck egg, and mushroom crouton, among many other standout dishes.
Sardine Can and The Abbey will feature extensive Game and Wild Mushroom fresh sheets.
"B.C. is one of the best mushroom regions in the world," Durbach says. "These foods also pair beautifully with intensely flavourful wines."
About La Buca | Located in the heart of Vancouver's Westside, La Buca is a beloved neighbourhood restaurant that features handmade pasta and regional Italian specialties, La Buca is open for dinner Sunday to Thursday from 5 to 9:30 pm and from 5 to 10 pm on Friday and Saturday. La Buca is located at 4025 MacDonald Street.
For more information and reservations, contact La Buca at 604.730.6988 or dinner@nulllabuca.ca
About Pied-a-Terre | The intimate bijou restaurant in Cambie Village is known for its warm service and well-priced, well-executed food. Open 7 nights a week for dinner and for lunch on Fridays, Pied-a-Terre is located at 3369 Cambie Street.
For more information and reservations, contact Pied-a-Terre at -604-873-3131 or eat@nullpied-a-terre-bistro.ca.
About Sardine Can | This lovely little room near Gastown's Maple Tree Square  offers bar seating, classic Spanish tapas dishes, and an all-Spanish beer, sherry, wine, and brandy list. Doors open every afternoon at 4 p.m. (noon on weekends) at 26 Powell Street.
For more information and reservations, contact Sardine Can at 604-568-1350 or tapas@nullthesardinecan.ca.
About The Abbey | Already receiving rave reviews, the progressive tavern offers pedigreed food with a modern sensibility. Open daily for dinner from 5 p.m., with Happy Hour daily until 6:30 p.m., The Abbey is at 117 West Pender Street.
For more information and reservations, contact The Abbey at 604-336-7100 or info@nullabbeyvan.com