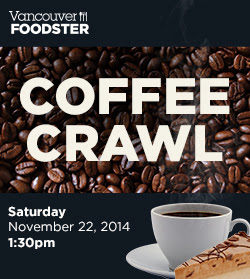 Tantalize your taste buds at several restaurants, cafes and bakeries all over Yaletown, Crosstown and Mount Pleasant! This tasting extravaganza goes from 1:30 pm until 5:30 pm and is presented by Vancouver Foodster.
Each restaurant, cafe and bakery will be serving up Tasting Cups and Plates for guests to enjoy and you will have a chance to visit many different types of cafes throughout the event, meet some new food and drink loving friends, meet the baristas, and learn about each of the participating cafes and the coffees they serve.
If you haven't been to our previous Tasting Plates events, Novus TV featured one of our previous events on City Lights
Visit our Tasting Plates site and view our past events, photos and more!
•Bring along a friend or two, your significant other, your family or come solo.
•A coffee and food networking event connecting Vancouver's vibrant coffee community.
Visit each of the participating establishments at your leisure by bike, moped, transit, car, walking, or carpooling.
Registration: Milano Coffee Roasters-this is where you will show us your printed or digital tickets and will pick up your Tasting Plates Cards.
Participating establishments: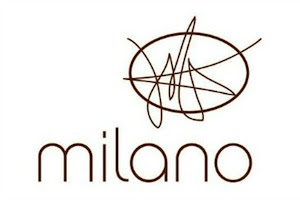 Milano Coffee Roasters
156 West 8th Avenue
Web: http://www.milanocoffee.ca/
Twitter:@MilanoRoasters
Serving: Coffee Roastery tours, Cuppings, Coffee
The Milano taste was developed from a century of artisanship in the Italian coffee tradition. This distinguished taste comes from the skill of the torrefazzioni – a secret method roasting and blending, closely guarded, personally taught, and handed down generation to generation. Our lineage of Musetti, Curatolo, and now Turko brings the family owned and operated Casa Torrefazione (house roaster and blender) into the twenty-first century.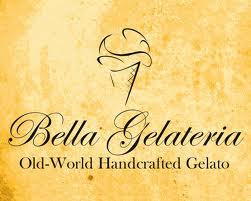 BELLA GELATERIA YALETOWN
1089 Marinaside Crescent
Web: http://www.bellagelateria.com
Twitter:@BellaYaletown
Serving: Desserts
Italian Napoletana pizzas, unique Italian desserts married with gelato from award winning Maestro James Coleridge.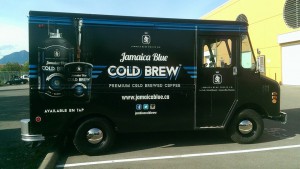 Jam Blue Cold Brew
Location: tba
Web: http://www.jamaicablue.ca/
Twitter: @jambluecoldbrew
Serving: Cold Brew Coffee
Jamaica Blue Cold Brew is a distinctively bold & exceptionally smooth cold brewed coffee handmade with our special blend of Certified Jamaican Blue Mountain.
Momento Coffee House
577 Great Northern Way, Vancouver
Tel: 604-828-5282
Web: www.momentocoffeehouse.com
Twitter: @momentocoffee
Serving: Coffee Pourovers featuring Bows & Arrows Coffee
Coffee with intention. We do espresso, pour over etc.
HAI PHONG VIETNAMESE KITCHEN
186 Keefer Place, Vancouver
Tel: 604-559-8897
Web: http://haiphongrestaurant.com/
Serving: Vietnamese coffee and dessert
Specializing in Vietnamese Cuisine known for their French style Vietnamese coffee, Vietnamese subs, Vermicelli bowls, noodle soups and more.
More cafes to be announced soon
Purchase Tickets via Eventbrite here
Early Bird Tickets: $25 per person before November 7, 2014
Advance Tickets: $40 per person after November 7, 2014
Regular Tickets $50 per person after November 20, 2014.
Note: Eventbrite fee and GST is extra on all tickets purchased online.
Ticket price includes tasting cups and plates at each of the participating establishments throughout the event.
Note: ALL Tickets must be purchased in advance online. All ticket sales are final. No exchanges or refunds; however you are welcome to transfer the ticket to another person for the same event if you notify us in advance with name (s) of who will be attending in your place. Event produced by CMI Chat Media Inc. This is an all ages event.
Follow me on Twitter and Instagram @vanrfoodster and follow us @TastingPlates on Twitter.