With the countdown to Christmas in full swing, it's time to treat yourself and your loved ones to Faubourg Paris' divine collection of festive delicacies. From sweet hostess treats to scrumptious stocking stuffers, there's every reason to indulge this holiday season.
A classic French Christmas wouldn't be complete without a traditional Bûche de Noël gracing the tabletop. Enjoy a modern touch to the classic Parisian bûche with these four new holiday creations, available in three sizes, from Faubourg head pastry chef, Ricardo Rosas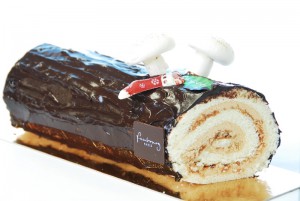 Traditional Yule Log Bûche
Vanilla genoise, tiramisu buttercream and feuillantine chocolate crunch rolled cake finished with rich dark chocolate ganache.
Cheesecake mousse, cranberry gelée and almond streusel built atop a peppermint chocolate biscuit.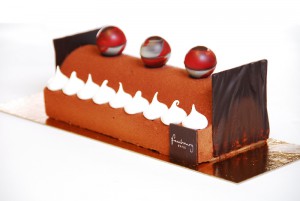 Chocolate Caramel Brandy Bûche
Brandy chocolate mousse and salted caramel mousse accented with a banana thyme crémeux on a flourless chocolate biscuit. This is a gluten-free bûche.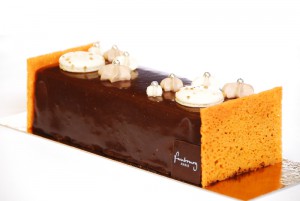 Pear & Praline Bûche
Croustillant praline and hazelnut biscuit topped with a smooth praline mousse, caramelized pears and dark couverture crémeux.
A special selection of mouthwatering holiday treats, available until the end of December at all three locations, include: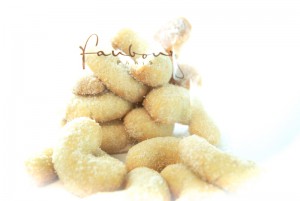 Vanillekipferl Cookies, $2.95/bag
Hailing from Austria, these vanilla almond biscuits are utterly irresistible with their crescent moon shape and light dusting of sugar. Offered in bags of eight biscuits each, stock up for the perfect addition to gift baskets or Christmas stockings.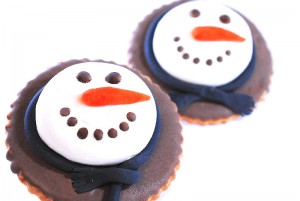 Snowman Cookie, $3.50
Adorable in design and delicious in flavour, these delightful treats are made of vanilla shortbread and chocolate ganache, topped with a meringue snowman head.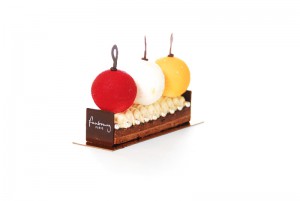 Christmas Ornament Pastry, $7.95
The ultimate Christmas dessert takes form in this white and dark chocolate crémeux and fondant chocolate-based pastry, adorned with three decorative mousse ornaments in raspberry, passion fruit and coconut.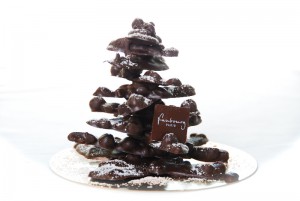 Holiday Tree Bark, $19.95
A decadent and easy-to-share Christmas tree piled with hazelnuts, almonds, cashews, raisins, cranberries and candied orange peel covered in a rich dark chocolate.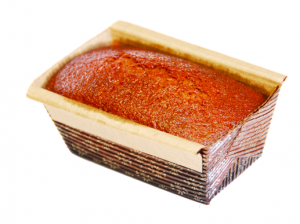 Pain d'épices, $9.75/$19.00
Available in two sizes, this traditional French holiday loaf consists of honey, citrus and an assortment of festive spices for a light breakfast or teatime snack.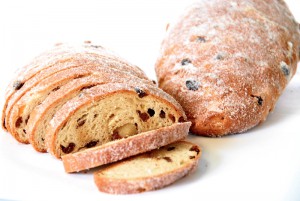 Stollen, $19.00
A delicious holiday bread filled with dried fruits, marzipan and dusted with sugar, this is best enjoyed with a cup of coffee on Christmas morning.
In addition to its holiday features, Faubourg is also offering monthly specials available during December only. Created by different members of the Faubourg Family and bursting with warm Christmas flavours, these delicacies are as unique as their architects.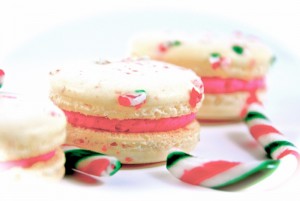 Candy Cane Macaron, $2.00
Crushed candy cane-decorated biscuits are filled with smooth peppermint ganache for a result that's truly sweet and highly addictive.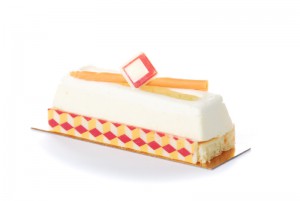 Champagne and Orange Mousse Pastry, $5.90
Covered with a Cointreau glaze and set on a marzipan biscuit, this is the perfect dessert for the Mimosa cocktail lover.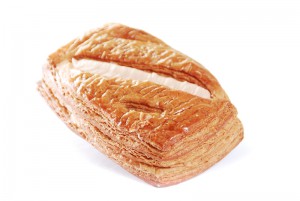 Gingerbread Croissant, $3.45
Filled with a lemon- and orange-infused mascarpone cream, this viennoiserie is at once festive, flaky and fabulous.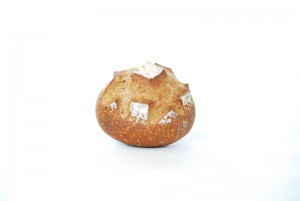 Chestnut Bread, $1.55
Delicious as part of a meal or on its own, this baked treat is flavoured with rum and spices for a taste that's both hearty and sweet.