We are pleased to announce the 2012 Sestina is now available for pre-ordering, with release scheduled for February 6th, 2015. As you might have read, the 2012 vintage for Washington State has been touted as one of the best vintages in many years. The 2011 Sestina sold out very rapidly and with the press received for the 2012, it is likely to vanish just as quickly.
After two consecutive cooler years that nevertheless produced some very exciting wines, 2012 was a welcome change of pace. It will be remembered for the intense heat of mid-August through most of September, ripening the earlier varietals, such as Merlot and Syrah from warmer sites, very rapidly. The autumn weather cycle finally started to kick in by early October, leading to a nice slow ripening throughout the month. We picked our last Cabernet, the 1972 planting at Bacchus, on October 22nd, a full 10 days ahead of 2011. Yields were low to moderate at nearly all sites, with small berries and ripe flavors, full richness, and ample but supple tannins.
Stephen Tanzer of Vinous says, "Two thousand twelve brought a return to more typical Washington warmth but, happily, it was a year without extremes…  The successful wines of 2012 show a charming balance of expressive, fresh aromas; fairly fleshy texture and noteworthy sweetness of fruit; and ripe tannins."
An ideal vintage for Cabernet Sauvignon, this wine features a 72% blend of three incredible old vine Cabernet Sauvignon Vineyards: the 1972 planted Sagemoor Bacchus, the 1973 planted Sagemoor Dionysus and the1985 planted Red Willow Vineyard.  These blocks bring out what we like best about Washington Cabernet – the wines show great concentration and depth, while retaining focused Cabernet character and complexity – a rare combination of terroir and power. The blend also features 19% Merlot from the 1985 planted block of Red Willow and 9% Cabernet Franc from Bacchus Vineyard.
__________________________________________________________________________________________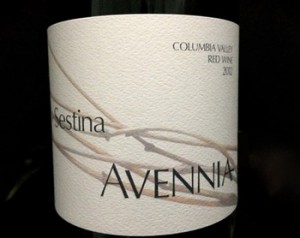 2012 Sestina Tasting Notes
Winemaker Chris Peterson notes: This wine is a blockbuster, with black currant, black raspberry, saddle leather, freshly tilled earth, vanilla, and violet on the nose. Exceedingly rich and balanced on the palate, with great poise and structure for long aging. The finish echoes with fresh black fruits, minerally touches, and floral notes.
Wine Advocate: Jeb Dunnuck – (94-96) More concentrated and structured… this knockout barrel-sample exhibits classic blackberry and currant-styled fruit, graphite, crushed rock and smoke to go with a savory, chewy and full-bodied feel on the palate. Staying fresh and lively, with high tannin, it will benefit from short-term cellaring and have upward of two decades of longevity.
Release price is  $60, we are offering it to our mailing list members for $54 until February 1st.
This wine, along with the 2012 Valery pre-release wine will be available for tasting at Holiday Soirée on December 13th.
Thanks again from all of us at Avennia for your support.
Limited tickets remain for our Holiday Soirée on December 13th.
CLICK HERE for tickets, if you haven't done so already.