Burrata with Roasted Baby Beets and Toasted Hazelnuts by Alex Chen, Executive Chef Boulevard Kitchen & Oyster Bar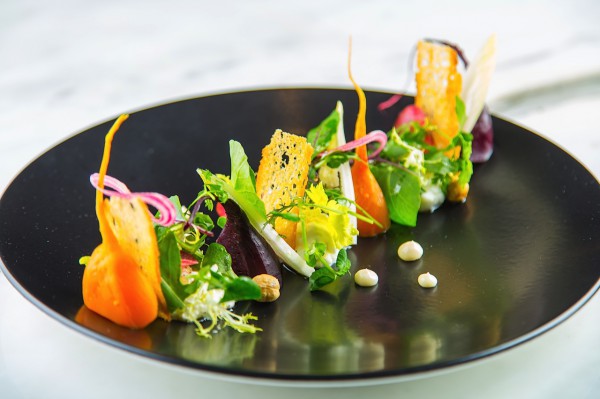 Yields 2 servings
White Balsamic Vinaigrette:
1 small shallot, diced
¼ cup white balsamic vinegar (available at gourmet grocery stores)
3 tbsp olive oil
1 ½ tbsp honey
½ tsp salt
1 pinch black pepper
Mix all ingredients together in a mixing bowl.
Ingredients:
3 small red beets
3 small yellow beets
Salt and pepper
1 tbsp olive oil
2 sprigs of thyme
1 piece good quality burrata
Mixed greens of your choice (suggested: mustard frill, hydro watercress, arugula, frisée, chervil, endive, gem lettuce, celery hearts)
Toasted hazelnuts
Method:
Toss beets in olive oil, salt and pepper. Wrap tightly in tin foil. Bake at 325 degrees F for 40 minutes or until done (you'll know when they can be easily pierced with a toothpick). Allow to sit at room temperature for 30 minutes.
Using a cloth or paper napkin, push off the skin of the beets. Cut each beet in half. Drizzle with white balsamic vinaigrette.
Allow burrata to sit at room temperature for half an hour. Cut into 6 equal pieces. Season with salt and pepper. Place 3 pieces of burrata on each plate.
Neatly arrange the beets, mixed greens and toasted hazelnuts around the burrata. Drizzle greens with white balsamic vinaigrette, and serve.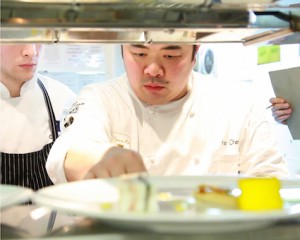 Alex Chen, Executive Chef, Boulevard Kitchen & Oyster Bar
Twitter: @blvdyvr @ChefAlexChen
Instagram: @blvdyvr
Facebook: /blvdyvr  /chefalexchen
Website: boulevardvancouver.com
Alex Chen's culinary vision is an inspired recipe of family tradition and classical technique and training, combined with creative hints of international influences. From his childhood roots in Malaysia to his time in both Vancouver and California, the Pacific Rim and West Coast regions have helped form the basis for Alex's innovative signature style, as well as his love for seafood. So, too, has his emphasis on sourcing the best fresh, local and in-season ingredients.
Alex joined Boulevard Kitchen & Oyster Bar as Executive Chef after charting a top-10 finish representing Canada at the prestigious Bocuse d'Or culinary competition in Lyon, France in 2013. Before spending six years as the Executive Chef of the legendary Polo Lounge at the Beverly Hills Hotel, Alex apprenticed at Vancouver's Wedgewood Hotel, and held the roles of Senior Sous Chef at the Four Seasons Hotel Chicago and Chef de Cuisine at the Four Seasons Hotel Toronto.