Announcing the 2014 Vivace Pinot Grigio. The Vivace is showing robust and bright flavours for the 2014 vintage. It greets you with a very expressive nose of apple and pear aromas, mountain herbs and Meyer lemon zest. The palate is packed with fruit cocktail flavours that enter the mouth in a concentrated fashion before they blossom into bright citrus and golden delicious apple notes.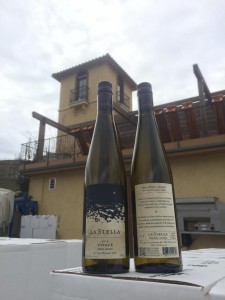 What's the difference between a Pinot Grigio and a Pinot Gris?
Although they are the same grape variety, each is known for a certain style. For instance, Italy makes Pinot Grigio. It's usually grown on cooler sites, picked earlier and immediately pressed without any skin contact. It's lighter in body, refreshingly crisp and citrus and stone fruit notes. Where as in France, they make a Pinot Gris. Their style tends to be richer, fuller bodied with tropical fruit, pear compote and spice notes. Usually the grapes are picked later and they encourage skin contact before pressing. In and around BC you will find both styles, but the focus at LaStella Winery is that of Pinot Grigio.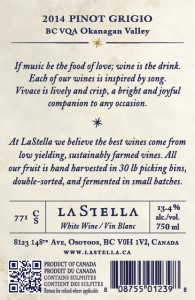 The 2014 Vivace will compliment a wide range of foods, making it a perfect companion to your spring and summer dishes. Recently, the renowned Restaurant de Hamert of Holland picked this wine to go with the inaugural white asparagus celebration event held in Vancouver. The Chef paired 7 white asparagus dishes with the 2014 Vivace. A perfect match! You can find more recipes and pictures from the event on our website here: http://www.lastella.ca/vivace-pinot-grigio-meets-dutch-white-asparagus/
With just 771 cases produced, the 2014 Vivace Pinot Grigio will certainly not last. Taste it for yourself, just $24.90 per bottle or buy it by the case (it's that good).
Learn more, purchase wine, sign up for the newsletter or join the wine club at www.lastella.com