Summer Pea Salad with Creamed Goats Cheese, Sprouted Wheat Berries and Lemon Dressing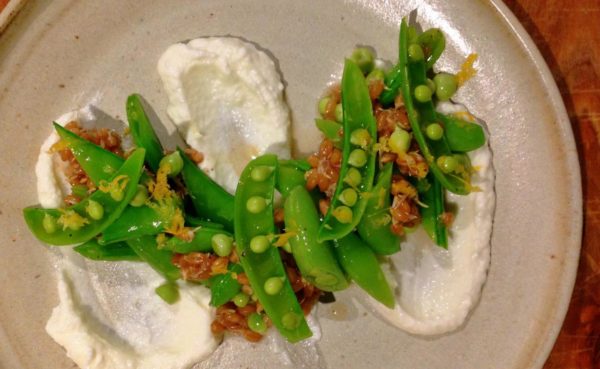 Serves 4
INGREDIENTS
1 cup shelled Green Peas
2 cups Snow Peas
2 cups Snap Peas
¼ cup Raw Wheat Berries (we use GRAIN)
½ cup soft Goats Cheese/Chevre (may substitute for cream cheese or Boursin Cheese)
¼ cup Goats/Cow Milk
2 Tbsp Lemon Vinegar
4 Tbsp Extra Virgin Olive Oil
2 Fresh Lemons
Salt and Pepper
METHOD
Wheat Berries:
Soak Wheat Berries in water for 5 minutes. Wet paper towels and lay on a baking tray. Drain Wheat Berries and spread evenly on 1 layer of wet paper towels, and cover with a second layer of wet paper towels. Leave at room temperature for 12 hours. If the top paper towels dry out, lightly remoisten. After 12 hours, soak the Wheat Berries again for five minutes and moisten the paper towels again. Repeat this process every 12 hours 2 more times, 48 hours in total. After 24 hours you will begin to notice small "tails" sprout from end of the Berries. After the 48 hour process is done put all the Berries into a pot, cover with water and bring up to a boil, once up to the boil drain off the Berries, and spread onto a baking tray to cool, if you have room put the tray in your refrigerator until cool.  Once cool, put into a small covered container and refrigerate until ready to use.
Summer Peas:
Blanch Snow, Snap and Green Peas separately in heavily salted rapidly boiling water for 15 seconds, no longer. Refresh in ice water until completely chilled, drain all water off and dry on paper towel or clean kitchen linen. Refrigerate until ready to use.
Goats Cheese:
Place goats cheese into a medium sized mixing bowl. With a spatula, begin softening the cheese in the bowl, adding small amounts of the milk at a time. Soften the cheese like this until the desired consistency has been achieved. Refrigerate until ready to use.
Lemon Dressing:
In a mixing bowl, whisk together 2 parts Extra Virgin Olive Oil to 1 part Lemon Vinegar. This dressing will not emulsify, which is what we want. Squeeze in the strained juice of up to 1 lemon, this helps keep the dressing taste fresh and bright. Add salt and pepper to taste, and again refrigerate until ready to use, or ideally make just before using.
TO SERVE
Dollop, smear, spread or swoosh 2-3 Tbsp of the Creamed Goats Cheese onto each plate.
Generously dress your well-drained Summer Pea mix and 4-6 Tbsp of the Sprouted Wheat Berries thoroughly in the Lemon Dressing.
Evenly distribute the Summer Pea mix and Sprouted Wheat Berries in attractive piles on each plate. Add up to 1 extra Tbsp of the Lemon Dressing over the salad. Finish each plate with a small rasping of lemon zest.
Enjoy! 
Ron Shaw's pedigree as the former Executive Chef of Vancouver restaurant Bishop's, where he studied under celebrated chef and arguably the local godfather of fresh, farm-to-table cuisine John Bishop, makes him the perfect fit for Grapes & Soda.
Espousing the same culinary philosophy as Bishop and owner David Gunawan, Shaw flips the coin on standard operating procedure by serving up sustainably sourced, seasonally inspired small plates that are paired with an array of natural, organic and biodynamic wines rather than the wine informing the food.
Beyond his background in acclaimed restaurants such as maze Grill, Zuma and Alain Ducasse at the Dorchester in London, Shaw also brings formal training as a sommelier to the back of house, giving him a unique perspective on how best to design dishes that complement Grapes & Soda's industry leading natural wine program.
Twitter: @grapesandsoda
Facebook: Grapes & Soda