Wine Pairing suggestion for Summer Pea Salad courtesy of Hao-Yang Wang
Our Summer Pea Salad at Grapes & Soda was inspired by the Sauvignon Blanc grape. In the restaurant, we pair it with the Clos Roche Sauvignon Blanc No. 5 Touraine '12 — a natural and organic wine from Loire, France — however, there are a number of other fantastic and easy-to-find pairing options available. (recipe repeated below)
The combination of the grassy character of the wheat berries, the sweet herbaceous notes of the peas and the tangy, soft goat cheese calls for a wine that's light, refreshing, and fruit-forward. Sancerres from Loire, Marlboroughs from New Zealand, Sauvignon Blancs from Chile (available at some great price points), and even white Bordeaux, which is usually blended with a little bit of Semillon, would all pair beautifully with this dish. For something a little more adventurous, try a South African Chenin Blanc, or a Portuguese Vinho Verde.
I never like being limited to only white wines for salads. The key in pairing red wines with this dish is to avoid those with tannins and high alcohol content. Don't forget to chill lighter-bodied reds in the refrigerator until they're a couple degrees below room temperature — this helps to preserve the refreshing character of the wine, and bring out its lighter, fruitier notes. A slightly chilled Beajolais, or BC Gamay, will do the trick.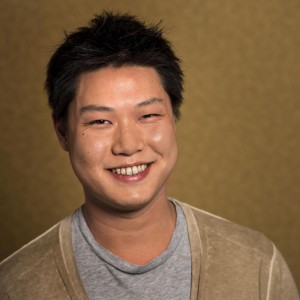 Hao-Yang Wang, General Manager & Sommelier, Grapes & Soda
Already the General Manager and Sommelier at Grapes & Soda's sister restaurant Farmer's Apprentice, Hao-Yang Wang first started pursuing his passion for oenology as a store manager and resident Sommelier at Liberty Wine Merchants before moving on to hold the role of Assistant Wine Director and Assistant Manager at West restaurant and assistant GM and Sommelier at PiDGiN in Gastown.
A graduate of the International Sommelier Guild's Level 2 program and a recipient of the Wine & Spirit Education Trust (WSET) Level 4 diploma, Wang is excited by the opportunity afforded him at Grapes& Soda, where he can both embrace his love of natural, organic and biodynamic wine and broaden the palate of each guest by introducing them to a wholly new dining experience where thought-provoking dishes complement the wine rather than the other way around.
Twitter: @grapesandsoda
Facebook: Grapes & Soda
Summer Pea Salad with Creamed Goats Cheese, Sprouted Wheat Berries and Lemon Dressing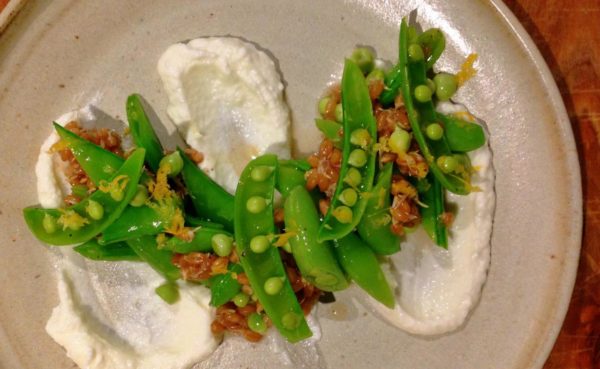 Serves 4
INGREDIENTS
1 cup shelled Green Peas
2 cups Snow Peas
2 cups Snap Peas
¼ cup Raw Wheat Berries (we use GRAIN)
½ cup soft Goats Cheese/Chevre (may substitute for cream cheese or Boursin Cheese)
¼ cup Goats/Cow Milk
2 Tbsp Lemon Vinegar
4 Tbsp Extra Virgin Olive Oil
2 Fresh Lemons
Salt and Pepper
METHOD
Wheat Berries:
Soak Wheat Berries in water for 5 minutes. Wet paper towels and lay on a baking tray. Drain Wheat Berries and spread evenly on 1 layer of wet paper towels, and cover with a second layer of wet paper towels. Leave at room temperature for 12 hours. If the top paper towels dry out, lightly remoisten. After 12 hours, soak the Wheat Berries again for five minutes and moisten the paper towels again. Repeat this process every 12 hours 2 more times, 48 hours in total. After 24 hours you will begin to notice small "tails" sprout from end of the Berries. After the 48 hour process is done put all the Berries into a pot, cover with water and bring up to a boil, once up to the boil drain off the Berries, and spread onto a baking tray to cool, if you have room put the tray in your refrigerator until cool.  Once cool, put into a small covered container and refrigerate until ready to use.
Summer Peas:
Blanch Snow, Snap and Green Peas separately in heavily salted rapidly boiling water for 15 seconds, no longer. Refresh in ice water until completely chilled, drain all water off and dry on paper towel or clean kitchen linen. Refrigerate until ready to use.
Goats Cheese:
Place goats cheese into a medium sized mixing bowl. With a spatula, begin softening the cheese in the bowl, adding small amounts of the milk at a time. Soften the cheese like this until the desired consistency has been achieved. Refrigerate until ready to use.
Lemon Dressing:
In a mixing bowl, whisk together 2 parts Extra Virgin Olive Oil to 1 part Lemon Vinegar. This dressing will not emulsify, which is what we want. Squeeze in the strained juice of up to 1 lemon, this helps keep the dressing taste fresh and bright. Add salt and pepper to taste, and again refrigerate until ready to use, or ideally make just before using.
TO SERVE
Dollop, smear, spread or swoosh 2-3 Tbsp of the Creamed Goats Cheese onto each plate.
Generously dress your well-drained Summer Pea mix and 4-6 Tbsp of the Sprouted Wheat Berries thoroughly in the Lemon Dressing.
Evenly distribute the Summer Pea mix and Sprouted Wheat Berries in attractive piles on each plate. Add up to 1 extra Tbsp of the Lemon Dressing over the salad. Finish each plate with a small rasping of lemon zest.
Enjoy! 
Ron Shaw's pedigree as the former Executive Chef of Vancouver restaurant Bishop's, where he studied under celebrated chef and arguably the local godfather of fresh, farm-to-table cuisine John Bishop, makes him the perfect fit for Grapes & Soda.
Espousing the same culinary philosophy as Bishop and owner David Gunawan, Shaw flips the coin on standard operating procedure by serving up sustainably sourced, seasonally inspired small plates that are paired with an array of natural, organic and biodynamic wines rather than the wine informing the food.
Beyond his background in acclaimed restaurants such as maze Grill, Zuma and Alain Ducasse at the Dorchester in London, Shaw also brings formal training as a sommelier to the back of house, giving him a unique perspective on how best to design dishes that complement Grapes & Soda's industry leading natural wine program.
Twitter: @grapesandsoda
Facebook: Grapes & Soda