It's no secret that I am a fan of the wines at Pacific Breeze. I have many in my cellar, especially their Reserve Chardonnay, Killer Cab, Big Red and Assaszin. It's a treat to have a winery so close by. New Westminster isn't far to go whether you live in Vancouver, Burnaby, Richmond, Surrey, Coquitlam . . . . you get the idea. You can even get there by Skytrain.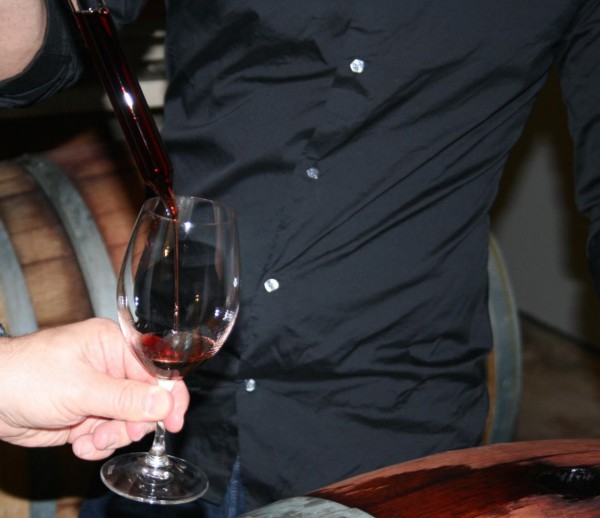 I always try to attend their new releases and special events, which take place about four times per year, but they have now expanded this hospitality to include monthly barrel tastings. The latest was their "Angel's Share" event. "Angel's share" is the term given to the amount of wine lost in the barrel due to water or alcohol evaporation (depends on humidity). The barrels have to be topped up anyway, so why not offer fans a little taste while you're at it?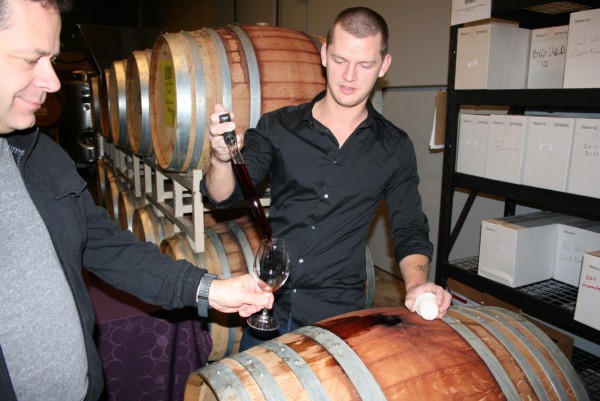 In the tasting room, we sampled a classic, dry, Alsatian-styled Riesling that was a steal at only $9.99! Amazing! If you are a fan of Riesling, be sure to get to the winery before it is all gone. Then it was into the winery for a barrel sample of the 2013 Grenache. This wine, from Bella Grace vineyards in Amadore County is certainly drinkable now, but it is a little on the rough side with grippy tannins. It will spend another 12 to 18 months mellowing in the barrels before it is bottled and released to the public. As I said, it is drinkable now and I have certainly bought wines that were more tannic than this, but Pacific Breeze prefers to hang on to their wines and give them the barrel aging that will allow them to mellow and show their full potential.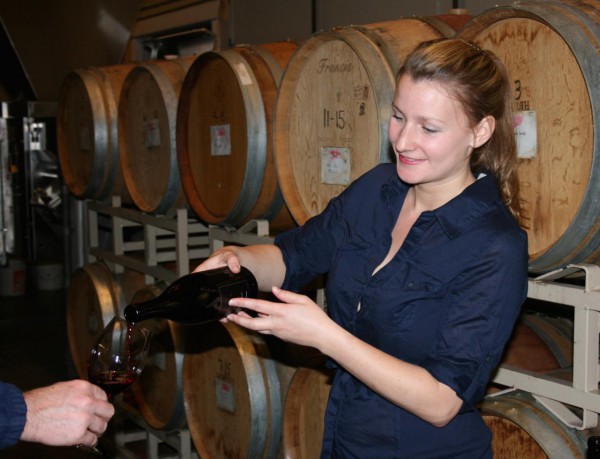 The last taste was of their 2011 Grenache. What a difference two years can make! This wine was smooth, round and well integrated. Barrel aging is like waving a magic wand over the wine; the differences are amazing. This was a wonderful experience for those who ask, "What difference does aging make on a wine?" Tasting is believing!
These monthly events allow wine club members (free to join and occasional special wine discounts) an opportunity to talk to the winemaking team and learn more about any aspect of wine making. On this occasion, I had some time to chat with owner Maurice Hamilton, and found out that Pacific Breeze is expanding their use of BC sourced grapes and this will mean more Pacific Breeze wines will qualify for VQA status. Their first find was a great Merlot vineyard in Kaleden, just south of Penticton. Now they are adding Cabernet Franc from nearby, Pinot Gris from Summerland and Riesling from East Kelowna. They also have their eyes on some Gewürztraminer and Cabernet Sauvignon as well. This speaks highly of the quality of the fruit being grown in BC. When Pacific Breeze first started, Maurice said, they couldn't find the high caliber grapes they were looking for in BC and that led them south to Washington and Northern California.
If you haven't been to Pacific Breeze in a while, or are one of those who have never been to the winery, do yourself a favour and check them out.