As the hot August sun shined down and we waited in line to enter Fredrico's Supper Club for another Tasting Plates YVR, you cannot help but notice the fresh fruits next door and the characters that walk along the street. Commercial Drive is a neighbourhood of character, diversity, and a "judge all you want" personality.
Stepping into Fredrico's, you're instantly placed in a romantic dimly lit restaurant with a live band and wine flowing through its veins. The first stop on our little tasting adventure and it was bustling. I'm not an alcohol drinker so I didn't take advantage of their $5 wine tasting option but others seemed to quite enjoy it!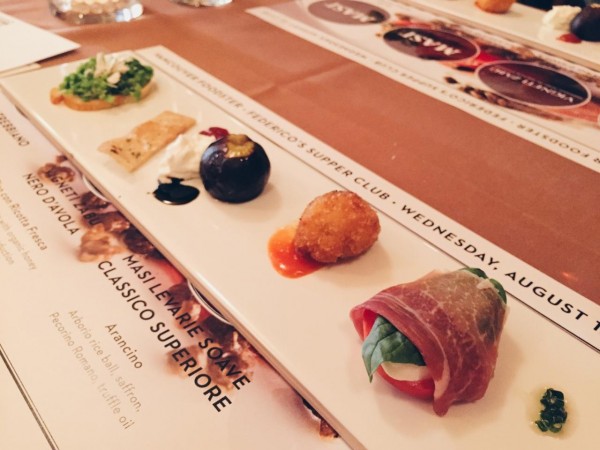 We were presented with a beautiful plate of four bites. Starting from the left we had a refreshing clean bruschetta consisting of crushed peas, mint, olive oil, and ricotta salata. It was not overly hard and it was creamy but not rich…by far one of the most delicious bruschettas I've had in a while. Beside that was house made ricotta with organic honey and a roasted fig, which was a nice next step from clean to sweet and creamy. The fresh ricotta swirled with the delightful honey and the subtle sweetness of the fig. Next we have the arborio rice ball with saffron, precorino romano and truffle oil. A crunchy little morsel of light flavours and the bold punch of romano cheese. My favourite of this evening was indeed the wonderful Involtino di proscuitto e burrata, which translates into fresh burrata cheese wrapped in parma proscuitto, basil and fried capers. The fresh taste of basil meshes with the milkiness of the burrata and salty finish from the proscuitto and the sweetness from the tomato on top.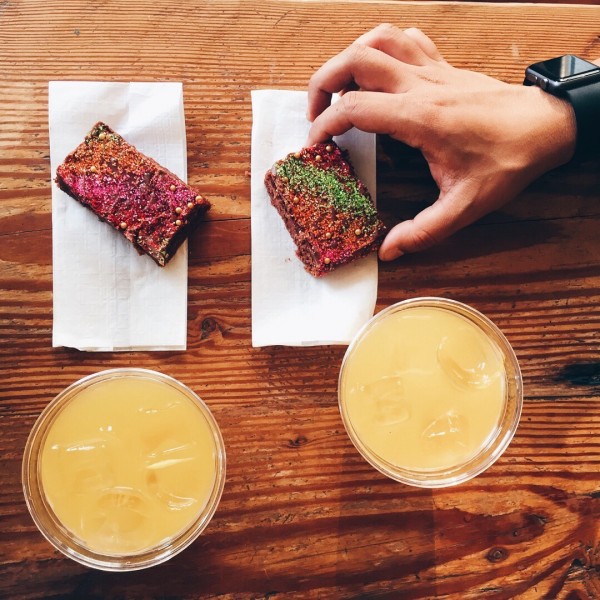 Swooning from the last bite of the burrata and proscuitto, we made our way to dessert first. Prado Cafe was out next stop and as a staple of Commercial Drive, even though there was a sign saying "closed (event only)" regulars were still getting their last minute drinks. We were handed a sparkling slice of Jackies birthday cake, which was a moist chocolate cake that resembles a traditional birthday cake. Without the frosting or whistles, the sprinkle glitter was enough to make it feel special. Paired with our choice of mango soda, it was a summer birthday party that made you feel like you were 8 again.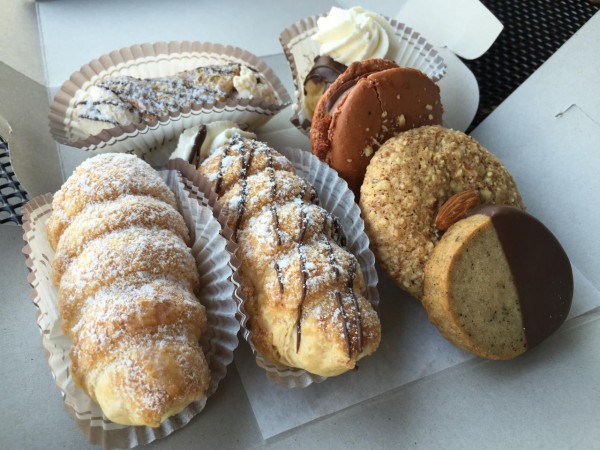 On our next stop for dessert was Fratelli Bakery. Stepping into the shop, all you could see were sugary treats and desserts in large cases. There were so many choices but we had a special curated option that consisted of Sicilian Cannoli, whipped cream filled cannoli, Nutella macarons, amaretti cookies, espresso shortbread dipped in chocolate and mini cream puffs with custard. None of them were heavy or overwhelming but exactly what they were labeled as. With two boxes full of these treats, the only thing we were missing was a cup of nice tea but we compromised by making our way to Strange Fellows Brewery and the Via Tevere Neapolitan Express.
Taking a stroll through the Commercial Drive neighbourhood was tranquil and warm until we had to cross the road of Clark drive to the brewery. It was well worth it. Via Tevere was waiting and it was refreshing to see their pizza oven and no line! They were serving up Neapolitan Saltimbocca sandwiches that consisted of prosciutto, arugula and mozzarella. Crunchy on the outside but soft and hot on the inside. The peppery arugula melted into the prosciutto as the fior de latte tangled itself around the flavours, creating the "pizza pull" when pulling away from the sandwich. I have yet to visit the Via Tevere restaurant but I am more excited now that I've had a taste. Paired with a beautiful glass of, which I can only assume, Guardian from Strange Fellows Brewing, everyone seemed to quite enjoy this combination. Personally, I was attracted to the stamps and design of their bottles since I don't drink.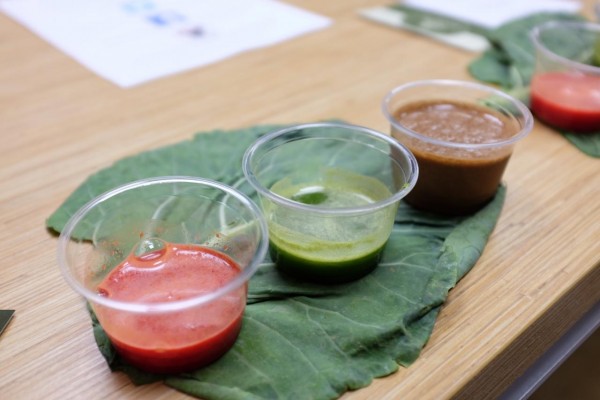 It felt right to end the evening feeling a little healthier so we made our way to Bonvita Health. With their friendly hospitality and in-house doctor standing by, their bright store made any terrible sounding smoothie look great! We were given tasters of The Root Down juice, which contained orange, beet, carrot and ginger…a really earthy blend but a nice kick of ginger. A Green Revival, with a nice cooling cucumber, kale, celery, cilantro, dandelion, apple and tumeric combination that mainly tasted of celery. Saving the sweetest for last, their Bonvita Classic smoothie with traditional ingredients of banana, cacao, date and almond milk.
After this adventure, it taught me that I don't know The Drive very well but I was surprised by all the different options that were offered in a small 3 block radius. Thanks Vancouver Foodster for showing me that going out of the usual areas is worth the effort.
Featured pic courtesy of Vancouver Foodster Tasting Plates – Commercial Drive – Facebook page