The last day of Dine Out Vancouver, Sunday Feb 5, was a Brunch Crawl for me on Commercial Drive.  Quite luckily it did not snow that day.  Just crisp air to make your cheeks rosy and ready for something warm to drink and eat.  Commercial Drive fit the bill.  Below are a few comments and pictures I had about this event.  Thanks to Richard aka @vanfoodster for arranging this Brunch Crawl.
Federico's Supper Club
This was my first stop and was top quality.  4 different Italian dishes, paired with wines.
Crostino con Uova di Quaglia e Prosciutto (quail egg & prosciutto crostino)


wine pairing: Prosecco Mionetto

Arancini con Pecorino saffron risotto ball, Pecorino Romano (v)


wine pairing: Mission Hill Reserve Pinot Gris VQA

Crostino al Pesto di Noci, Gorgonzola e Pera (walnut pesto crostino with gorgonzola and pear)


wine pairing: Tormaresca Aglianico Trentangeli

Crostino di Polenta, Speck e Gruyere (grilled polenta, speck, gruyere)


wine pairing: Mission Hill Reserve Cabernet Sauvignon VQA
The Crostino with quail egg was superb with the Italian Prosecco.  In particular, I liked the creaminess of the egg, paired with the citrus flavour, sparkle, and acidity of the Prosecco. Not to be missed is also the Arancini risotto ball filled with Pecorino Romano cheese. Very full flavoured and creamy too.  The Mission Hill Reserve Pinot Gris stone fruit flavour and smoothness worked well with the Arancini.  I did not make notes for any of the wines but the Tomaresca Aglianico Trentangeli was a stand out for me.  Lovely ripe fruit flavours and soft tannins from this native Italian grape.  I highly recommend this wine. A complementary pairing with the Walnut pesto crostino.  Finally the crostino with spec and gruyere offers wonderful cured ham flavour and the earthy flavour from the gruyere cheese.  The tannins in this Mission Hill Reserve Cab Sauv were quite fine and the wine had nice dark fruit and oak flavour.  A very good pairing as I always enjoy hard cheese with full bodied red wines.  Overall Federico's may have been my favourite stop along the way, but Fratelli Bakery is a close second.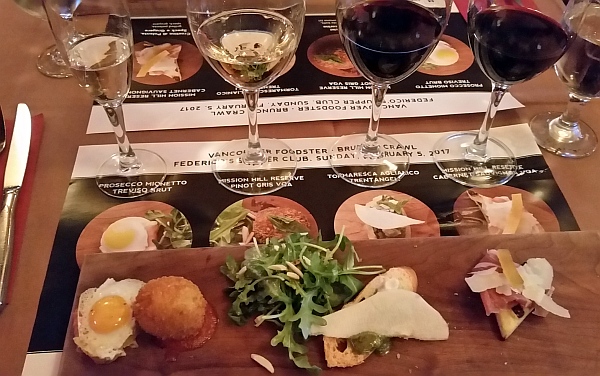 Cabrito Tapas
Mushroom Benny V-(GF optional), 1 poached eggs, marinated mushrooms, roasted potatoes & Hollandaise sauce served with bread & salad.
OR
Pan Con Tomate & Cacciocavallo V-(DF optional) one piece of bread rubbed with tomato, garlic, olive oil, melted Cacciocavallo & arugula.
I picked the Mushroom Benny and enjoyed it thoroughly along with a cappuccino.  How a breakfast brunch meal should be.  The egg yolk was nicely soft, and mixed with the Hollandaise sauce. Dip it in the artisan bread, take a bite, then get some of the salad and marinated mushrooms to add a vinegar zing.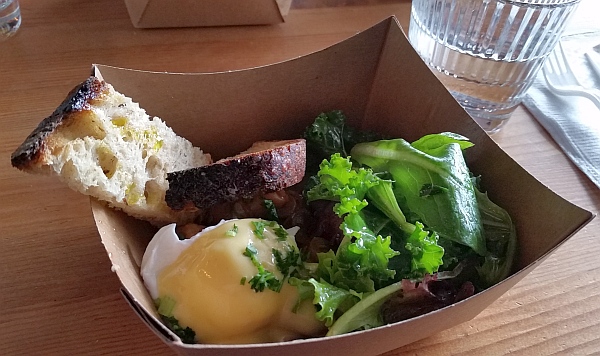 Eternal Abundance
Flax crackers with sunflower cheeze
Kale Caesar Salad
Zucchini Pad Thai
Eternal Abundance is a very laid back cafe/grocery store that sells organic produce and makes vegan dishes to enjoy.  The sunflower cheeze looks more like hummus; made with ground sunflower seeds, garlic, and other spices, was a delight.  I really liked the texture of the cheese and the garlic flavour. The other dish I was looking forward to trying was the Kale Caesar Salad in particular because the dressing is made with cashews that are first soaked and then ground, rather than dairy.  It was a bit tarter than an egg and cheese-based Caesar salad dressing, but very creamy.  I would try it again.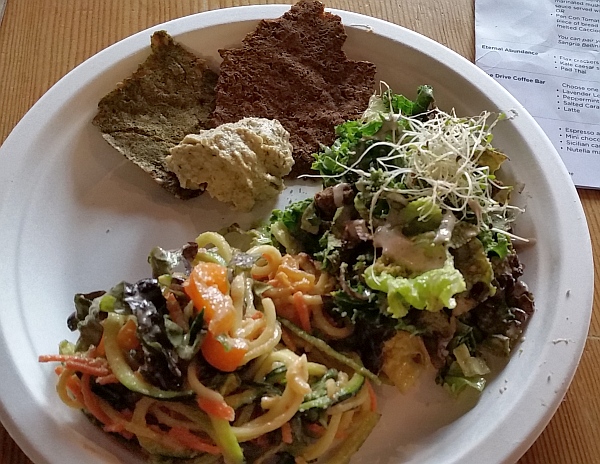 The Drive Coffee Bar
Lavender London Fog
Peppermint Hot Chocolate
Salted Caramel Cappuccino
Latte
Whenever I see a dish or drink made with lavender I have to try it.  So the Lavender London Fog was soon in my hands.  Creamy foam on top; light lavender aroma.  Taking a sip, you taste the floral from the lavender, plus light tea and creamy, foamy milk. A nice step up from a regular cup of tea with milk.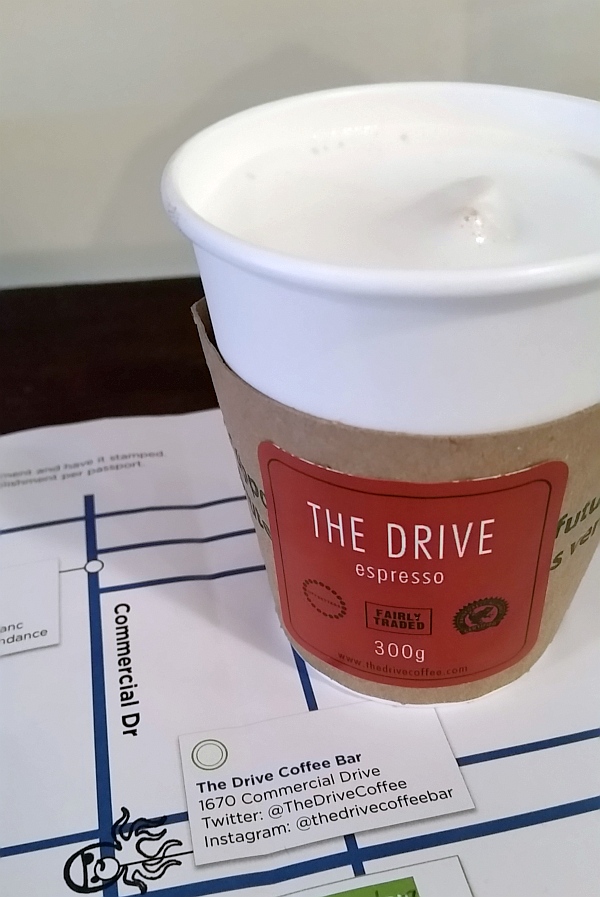 Fratelli Bakery
Espresso almond biscotti dipped in chocolate
Mini chocolate salted caramel cupcake
Sicilian cannoli
Nutella macaron
Fratelli Bakery makes happiness.  You can't not enjoy these Italian pastries.  My favourite was the Sicilian cannoli; a cannoli with a lemony ricotta filling as well as chocolate chips.  It was so nice to savour with my cup of coffee.  Same for the espresso almond biscotti dipped in chocolate. The biscotti was not overly hard to bite into, and absorbed the coffee when I dipped it, adding more flavour to the biscotti.  Highly recommended.  All these pastries had chocolate in them.  If you are a chocolate lover give any or all of them a try.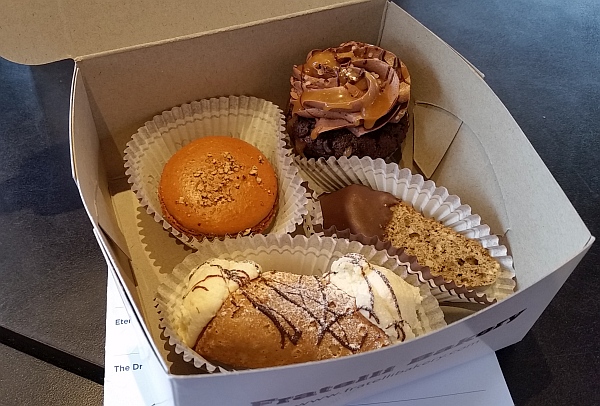 Please give these venues a try when you are next on Commercial Drive.