Whistler Search and Rescue Society (WSAR) will hold their sixteenth annual gourmet dinner and auction, "Wine'd Up", on Saturday, October 17th, 2015.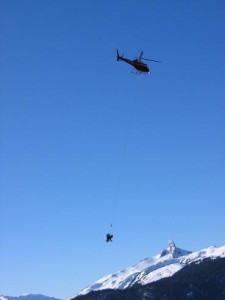 Attendees at this popular event will enjoy an evening of outstanding cuisine prepared by five of Whistler's renowned chefs. The five-course dinner will be paired with wines from California including selections from Louis M Martini Winery and Edna Valley Vineyards.  The evening is generously supported by the winery and the United States Consulate and will help fund the critically important work of Whistler's Search and Rescue organization.
"Wine'd Up is the single largest source of revenue for our very busy volunteer team," says Brad Sills, President of WSAR.  "Without the support of all the persons who contribute to making this event the success that it is, Whistler SAR would simply not be in a position to fulfill its mandate. The ever-increasing costs of maintaining rescue quality equipment and training regimes is a constant burden in the face of uncertain funding sources.
This year marks the event's 16 years in support of Whistler Search and Rescue and with over $530,000 raised since 2000, the October gourmet dinner and auction will aspire to surpass the $600,000 mark!
Cuisine from these five chefs will be paired with the following premium wines:
*           Steve Bjormark, Executive Events Chef, Whistler Blackcomb
                        – Barefoot Bubbly Pinot Grigio
*           James Walt, Executive Chef, Araxi Restaurant + Bar
                        – Edna Valley Vineyards Chardonnay
*           Dustin Harkness, Executive Chef, Whistler Cooks Catering
                        – Ghost Pines Merlot
*           Dean Hossack, Executive Chef, Nita Lake Lodge
                        – Louis M Martini Cabernet Sauvignon
*           Kreg Graham, Executive Chef, Fairmont Chateau Whistler
                        – Apothic Red
In addition to great food and wine, guests will enjoy live and silent auctions throughout the evening; the auctions will be loaded with exciting items generously donated by businesses, artists and individuals in Whistler and throughout B.C. Recommended attire for the evening is smart casual/smart western.
Whistler Search and Rescue Society's Sixteenth Annual "Wine'd Up" 
Gourmet Dinner & Auction
Saturday, October 17, 2015
Dusty's Bar & Grill, Whistler Creekside
Reception & Hors D'Oeuvres 6:30 pm
Tickets $170 + GST – on sale September 1st
For tickets call Whistler Blackcomb at 1-800 766 0449 ext. 2
About Whistler Search & Rescue: Founded in 1973, the Whistler Search and Rescue Society is a registered charitable organization in the province of British Columbia, Canada. Its primary function is that of a community resource to assist the Royal Canadian Mounted Police in a variety of search and rescue functions. They utilize helicopter rescue in most cases, and are equipped with helicopter long-line, high angle rope, swiftwater and mountain rescue equipment.
Follow Wine'd Up on Facebook
About Louis M. Martini: Louis M. Martini is an iconic Napa Valley winery that has crafted world-class Cabernet Sauvignon for 80 years. Pioneering founder Louis M. Martini played an integral role in establishing Napa Valley as one of the world's premier winegrowing regions. Today, third-generation vintner Michael Martini continues this winemaking tradition with his range of celebrated Cabernet Sauvignon wines from Napa and Sonoma. Learn more at www.louismartini.com.
About Edna Valley Vineyards: Nestled halfway between San Francisco and Los Angeles, Edna Valley Vineyard is the jewel of California's Central Coast. Just five miles from the Pacific Ocean, constant refreshing breezes and warm sunshine create a sought-after balance of flavours in the wines of Edna Valley Vineyard. For more than three decades, the winery has been dedicated to producing a grape that grows best in the Edna Valley: Chardonnay. Today, Edna Valley Vineyard offers a portfolio of balanced, food-friendly wines.
Featured pic: Wine'd Up Facebook timeline