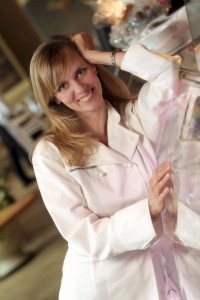 In recent years, Vancouver has been called "No Fun City," "mind-numbingly boring," and a difficult place to socialize, make friends, and date other singles, despite its population of over 600,000 people. Provence Restaurants believes it has the antidote to this lack of connection between residents – for women, at least. The Art of Allure and Human Connection is a four-day program on October 15 – 18, 2015, led by life coach, seminar leader and dancer Chen Lizra and including cooking seminars by Provence Chef and Co-Owner Alessandra Quaglia. Chef Quaglia knew that in Vancouver – one of the world's best cities for food (CNTraveler.com) – she had to incorporate food as a tool to re-instill a sense of community amongst Vancouver women, the way our grandmothers might have done when we were growing up.
Chen Lizra's TEDx talk on "The power of seduction in our everyday lives" (www.lizraconsulting.com/ted-talk) in 2012 attracted over 4.3 million views. Formerly a resident of Vancouver, Lizra developed The Art of Allure and Human Connection programs in response to women and men around the world asking her to teach them the power of seduction, but not in the manipulative sense.
"The program brings women back to their innate and magical female energy that sits on self-love. I then teach them how to turn it into influence power. The cooking sessions will be a way to teach participants more about creating a sense of community and tribe, the way women used to do in the past, by showing them how the sharing, stories, and cooking can bring us together," comments Lizra, who now divides her time between Israel and Cuba. Past participants from New York City, Istanbul, and Tel Aviv have cited increased self-love and confidence, feminine assertiveness, inner joy, and authenticity as benefits of taking the program.
"I feel very fortunate to present Chen and her teachings – they are life changing," comments Chef Quaglia.
For information and to register, visit www.provencemarinaside.ca/art-of-allure-human-connection. The program is open to only 16 participants at a private location in Vancouver. (Note: since we received this media release one seat has already been taken)
For more information on Provence Restaurants, visit www.provencevancouver.com and Facebook.
For more information on Chen Lizra, visit www.chenlizraconsulting.com and Facebook.