Quini (www.quiniwine.com), the wine tasting app and market intelligence data company today announced an online virtual wine tasting program beginning on Thursday, November 12, 2015.
The program builds on Quini's popular brick and mortar wine tasting and education events launched in 2014. Delivered online, the initiative will enable Quini to accelerate adoption of its breakthrough educational wine app and wine tasting standard, by engaging connected wine enthusiasts virtually everywhere, from the comfort of their homes.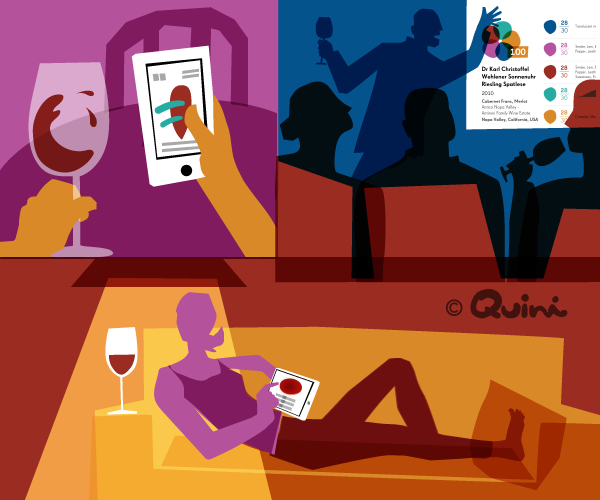 "Quini is empowering wine lovers everywhere to discover their wine palate and share their opinions of the wines they are drinking, using a unified wine tasting language," said Jennifer Anderson, VP Revenue and Products, Quini. "Our virtual tasting program will allow us to reach and show more wine consumers how they too can enjoy wine more, simply by using Quini on their mobile device."
Live, interactive one hour sessions will be delivered via an online webinar format, through the GoToWebinar platform. Each session will provide information on a specific wine topic and will invite participants to taste three wines of their choosing, following the Quini Wine Tasting Standard.
Delivered by Quini Certified Educators (QCEs) including Quini and wine industry veteran Sean Weiderick, and wine educator Sam Hauck, AKA The Wine Teacher, the first four sessions will discuss BC wines, Italian wines, how to find quality wines at value prices, and Cabernets.
The first event will pay homage to Quini's British Columbia roots, as participants will be invited to "Discover BC Wines."
For a full event schedule, session details and to RSVP, please visit Quini Events.
ABOUT QUINI
Quini provides leaders in the wine and hospitality industry, research, publishing and technology with on-demand access to real-time wine tasting sensory feedback, attitudinal insights, predictive analytics and technology tools to power more informed decisions and accelerate business results. Quini's wine tasting app enables wine enthusiasts of all experience levels to discover their palate more quickly, and to organize, archive and share detailed visual wine reviews.
Privately held, Quini is headquartered in Vancouver, BC. The Quini project is co-funded by CMF (Canada Media Fund). Quini is available as a mobile application in English and French for iPhone and iPad, and for desktop, laptop and tablet computers at https://QuiniWine.com. A beta Android version can also be downloaded from the site. Corporate information about Quini for investors can also be obtained in the Sector Lounge on FrontFundr.com.
YouTube: Quini video   Twitter: quiniwine
Facebook: quiniwine
LinkedIn: quini-wine