VINO VIRTUOSO: DIANA CLAXTON ANNOUNCED AS
NEW WINE DIRECTOR AT BOULEVARD KITCHEN & OYSTER BAR
Claxton to Focus on Accessibility of Extensive Wine List and Introducing Guests to Cellar Stocked with Wide Range of Organic, Biodynamic Varietals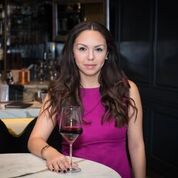 Boulevard Kitchen & Oyster Bar has further bolstered its already well-rounded front-of-house team by appointing Diana Claxton as its new Wine Director.
A certified sommelier, Claxton — formerly of Vancouver's Homer St. Café and Bar, Wildebeest, Fable Kitchen and Cioppino's Mediterranean Grill & Enoteca — was recently hired in a management role at Boulevard before quickly being promoted to her new post, where she joins accomplished sommeliers Steve Edwards (Director of Operations) and Brian Hopkins (Maître d').
Among Claxton's goals is to bring more accessibility to Boulevard's extensive list of old- and new-world wines and champion British Columbia's wineries, both established and up-and-coming alike. Claxton will also boost Boulevard's focus on pairing Champagne and sparkling wine with Executive Chef Alex Chen's signature, seafood-focused menu, while honouring the restaurant's emphasis on natural, organic and biodynamic wines that, as Claxton says, "allow the grapes to speak for themselves."
"Everything we do at Boulevard is about creating an experience," says Claxton. "It all goes back to the basics: you are the company you keep, and it's a privilege at Boulevard to share such a big stage with people who are striving for perfection every day. To share in that kind of spirit and help carry on that momentum is what will continue to make Boulevard an iconic dining room not just in Vancouver but well beyond."
Boulevard's wine cellar of more than 600 labels was recognized at the 12th annual Vancouver International Wine Festival Awards in February 2015 as one of only seven Metro Vancouver restaurants to earn the coveted Gold Award as well as the sole nod for Best New Entry.
For the latest news about Boulevard, register for the restaurant's e-newsletter at www.boulevardvancouver.com, become a fan of /blvdyvr on Facebook or follow @blvdyvr on Twitter and Instagram.
About Boulevard Kitchen & Oyster Bar | Located at the iconic Sutton Place Hotel in the heart of downtown Vancouver, Boulevard Kitchen & Oyster Bar provides a unique showcase for the culinary vision of Executive Chef Alex Chen. With an innovative approach that blends a respect for the past with a celebration of the present, Chen's seafood-focused menu is grounded in classical technique and training, while artfully infusing casual West Coast flair and creative hints of his international influences. Paired with exceptional service, a wide-ranging selection of wine and cocktails and true European ambiance in a traditional-yet-modern setting, Boulevard offers breakfast (6:30 to 11 a.m.), lunch (11 a.m. to 4 p.m.), dinner (5 to 11 p.m.) and late night service until 1 a.m. seven days a week, as well as weekend brunch from 11 a.m. to 3 p.m. and Happy Hour from 3 p.m. to 6 p.m.
845 Burrard Street, Vancouver, B.C. V6Z 2K6 | (604) 642-2900 | boulevardvancouver.ca
Twitter: @blvdyvr | Facebook: /blvdyvr | Instagram: @blvdyvr