Holiday shopping already looming on your to-do list? Don't fret, Christmas has come early with Bayside Furniture's top home accessory gift picks. With pieces ranging in style from smoky glass to bronze finishes and gold prints, the Vancouver-based furniture and home accessories boutique has what it takes to put a smile on the face of every home and design enthusiast on your list.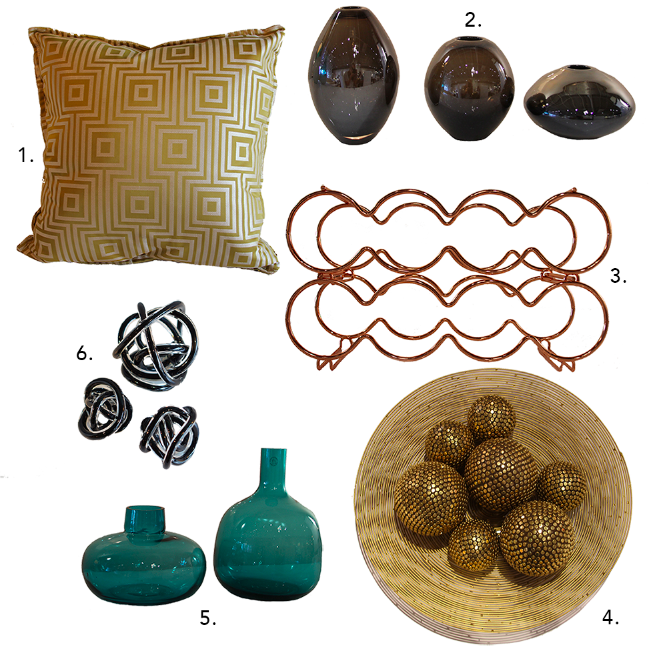 1.  Take a peek at Bayside's top home accents for holiday gifts below:19″ Feather Pillow in Magnifico fabric, made in Canada and available in a variety of fabrics ($115)
2.   Mini Lustre Vases in Smoke, set of three available in smoke, white or teal      ($44)
3.   8 Bottle Rose Gold Stacking Wine Rack, available in rose gold, copper or silver plated metal ($44)
4.   Spun Wire Gold Platter available in gold or silver finish ($66) with Gold Studded Décor Balls, available in gold, copper or silver finish (starting at $15)
5.    Bolo Vases, available in teal, smoke or purple glass (starting at $44)
6.    Orbit Glass Décor Balls, available in black, white, teal or red (starting at $19)
Bayside Furniture, the home furnishings and accessories boutique nestled along Vancouver's South Granville rise, is proudly celebrating 40 successful years. Bayside has gained recognition within the local market as a top destination for contemporary Canadian- and European-made pieces designed with equal parts style and comfort, customized interior design services and a warm, welcoming retail experience that invites every customer to make themselves at home.