Brian Carter Cellars, Washington Winery Sweeps the Competition with a Diversity of Wins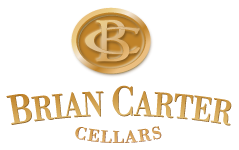 Brian Carter Cellars – Washington's 2015 Winery of the Year, keeps bringing home the Gold.  In addition to four "Best-of-Shows" received over the last two years and a record number of 2015 BIG wins, the latest recognition by this consistent producer of exceptional wines is a quintet of medals honoring the 2011 Byzance:
•2015 Seattle Wine Award Double Gold
•2015 Tri-Cities Wine Festival Best-in-Show and Double Gold
•2015 National Jefferson Cup (Opulento garnered a second Jefferson Cup; the only Washington State wins)
•2015 Pacific Rim Competition Gold
•2015 Northwest Wine Summit Gold
A Southern Rhone-style red blend, the 2011 Byzance was just released to the public this past October.  This award winner sports a complex nose of bright red cherries, tar, white pepper and herbes de Provence.  According to winemaker, Brian Carter, "This wine literally explodes in your mouth with lots of bright fruit, and finishes with a long slightly earthy mineral note.  Great balance and a hint of tannin make Byzance a great match for a wide range of foods and a terrific addition to a holiday table."
Brian Carter Cellars is led by industry pioneers and innovators Carter and Mike Stevens. 2016 will be another notable year as the "little yellow tasting room" celebrates its 10th anniversary.  Opened in 2006, it is now a major draw for millennials to boomers in Woodinville wine country, where dedicated and knowledgeable members of the winery team pour award winning wines and hold highly popular special events for wine club members.
Highlights of Recent Competitions
Seattle Wine and Food Awards 2015
2009 Solesce – Gold
2012 Opulento – Silver
2010 Tuttorosso – Silver
2010 Byzance – Silver
2011 Corrida – Bronze
2010 Le Coursier – Bronze
Pacific Rim Wine Competition 2015
2010 Tuttorosso – Gold
2011 Byzance – Gold
2012 Oriana – Silver
2010 One Cabernet – Silver
2010 Le Coursier – Bronze
Seattle Wine Awards 2015
2011 Byzance – Double Gold
2010 Solesce – Double Gold
2012 Opulento – Gold
2011 Corrida – Gold
2013 Oriana – Gold
2010 Tuttorosso – Silver
Seattle Wine Awards 2015
2005 L'Etalon – Diamond of the Decade
2005 Trentenaire – Diamond of the Decade
2005 Solesce – Diamond of the Decade
 "A Passion for the Art of Blending"
Brian Carter, Winemaker and Michael Stevens, Managing Partner