Wine Pairing for #TasteofThursday Roasted Brussel Sprouts with Burrata and Chili Gastrique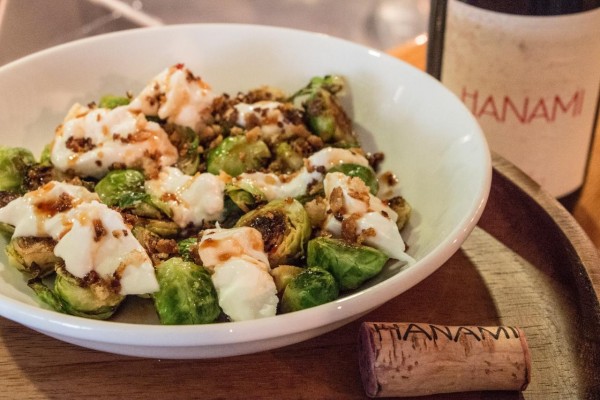 Pairing Notes:
Paired with Bobinett 'Hanami' 2013, from Loire Valley, France
General Manager and Sommelier, Hao-Yang Wang suggests pairing the Roasted Brussels Sprout with Bobinett 'Hanami' 2013 from Loire Valley, France, noting: "The Hanami is 100% Cabernet Franc, though produced in a very similar style to Beaujolais. The Hanami is juicy, bright and fruit-forward, driven with notes of fresh cranberry, candied cherries and savoury herbs. This pairing was inspired by the spirit of Thanksgiving. To me, this wine is the 'cranberry sauce' that refreshes the palate after you dig in to the savoury roasted brussels sprout and decadent burrata."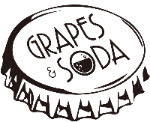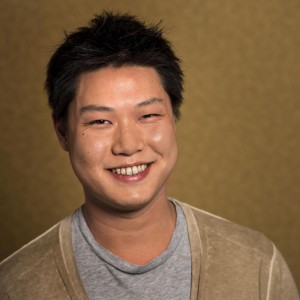 Hao-Yang Wang, General Manager & Sommelier, Grapes & Soda
Already the General Manager and Sommelier at Grapes & Soda's sister restaurant Farmer's Apprentice, Hao-Yang Wang first started pursuing his passion for oenology as a store manager and resident Sommelier at Liberty Wine Merchants before moving on to hold the role of Assistant Wine Director and Assistant Manager at West restaurant and assistant GM and Sommelier at PiDGiN in Gastown.
A graduate of the International Sommelier Guild's Level 2 program and a recipient of the Wine & Spirit Education Trust (WSET) Level 4 diploma, Wang is excited by the opportunity afforded him at Grapes& Soda, where he can both embrace his love of natural, organic and biodynamic wine and broaden the palate of each guest by introducing them to a wholly new dining experience where thought-provoking dishes complement the wine rather than the other way around.
Twitter: @grapesandsoda
Facebook: Grapes & Soda
Recipe:
Roasted Brussel Sprouts with Burrata and Chili Gastrique
Chef Ron Shaw of Grapes and Soda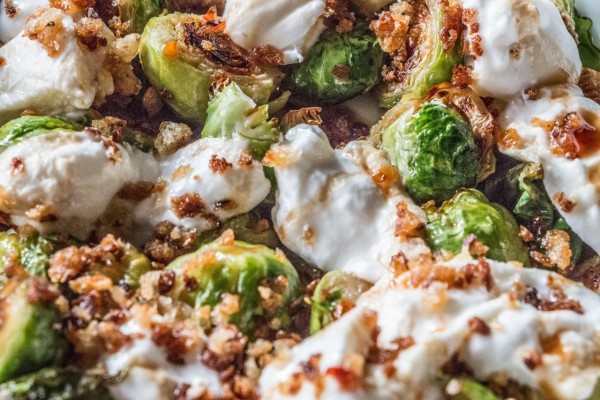 Serves 4
INGREDIENTS
4 ½ Cups brussels sprout, halved
1 piece 250g burrata
2-3 pieces dried bread
olive oil
kosher salt, to taste
Gastrique
1/3 Cup caster sugar
150 ml fruit vinegar (raspberry is ideal)
10 ml chili (chilis in oil, pastes and flakes not recommended)
METHOD
Gastrique
Make a light caramel with the sugar, in a medium pot over medium heat.
Once the caramel has formed, carefully add the vinegar and chili, as it will steam up and spit!
Let simmer for 2-3 minutes. Carefully pour into a clean jar to hold and cool.
Salad
Pulse dried bread in a food processor. *Note – it does not need to be evenly crumbed, just broken up into finer 'grains'.
Toast the crumbs in a pan over medium heat with olive oil and a couple pinches of salt.
Once toasted, cool on a tray with paper towel to absorb any excess oil, set aside.
Blanche or steam the halved brussels sprout, for a minute or two and refresh in lots of ice water. Once cool, drain well.
Remove the burrata from the fridge and package to temper in a small bowl.
Preheat oven to 400F-420F
Heat a large heavy bottomed pan over medium high heat. Once hot, add some olive oil then brussels sprout and season well with salt.
Allow some dark color to form on the sprouts, then put the pan in the oven for 3-5 minutes to allow more color and roasted flavor to develop.
Remove and plate onto a warm serving plate.
Piece up the burrata into 10-15 pieces with a spoon straight from the bowl directly over the top of the brussels sprout.
Spoon up to 2 Tbsp of Gastrique over the salad. Sprinkle a couple generous pinches of bread crumbs evenly over the salad. Serve warm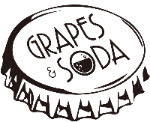 Ron Shaw's pedigree as the former Executive Chef of Vancouver restaurant Bishop's, where he studied under celebrated chef and arguably the local godfather of fresh, farm-to-table cuisine John Bishop, makes him the perfect fit for Grapes & Soda.
Espousing the same culinary philosophy as Bishop and owner David Gunawan, Shaw flips the coin on standard operating procedure by serving up sustainably sourced, seasonally inspired small plates that are paired with an array of natural, organic and biodynamic wines rather than the wine informing the food.
Beyond his background in acclaimed restaurants such as maze Grill, Zuma and Alain Ducasse at the Dorchester in London, Shaw also brings formal training as a sommelier to the back of house, giving him a unique perspective on how best to design dishes that complement Grapes & Soda's industry leading natural wine program.
Twitter: @grapesandsoda
Facebook: Grapes & Soda