This past week my husband and I took part in Noodle Mania, presented by Tasting Plates and Vancouver Foodster. Now it's it's third year, the event took us on a tour of 6 different restaurants throughout the city, each offering a taste of their own "noodle-inspired" dish.
The event kicked off when we picked up our tasting tickets at Platform 7 in Kits. The train station inspired design, delicious coffee and fresh baked goods were a great start of what would be a delicious and savoury evening.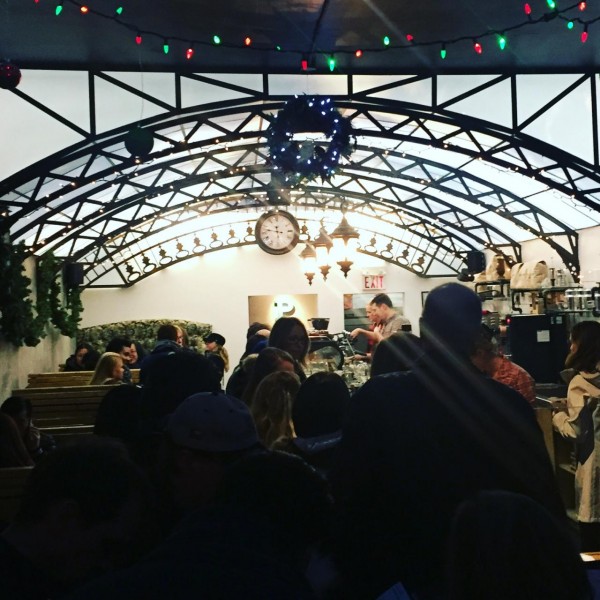 Once we picked up our tickets, we were free to explore the remaining restaurants at our own pace. We opted to head to the Westend to start our tasting at Che Licious. Although their menu is centered around Che, a Vietnamese dessert, they also offer salad rolls, bahn mi and pho. Seeing as this was a noodle-centric event, we were served a bowl of pho, along with their Zen salad roll. The pho was full of flavour, but my favourite was the salad roll. Filled with tofu, carrots, cucumber and pickled daikon, it was served with a peanut sauce.
Our next stop was around the corner at Grotto Italian. Located on Davie Street, the atmosphere makes it a perfect intimate dining spot, but would also be a great place to end your night. For Noodle Mania, they were offering up a squash ravioli with sage and brown butter, alongside house made gnocchi with smoked chicken and mushroom ragout. Both were delicious.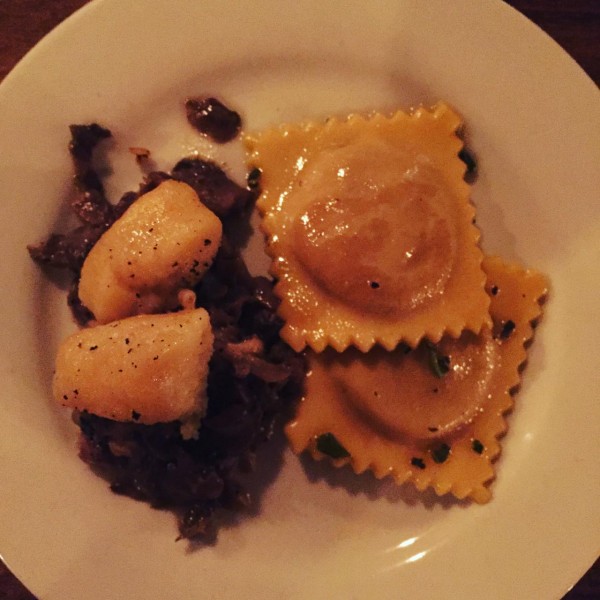 Next, we made our way back to Kits to visit Linh Cafe. Lihn cafe perfectly combines a French cooking style with modern Vietnamese cuisine, all while maintaining a casual atmosphere. Our choices for the evening were Pho Bo, beef noodle soup or Pho Xao, a vegetarian noodle stir fry. We opted for the Pho Bo and stirred in a spoonful of the house made chili-garlic vinaigrette to spice it up a bit. The broth was rich and flavourful. If we didn't have more stops to make, I would have ordered another bowl.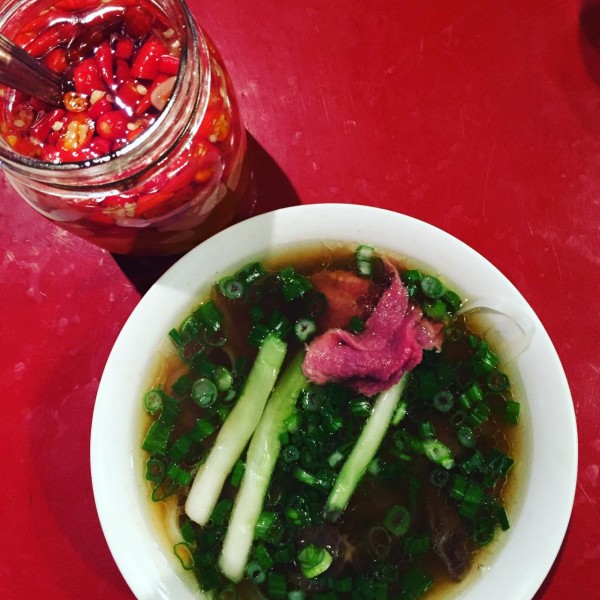 Two more restaurants to go and we were already stuffed, but we powered through.
We made our way to Kerrisdale to Bubble Waffle Cafe. Again,we had two dishes to choose from. My husband went with the fish soup, which featured beef, noodles and cabbage in a fish broth. I chose the House Laksa, which was a traditional Singaporean Laksa with fish, enoki mushroom and cabbage. Although, we both weren't a big fan of the fish soup, the Laksa broth was perfectly spicy and wonderfully flavoured. We grabbed a bubble waffle to go and made our way to our final stop, U & I Thai.
Located in Cambie Village, U & I Thai is a family owned restaurant serving authentic Thai cuisine. Our tasting ticket allowed us to sample two dishes: U & I spaghetti Kee Mao and Guay Tieow Tom Kha Gai (chicken and noodles in a coconut soup). The coconut soup was delicious, however the service was lacking and I was underwhelmed by the spaghetti Kee Mao.
After about 4 hours of noodle gluttony, we made our way home completely stuffed and with a new appreciation for noodles.
If you've never had a chance to go on a food tour, I highly recommend them. They're always a lot of fun and they're a great way to see a lot of restaurants in a short amount of time. Restaurants that you might not have the chance to visit, otherwise. Later this month I'll be exploring Main Street for their Dine Out Vancouver brunch Crawl. For details on this and other delicious food tours, check out the Vancouver Foodster's event page.