Compagnie Virginie Brunelle Makes West Coast Premiere at VIDF with Provocatively Sensuous Foutrement
Physically Complex Work Explores Perilous Pitfalls of Love and Infidelity as Three Dancers Journey Through Seduction, Temptation & Disillusionment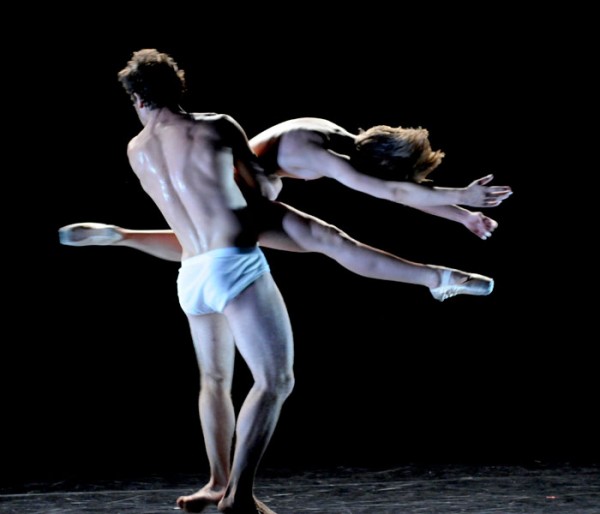 The Vancouver International Dance Festival ( VIDF ) presents Compagnie Virginie Brunelle's primal Foutrement from March 3-5, 2016 at 8pm at Roundhouse Performance Centre. The physically compelling and powerfully emotive work choreographed by Montreal-based company founder Virginie Brunelle follows the tragic love story between three dancers, a man and two women. As desire and temptation intermingle with doubt and obsession, enslaving the lovers to a bitter game of seduction and betrayal, the trio ultimately falls victim to the weight of love's disillusionment.
"Virginie Brunelle is a bold and audacious artist, whose visceral, sensuous works explore themes intrinsic to our human existence in a way that pushes boundaries and leaves pulses racing," says Barbara Bourget, Artistic Director of VIDF. "Rooted in classical ballet, with some sections en pointe, Foutrement is unabashedly contemporary in nature as its surges and flows from subtle lyricism to brusque agitation, creating a breathtakingly vivid experience."
Premiering at Montreal's Théâtre La Chapelle in 2010, Foutrement has since toured to more than a dozen European cities, garnering critical and audience acclaim. Presenting its West Coast premiere, Compagnie Virginie Brunelle will kick off VIDF's Roundhouse Performance Centre series with Foutrement, featuring dancers Isabelle Arcand, Claudine Hebert, and Simon-Xavier Lefebvre.
A classic tale of love and infidelity, Foutrement offers a fresh narrative through the clever use of short scenes carefully set to lighting designed by Alexandre Pilon-Guay and a shockingly diverse musical score, spanning genres from Italian opera to hard rock to ambient electronica. Expertly crafted interplay between traditional and contemporary dance produces sensuous, undulating physical movements interrupted by sharp, staccato motions, leaving audiences riveted throughout and deeply moved.
A young and ambitious choreographer, Virginie Brunelle launched her eponymous, Montreal-based dance company in 2009, presenting its first award-winning debut Les cuisses à l'écart du cœur shortly thereafter, followed by Foutrement in 2010 and Complexe des genres in 2011, and PLOMB in 2013. She is the recipient of several internationally recognized awards and honours, including the David Kilburn Creation Grant and the second place prize in Denmark's international choreography competition Aarhus. Also a frequent collaborator with film and theatre artists, Brunelle possesses a wisdom and inspired vision beyond her years, earning her international acclaim.
Tickets for Compagnie Virginie Brunelle's Foutrement are Adults: $30 and Students/Seniors: $25. They can be purchased at vidf.ca/tickets or by phoning 604.662.4966.
About Vancouver International Dance Festival (vidf.ca)
The Vancouver International Dance Festival (VIDF) is a social-profit, artist run organization dedicated to supporting and furthering the art of culturally diverse contemporary dance.
Each year the festival scours the globe, and its own backyard, to assemble a thrilling month of emotionally rich and intellectually stimulating dance expressions. In doing so, the festival functions as an important link between Vancouver and a vibrant, international community of artists, ensuring that world-class contemporary dance will always have a place in the hearts and minds of Vancouver audiences.
LISTING INFORMATION
2016 Vancouver International Dance Festival presents
Compagnie Virginie Brunelle's Foutrement
Dates:
March 3 to 5, 2016 at 8pm
Tickets:
Adults : $30 ; Students/Seniors : $25 or included in $84
Roundhouse Pass (4 shows) or $154 All Shows Pass
(includes 4 Roundhouse shows, 2 Playhouse shows and FREE entry to 7pm Roundhouse Exhibition Hall shows)
Address:
Roundhouse Community Centre
181 Roundhouse Mews (Davie & Pacific)
Vancouver, BC  V6Z 2W3
Box Office:
604.662.4966
Website: