Avocados From Mexico returns to Superbowl ad lineup for second year
In celebration of the Superbowl and one of the biggest avocado days of the year, Dino Renaerts, one of British Columbia's culinary leaders and executive chef of Bon Vivant Group, makes a food lover's dream come true with the province's first, chef-designed food stadium.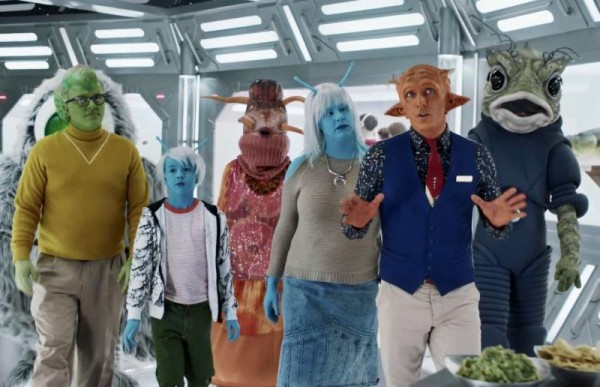 Avocados from Mexico has returned with aliens and human artifacts to this year's Superbowl ad lineup. See the #AvoInSpace ad here, starring Scott Baio.
Renaerts and three of his talented culinary team members spent a whopping eight hours creating a Superbowl inspired food-stadium that is constructed from favourite game-day snacks commonly served but with a fresh and home-made touch added.
With extensive experience in the culinary industry and a team, including Behzad Jamshidi, who has had pre-architecture training prior to working at Bon Vivant, Renaerts and his team came up with a design for a unique food stadium.
A stadium base was constructed using materials including styrofoam, cardboard and coloured fabric. Renaerts is a firm believer of making food from scratch and using fresh ingredients, and this food stadium is no exception. The inside of the food stadium was filled with popular bar snacks including home-made nachos, chicken wings, sliders and other finger lickin' appetizers.
As avocados from Mexico are always in season, Renaerts also made sure that they were used in his food stadium.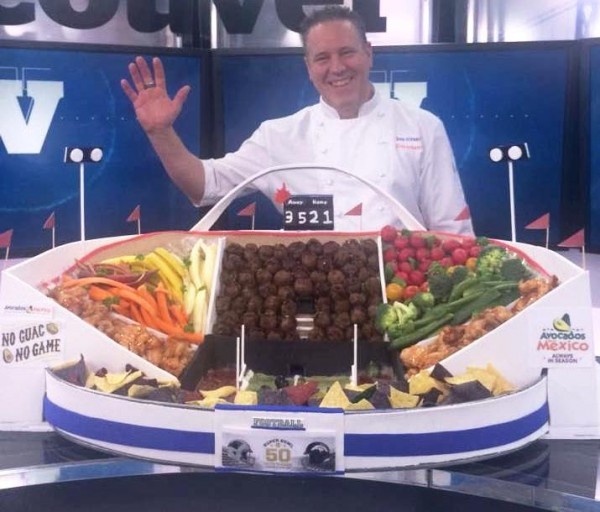 Chef Dino Renaerts of Bon Vivant Group makes BC's first food stadium for Superbowl Sunday.
Renaerts explains, "the fit to include avocados from Mexico could not be more perfect. It is not only a fruit that's always fresh, in season, and versatile to use, but also an ingredient that's appearing in the Superbowl ad lineup this year."
"A food stadium is a fun, delicious, creative and makes a great centerpiece for you and your buddies this Sunday. Grab your favourite drink and you're set to go for the game," adds Renaerts.
And if a day of labour and making a food stadium is too intimidating, then keep it simple with guacamole variations and other game-day recipes.
Watch Renaerts with his Superbowl food stadium on CBC Our Vancouver this weekend (Saturday 8am; Sunday and Monday at 11am PST). A web version will be posted on Saturday afternoon at CBC.