Lebowski-themed Tour Includes Custom Beer Samples, Costume and Trivia Contests at Local Breweries and Bowling at Grandview Lanes
Fans of the Coen Brothers' seminal noir cult classic The Big Lebowski are invited to don their housecoats, shades and jelly shoes and drop in to see what 'condition their condition is in' when 
Vancouver Brewery Tours
 hosts their inaugural 
Big Lebowski Brewery and Bowling Tour
 on 
Saturday, March 26
.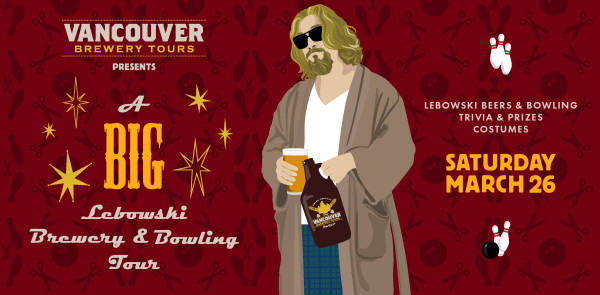 Offered at either 12 to 3:30 p.m. or 2 to 5:30 p.m, the tour includes Lebowski-inspired 'oat soda' samples at each brewery stop. Beginning at Big Rock Urban Brewery & Eatery, guests will vie for prizes in a Big Lebowski trivia contest guaranteed to test the knowledge of even the biggest fan before moving on to Storm Brewing to take part in a costume contest. The tour will end at Grandview Lanes Bowling Centre, where participants will forgo Walter Sobchak's rule of never rolling when 'shomer Shabbos' and will avoid tossing 'Gutterballs'.
Prizes will be awarded to the 'Little Lebowski Urban Achiever' with the best costume — whether it's Maude Lebowski, Karl Hungus or Knox Harrington the video artist — while the winner of the trivia contest and undisputed champion of all things Lebowski will receive a custom Big Lebowski growler designed by Sigil & Growler.
"Whether you go by 'His Dudeness', 'Duder' or 'El Duderino' — 'if you're not into the whole brevity thing' — this tour will put both your Big Lebowski knowledge and bowling skills to the test," says Vancouver Brewery Tours founder Ryan Mackey, with a wink. "As an ardent Lebowski fan, I'm excited to offer a tour that not only highlights some of our amazing local craft breweries, but also pays tribute to a film loved by so many, 'but that's just, like, our opinion, man'."
As with all of Vancouver Brewery Tours' public and private tours, its Big Lebowski Brewery and Bowling Tour includes pick-up and drop-off from Waterfront Station in downtown Vancouver, as well as transportation to and from each of the breweries in its comfortable 14-passenger van. During the ride, guests will enjoy a selection of songs culled from The Big Lebowski soundtrack — everything except The Eagles, of course.
TICKETS
A limited number of seats to the 
Big Lebowski Brewery and Bowling Tour
 are available for $85 plus tax per person. All beer and bowling is included in the cost of the tour and every guest will receive a Vancouver Brewery Tours beer glass. Seats may be booked online at 
www.vancouverbrewerytours.com
, by phone at 
604-318-2280
 or by e-mail to 
info@

null

vancouverbrewerytours.com
.
---
ABOUT VANCOUVER BREWERY TOURS | Founded in 2013 by local craft beer enthusiast Ryan Mackey, Vancouver Brewery Tours connects both residents and visitors alike to Vancouver's burgeoning craft beer community via daily Public Tours, Beer and Food Tours, and completely customizable Private and Corporate Group Tours. While on tour, guests ride comfortably in Vancouver Brewery Tours' fleet of vans and enjoy VIP, behind-the-scenes access to a host of local breweries as well as samples of iconic local craft brews as a team of friendly and knowledgeable tour guides take them through the brewing process from grain to glass.
Weekly Public Brewery Tours available Tuesdays through Sundays | Fully Customizable Private Brewery Tours available seven days a week | 604-318-2280 | www.vancouverbrewerytours.com | info@nullvancouverbrewerytours.com | Instagram: @vanbrewerytours | Twitter: @VanBreweryTours| Facebook: /VancouverBreweryTours
ABOUT THE BIG LEBOWSKI | The Big Lebowski is a 1998 American noir "stoner comedy crime drama" written, produced and directed by Joel and Ethan Coen. It stars Jeff Bridges as Jeffrey 'The Dude' Lebowski, a slacker and devoted bowler living in Los Angeles. After he is assaulted as a result of mistaken identity, The Dude learns of the intended victim — a millionaire who shares the same name. When the millionaire Lebowski's trophy wife is kidnapped, he commissions The Dude to deliver the ransom for her release, but the plan inevitably goes awry when The Dude's friend, Walter Sobchak (played by John Goodman), schemes to get his hands on the cash. Although not a box office success when it was first released, The Big Lebowski has since ascended to cult status with legions of loyal fans around the globe.