SUNDAY SUPPER SERIES THIS SPRING WITH A SPANISH-INSPIRED FEAST
Exclusive Three-Course Menu Featuring Paella to Launch on
Spanish Paella Day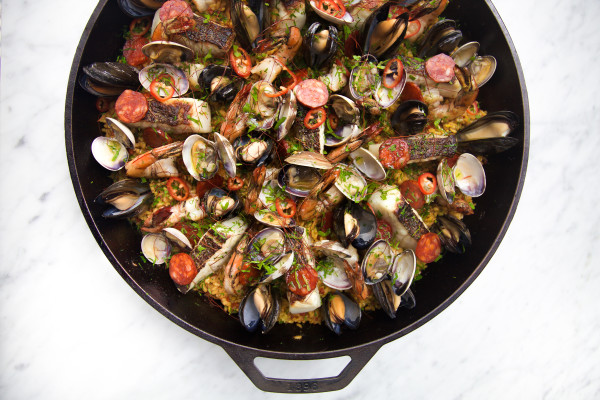 Boulevard Kitchen & Oyster Bar will add yet another delicious edition to its ongoing Sunday Supper Series this spring when Executive Chef Alex Chen conjures up the rustic flavours of Spain's national dish with a string of events featuring Paella as the centrepiece.
The latest round of family-style suppers, which begins at 6 p.m. on March 27 to coincide with Spanish Paella Day and continues each Sunday throughout April and May, is Boulevard's newest entry in a sold-out succession of feasts that began with a summer of Sunday Seafood Boils and continued in the fall with a series of Sunday Pig Roasts.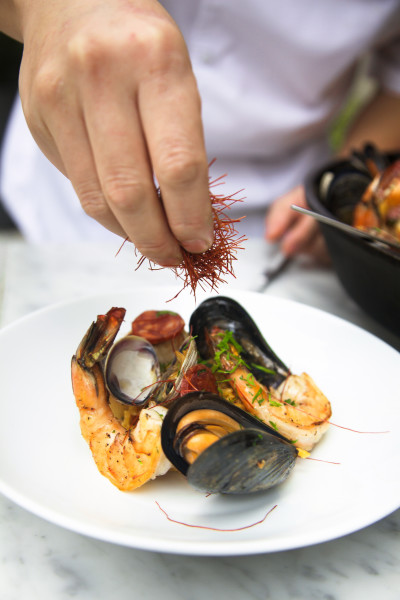 – SUNDAY PAELLA SERIES MENU –
House Sangria Upon Arrival
Poached White Asparagus Salad
Manchego Cheese, Free Range Egg, Sherry Vinaigrette
Paella
Roasted Ling Cod, Local Clams and Mussels, Prawns, Chorizo Soffritto,
Saffron and Shellfish Stock
Served with a Trio of Accompaniments
Valencia Orange-Infused Chocolate Mousse
Olive Oil Ice Cream, Saffron Orange Coulis
TICKETS
Tickets to Boulevard's Sunday Paella Series events on March 27, April 3, 10, 17, 24 and May 1, 8, 15, 22 and 29 are available online at www.boulevardvancouver.ca/events for $49 per person plus tax and gratuity (based on a two-guest minimum). Featured Spanish wine selections and sangria by the pitcher are also available.
For the latest news about Boulevard, register for the restaurant's e-newsletter at www.boulevardvancouver.com, follow @blvdyvr on Instagram and Twitter or become a fan of /blvdyvr on Facebook.
---
ABOUT BOULEVARD KITCHEN & OYSTER BAR | Located at the iconic Sutton Place Hotel in the heart of downtown Vancouver, Boulevard Kitchen & Oyster Bar provides a unique showcase for the culinary vision of Executive Chef Alex Chen. With an innovative approach that blends a respect for the past with a celebration of the present, Chen's seafood-focused menu is grounded in classical technique and training, while artfully infusing casual West Coast flair and creative hints of his international influences. Paired with exceptional service, a wide-ranging selection of wine and cocktails and true European ambiance in a traditional-yet-modern setting, Boulevard offers breakfast (6:30 to 11 a.m.), lunch (11 a.m. to 4 p.m.), dinner (5 to 11 p.m.) and late night service until 1 a.m. seven days a week, as well as weekend brunch from 11 a.m. to 3 p.m. and Happy Hour from 3 p.m. to 6 p.m. daily.
845 Burrard Street, Vancouver, BC V6Z 2K6 | (604) 642-2900 | boulevardvancouver.ca
Twitter: @blvdyvr | Facebook: /blvdyvr | Instagram: @blvdyvr