Boulevard Kitchen + Oyster Bar's Executive Chef Roger Ma Wins Canadian Culinary Championships
Gold Goes to Ma for His Perfectly Executed "Vancouver on a Plate"
Boulevard Kitchen & Oyster Bar's Executive Chef, Roger Ma, emerged victorious after intense competitions against twelve gold medal-winning chefs from across Canada. Ma earned his place at the contest after winning the Vancouver edition of Canada's Great Kitchen Party last fall.
Serving an elevated dish that featured honey mussel "gratinée," foraged bull kelp, sea urchin custard, Yukon potato and scallion terrine and manila clam emulsion, Ma took top honours at last night's grand finale at Ottawa's Shaw Centre.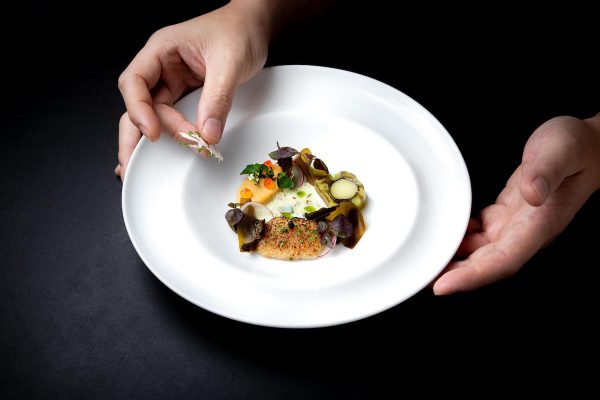 Head judge James Chatto explained Ma's dish as "so meticulous, so thoughtful, yet vivid and alive. The flavours were rich, interesting and clear — it was Vancouver on a plate." This description is identical to Ma's intention in creating this award winning plate. Entitled BC Coastal Terroir, the ocean inspired dish is simply "who I am and where I'm from," shares Ma.
The Canadian Culinary Championships is a two-day event, featuring three competitions – Mystery Wine Pairing, Black Box and Grand Finale – to name a final winner in the season-long series. Twelve cities across Canada staged high-stakes culinary competitions at Canada's Great Kitchen Party. Each stop sees up to ten chefs compete for regional gold by creating their dish of choice – with wine, beer or spirit pairing – to a panel of established judges.
With a grip on his trophy and a gold medal around his neck, Ma was elated post victory, describing the experience as "unbelievable," while quickly crediting the support of his team both in Ottawa and back at Boulevard. Ma's whole family was in Ottawa to lend their support to the talented, laser-focused chef.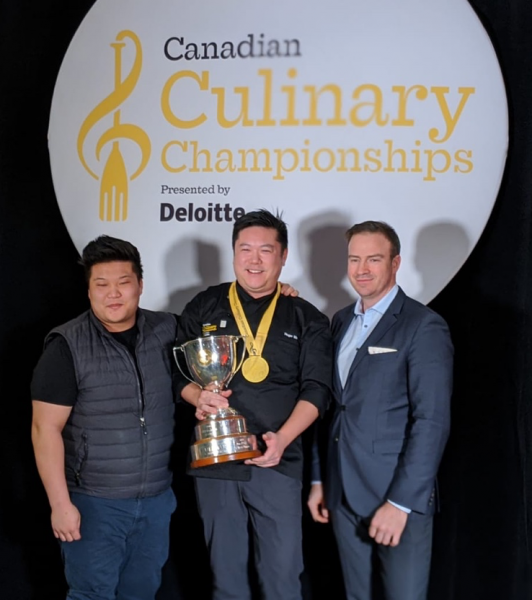 This accolade joins Ma's major role in Boulevard's repeat gold-medal wins in the Best Seafood category at the 2018 and 2019 editions of the prestigious annual Vancouver Magazine Restaurant Awards, the No. 31 spot on the esteemed annual ranking of Canada's 100 Best Restaurants, and a feature in the 50 Best Discovery list.
Back at Boulevard, leader, mentor and Signature Restaurant's Executive Chef Alex Chen, no stranger to dominating culinary competitions himself, is thrilled with Ma's win. "I am extremely proud of Roger," shares Chen. "As our brigade continues this spirit of competition, it validates the quality of Boulevard's mentorship including resources, experience, and commitment."
Don't Miss Alex Chen on Food Network Canada's Brand New Show – Wall of Chefs – Starting Feb 3
Chen will be joining a panel of a dozen of Canada's Best Chefs – AKA "The Wall" – on the culinary network's latest primetime competition series. This new format will test the skill and nerves of Canada's home cooks as they battle in the Wall of Chefs kitchen, under the towering shadow of twelve of the country's best chefs known as "The Wall". Chen will be in episodes airing February 10, March 2 and April 6, where Chen's steak au poivre dish will serve as contestant inspiration.
About Boulevard Kitchen & Oyster Bar:
Located in Vancouver's downtown shopping district, Boulevard Kitchen & Oyster Bar is an award-winning showcase for sensational seafood paired with the culinary visions of Chefs Alex Chen and Roger Ma. Like Ma, Chen also won the Canadian Culinary Championship crown in 2018 and was the first competitor to beat an Iron Chef – Hugh Acheson – in the 2018 reboot of Iron Chef Canada. In fact, Boulevard is one of the most awarded restaurants in the city's recent history. Boulevard's seafood-focused menu is grounded in classical technique and training, and artfully infused with West Coast flair and international influences. Boulevard boasts a gorgeous room, signature booths, a buzzy bar and elegant private dining spaces, each enhanced with exceptional service, and a wide-ranging selection of wines and cocktail. Boulevard welcomes guests for breakfast, lunch, dinner, happy hour and late-night service seven days a week, as well as brunch on weekends. www.boulevardvancouver.com