"Glamour Noir" 
Telus World of Science on Friday, May 13th, 2016
Art World Expo™ is produced annually each May by Monika Blichar of MAB Ventures Inc.; an Arts & Entertainment Agency based in North Vancouver, BC. The event features over 100 artists, a body painting competition, live musicians, fashion shows and live arts demonstrations. Each year, the event brings over 1500 visitors and allows guests to engage directly with local and international artists while celebrating diversity of arts and culture both locally and internationally. Visitors can also spot local and international celebrities, participate in hands on activities such as the food vendors, live painting and draws, and enjoy an annual theme. This year "Glamour Noir" will serve as the inspiration as the 2016 theme in recognition of the event's 6th Year Anniversary and event date on Friday, the 13th. A black, white and red dress code is in effect this year.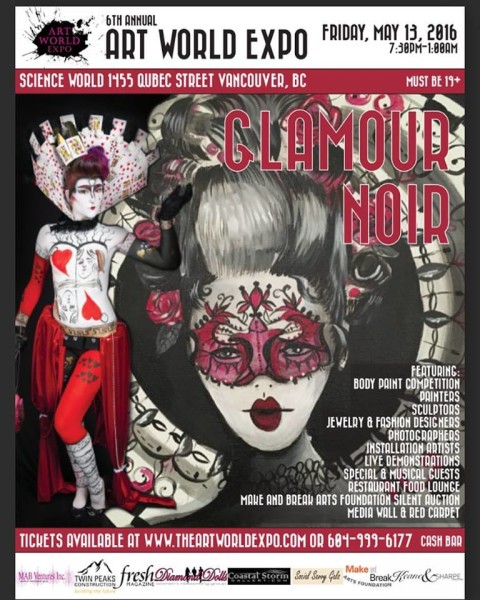 The event also supports creativity and imagination via out of the box and unique art forms including paintings, sculptures, photography, jewellery, installations, prosthetic demonstrations, and theatrical additions. In addition, the event supports Make and Break Arts Foundation via a unique silent auction valued each year at over $30,000, as well as raffles and donations.  
We would like to invite you to the event. Tickets can be purchased at www.theartworldexpo.com or by phone at 604 999 6177. 
What:
Art World Expo™ is produced by Monika Blichar of MAB Ventures Inc. 
When:
Friday, May 13th, 7:30 p.m. to 1:00 a.m.
Where:
Telus World of Science 
Why:
Annual event showcases local and international artists to the Vancouver public. Fundraiser for Make and Break Arts Foundation. Support local arts programs, exhibitions and professional artistic development.