GNOCCHI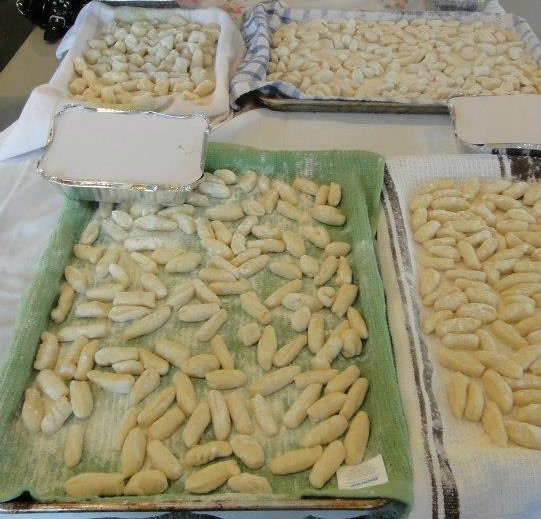 Gnocchi are one of my absolutely family favorite dishes and one of the most popular dishes in Italy. They are small potatoes dumplings made with boiled potatoes, eggs and flour served with a nice sauce. They are to die for and my kids adore gnocchi.
I'm Italian so I grew up making gnocchi starting at the age of 5 with my Nonna (Grandma).
In Italy making gnocchi is a family affair, we all get together for the day and we work hard, even the kids. Yes the kids help too and it's so much fun for them. They have to roll the gnocchi dough and make some small gnocchi balls. Also they have fun sprinkling the flour everywhere because the trick when you make gnocchi is to use lots of flour so they don't stick together.
I highly suggest making gnocchi with your kids and starting a "tradition" like I did with my kids.
This is my family recipe and hope that you will enjoy it:
Ingredients:
1 kg potatoes
3oo grams flour
1 egg (you can also make gnocchi without egg)
A sprinkle of love
Method:
Boil the potatoes in their skins. Drain and allow standing until cool enough to handle. Scrape skin from potato with paring knife. Press them through a potato ricer. Spread the riced potatoes into a thin, even layer on the work surface and allow it to cool completely.
Now you put the flour on a clean surface and you add the egg and slowly the flour, mix for 5/10 minutes with a lot of love and when the dough is nice and firm it is time to roll with your hands. Now it's time for make your kids work. Take off a handful of the dough and roll that with both hands until you have a rope about the thickness of your thumb. Cut this rope in 2.5 cm lengths. Bring each piece of dough and flip it with your index finger against the inside of your fork. With this technique the gnocchi will catch any sauce :).
Place your gnocchi on a lightly floured baking sheet. Cook them in boiling water with salt. They are done when they rise to the surface of the water. Put them right away in a big bowl and dressed them with your favorite sauce.
I suggest a nice Bolognese sauce or (more quick) butter and sage sauce.
If you make a big batch you have to put a towel on your baking sheet with a lot of flour, put the gnocchi on it and  freeze them for a couple of hours. After that you can put them in zip lock bag
Boil the gnocchi in water until they float on the surface and are ready to eat.
Enjoy
Marzia's love affair with Italian cuisine was sparked at a young age – as soon as she was tall enough to reach her mother's countertops.
The Langley, B.C resident was born just outside of Naples in a small town called Sant' Antimo, which had a population of 24,000 people at the time.
Her parents would soon move her family to a small rural village in Northern Italy called Traona – a town with less than 1,500 residents, but plenty of cows, chickens, and rabbits.
Marzia's childhood in the rolling hillside was a joyous one.  She got to eat fresh local food, daily, and the best cheese in the entire world. Her mother was also happy for the extra hand in the kitchen and with helping to care for her two brothers.
Summers were spent in Southern Italy at her Nona's beach house. There were always plenty of cousins, aunts and uncles around.
Nonna made sure she did her chores and helped with cleaning up the house each morning.
Her golden rule for women was: "Man have to be happy, so all the ladies in the house have to clean up, make breakfast, get lunch ready while the men are at the beach."
Nonna instilled the virtue of hard work, but also the importance of living well.
 After lunch was eaten and all the dishes were cleaned and put away, it was time to unwind and have some fun. This meant heading to the beach, sun tanning, eating appetizers – living la dolce vita.
At the end of August it was time for the tradition of canning all those ruby-red tomatoes off the vine with Nona. 
This would leave her family with enough fresh sauce to last the winter.
The end of summer was always sad. It was never easy to say goodbye to her big funny family.  
Speaking of family…
In 1995, she'd meet Dan – a quirky Canadian traveller who would set her heart on fire and change her destiny.
He was from Vancouver, which at the time, Marzia, nor anyone in her family knew very little about.
Marzia thought he was a bit strange, especially since he seemed to enjoy the rain.
Note: If you are a true Italian, you don't like the rain one little bit!!!
Long story short, they both fell in L.O.V.E, and in 2003, Dan convinced her to move to Vancouver.
The lifestyle change was difficult in the beginning, but in the end, it proved to be the best decision for the couple. They now live happily ever after in the suburbs of Langley, B.C with their two beautiful children.
Today, Marzia enjoys teaching her passion of cooking authentic Italian cuisine and sharing her stories of growing up in Italy. Her dream is to one day soon, open a cooking school.
She hasn't stopped missing her Mom, Nona, aunt and all her large family in Italy, but she is proud of the little family and life she has made for herself on the West Coast. She knows everyone back home is proud she is bringing a little slice of Italy to Canada.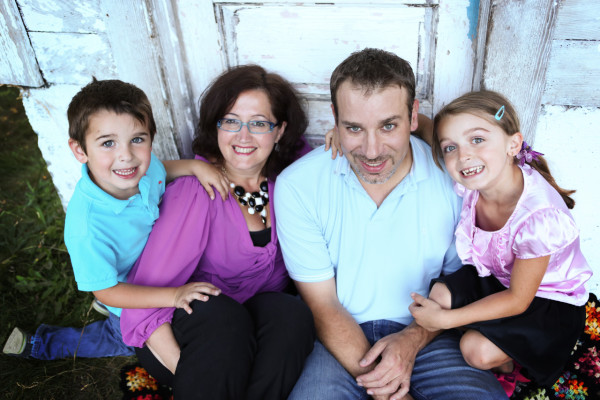 facebook  www.facebook.com/bellacibo72
Instagram www.instagram.com/bellacibo
Twitter https://twitter.com/marziabella72