When I tell anyone that I'm a chef, they will sometimes come back with this line…"With all of the cooking you do for work, do you really like cooking at home?" My answer is always the same, I don't like to clean up, but I really do enjoy cooking.
This is my zen time. Not to mention that a little glass of wine for the chef to sip on does add some additional encouragement, but I have to admit that I do enjoy cooking a lot more when it only takes 30 minutes or less of preparation time. The actual cooking time will vary—which brings me to the title "Variations."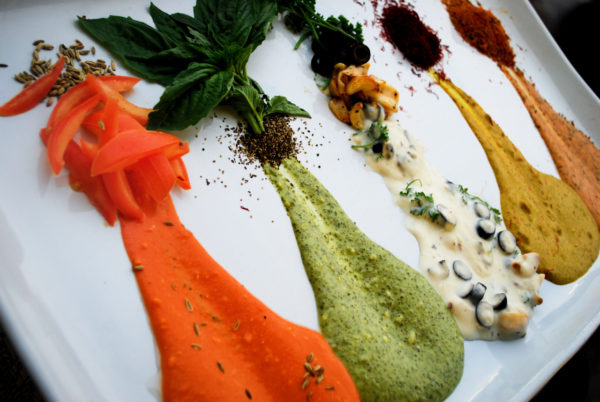 Variations is an important and ultra secret word that chefs throw around the kitchen all the time, which they really don't want you to know about.
Let me explain why…
Let's face it…I spent two years at a fancy culinary school in NY and I came out of there with a lot of burns, cuts, trashed school issued uniforms, and five "mother" sauces. These base sauces were constantly drilled into me everyday, to the point, that I could make them in my sleep. Once I woke from those saucy nightmares, I came to realize that those "mother sauces" opened up my entire world of culinary prowess, and this is when variations was born.
The base sauces are capable of producing thousands of sauce variations. They are all created using one of the five sauces, so with a little creativity and by adding one, two or three additional ingredients to the sauce, presto, you have a new sauce variation. Also, chefs know there is no magic to creative, fun sauces because once you get the "mother" prep down, their siblings will not take long to fall from the tree.
Got it? Good! I just saved you thousands in culinary school tuition.
Today I decided to share a basic sauce recipe that can easily be prepared in 20 minutes. I am also offering a suggested list of sibling or variation ingredient options to use. The thought behind it is to make three quarts of the base sauce recipe with the idea that you could use it multiple times, by making each sauce different using some creative magic.
The recipe below is a very easy basic Alfredo sauce. The Alfredo sauce is actually a variation sauce from the classic "mother" white sauce, which we conveniently borrowed from France. The Alfredo is not a true "mother sauce," but it is a great sauce that can be adapted with multiple variations.
The "Base" Sauce…
Sauce Alfredo – about 3 quarts or 20-24 pasta portions–(recipe can be cut in half)
1 cup butter (2 sticks), cut into medium cubes
1 cup shallots (white or yellow onion can be used instead), small-medium diced
4 cloves garlic, chopped
2 cups white wine
4 cups heavy cream
5 cups freshly grated Parmesan cheese
1 cup flat leaf parsley, towel dried and chopped
Salt and pepper to taste
Over low heat, melt butter in a small sauce pot. Add onions and garlic, cooking until soft (do not brown). Bring the mixture to a lite simmer, then add wine and reduce by half. Followed by adding cream and reducing by half, then whip the grated cheese into the sauce.  Add parsley and season sauce with salt and pepper to taste. Set aside to chill.  Now the sauce is ready for using it straight or with some fun variations!
This is where you can be an adventurist—let your creative self shine!
Slowly warm up the amount of sauce you will need and then add any of these fun ingredients to the sauce. Because each recipe variation will vary, you will have to rely on your own instincts and tastes to determine the amount for each item.
These sauces can transform beef, chicken, lamb, fish, pastas, rice, cous cous, potatoes, and grilled vegetables into new exciting dishes! Feel free to use one ingredient or add multiple ingredients.
There are no rules. Just go for it!
A few garden variations: (a great way to utilize veggies)
Sun dried tomatoes, hydrated with water and blended
Arugula, chopped
Mushrooms, any variety, sautéed and blended
Roasted garlic, pureed in a blender
Basil pesto, prepared
Caramelized onions, diced
Roasted asparagus blend or chopped
Roasted artichoke hearts, blended or chopped
Cooked bacon, chopped
Raw spinach, cut into strips
Roasted Butternut squash, pureed
Fresh peas, grilled, sautéed or roasted and pureed
Eggplant, roasted and pureed
Garbanzo beans, cooked and pureed
Cauliflower, roasted and chopped
Roasted peppers, pureed
Any kind of roasted chiles, chopped, diced or pureed
Cilantro, raw, chopped
Green onion, chopped
Lemon or orange juice/zest, warm up first before adding
Any type of available fresh herbs
Homemade salsa or store prepared
Summer corn, roasted or pureed
Just a few seasoning and other variations:
Curry paste or powder (purchase prepared)
Whole grain mustard
Taco seasonings
Cumin, ground
Nutmeg, ground
Fennel seed
Paprika, ground
Gumbo spices
Pinenuts, roasted
Saffron threads
Blue cheese, grated
Smoked or regular gouda, grated
Cheddar, grated
 Feel free to add to the list, and remember to have fun!
EXECUTIVE CHEF PERRY MASCITTI
Tulalip Resort Casino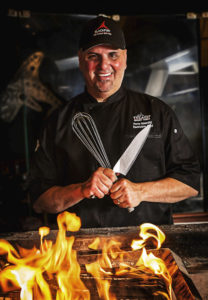 Executive Chef Perry Mascitti of Tulalip Resort Casino has more than twenty-six years of diverse culinary experience under his toque. A 1990 graduate of the prestigious Culinary Institute of America, Mascitti has been responsible since 2007 for overseeing seven very different dining venues as well as the catering operations in this world class destination resorts' extensive banquet facilities. He also masterminds the gastronomic portion of the award-winning "Taste of Tulalip," a top national wine, food and tradition weekend event showcasing Washington state's best pours, in partnership with sommelier Tommy Thompson.
Fresh from New York's CIA at Hyde Park, Perry completed his apprenticeship at Loews Coronado Bay Resort in San Diego. From there he went on to serve as Executive Chef at some of California's top resorts and was chef/owner of Sage Catering Company in San Diego. Mascitti gained notoriety for his innovative menus, making a meal an event to remember. From private dinners for two to multi-course galas and celebrations, his personal touch and fervor brought a distinctive note to the table that his large roster of clientele sought.
Ten years ago, he was enticed to move to the Pacific Northwest from Fantasy Springs Casino Resort in Indigo, California, as much by the local bounty as the chance to shape dining at the then new Tulalip hotel and conference center. In his position as executive chef, Mascitti manages nearly 190 kitchen staff, including chefs, sous chefs, and cooks.
For his passion, skills, and outstanding creativity in the kitchen, he has been honored with the Master of Taste "Maître du Gout" Award from the Chefs of America Awards Foundation, among other accolades. A guest chef invitee at the James Beard House in New York as well as on Holland America Cruise Lines, his cuisine has also been featured at The Auction of Washington Wines and Seattle Magazine's Best of 2010 "Party of the Decade".  
Mascitti, his wife Mary Beth and son Brandon reside in Arlington. An ardent believer in giving back to the communities that have supported him throughout his career, he is involved with several charities including the Pendleton Foundation devoted to helping meet the financial needs of Coachella Valley residents suffering from cancer, the Children's House Foundation in San Diego, and the Fireman's Fund, which benefits the families of firefighters who have lost their lives while on duty.
When he removes his chef's toque, Mascitti can be found exploring off-beat and ethnic restaurants – and always taking notes on food. He also enjoys singing rock and roll and is an ardent amateur photographer.