There are some great things to do in Vancouver and one of my favorites is being on a boat cruising the local waterways. Even better is being onboard a luxury vessel like Pacific Yacht Charters who does an event like this with style. On Thursday night, MyVanCity was invited to a cocktail party and cruise to celebrate the newly renovated Pacific Yacht and a rebranding their unique private event services. In chatting with our hosts, Bill Smith and Kim Galavan, co-owners who acquired the boat just under two years ago, their stated goal is to be the best luxury small event venue in Vancouver. And if Thursday night's event is any indication, they don't disappoint!
The Pacific Yacht is a 105-foot-long luxury vessel with three distinct levels that makes it an incomparable venue for events hosting up to 250 guests for a cocktail style event with live action chef stations; 120 guests for a seated buffet; or 96 guests for a plated meal. There is just something about being out on the water that makes an event like this a truly memorable experience. Whether cruising under the Lions Gate Bridge alongside Stanley Park and out into English Bay as we did or on one of the three suggested routes, the journey showcases some of the best sights and scenery Vancouver has to offer. On a warm clear evening, it's spectacular!
Food is at the heart of every great experience. I took that line from their website as it highlights their philosophy that exceptional food and drink are at the core every event aboard the Pacific Yacht. Executive Chef Michael Earland was recruited to return to Vancouver from a post in the Caribbean to spearhead the effort. We were greeted with champagne and canapés, served BC wines as we circulated, sampled many of Chef Michael's culinary specialities at several dinner stations, and finished with chocolates and desserts to as they say 'die for!' Among my favourites was the Wild Mushroom Risotto. I'm Italian and consider myself a risotto connoisseur. My rating, top of the scale!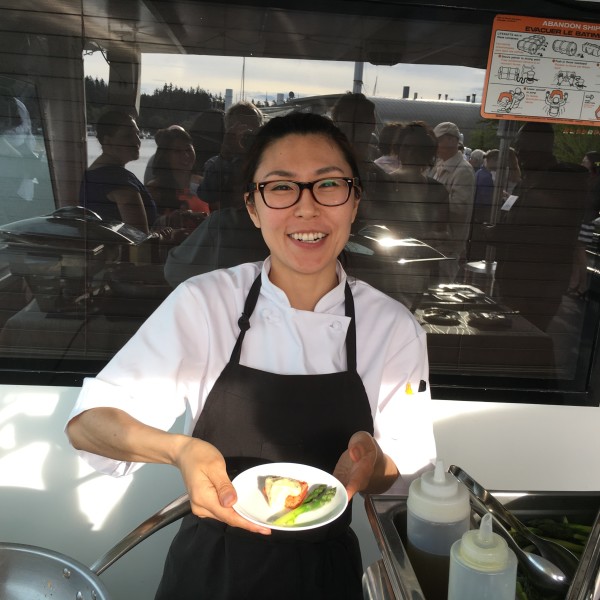 Most importantly, I'd be remiss if I didn't mention the management and staff. President and Chief Visionary Officer, Kim, along with her Director of Operations, David, have assembled and direct an incredibly hospitable and attentive team. Friendly and there at every turn to serve you. In my opinion, Pacific Yacht Charters has truly reached their goal and become the best luxury small venue in Vancouver. For corporate events, weddings and other life milestones, or just to have a great party, there is no place for a better event.